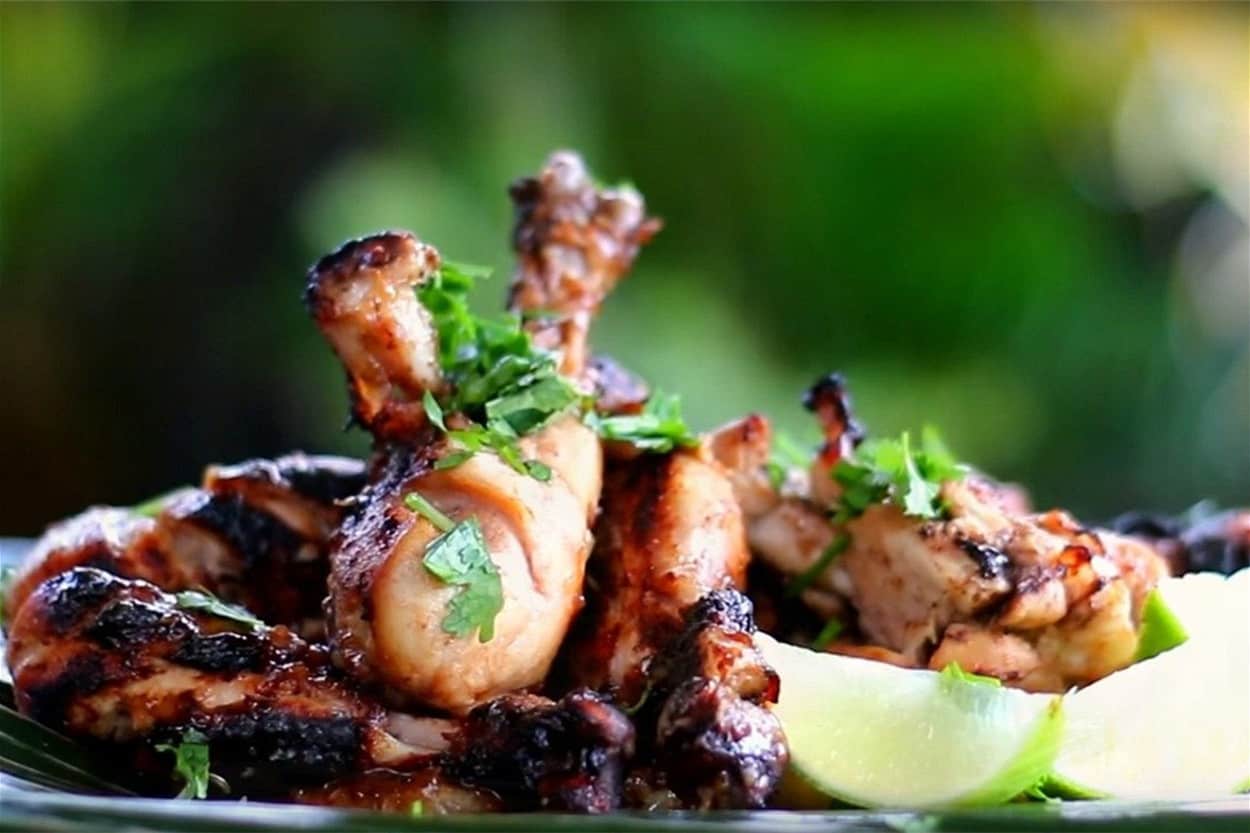 Smoked BBQ Chicken
What is cooking? Simply put cooking is the application of heat, by various means, to food. When our ancestors discovered fire, and how to make it, the art of cooking followed. In the beginning, food was suspended over a fire on a stick, or placed on a flat rock to get the meat they were cooking close to the fire. This way of cooking is still done, and in modern times, we have invented many ways to get the food to the fire and cook it evenly. We have grills, smokers, stoves, ovens, we use charcoal, electricity, wood and gas. But what we are doing hasn't changed from the beginning, getting what we are cooking close enough to the fire to change the structure of the food by applying heat to it.
Smoking
Today we are going to look at one of the ways we cook food, Smoking. Smoking is essentially using lower heat, with the addition of wood smoke to cook dry or tough cuts of meat in a way to produce a dish that is tender and full of flavor.
One of the more difficult meats to cook and produce a moist tender dish is Chicken breast and for the most part, we cook it boneless and skinless, and resort to coating and frying, marinating and grilling, or making skewers to cook chicken breast to prevent it from being dry.
Chicken breast is ideally suited to smoking if you use the right cut. Today, we are using bone-in, skin-on chicken breast.
This is highly suited for smoking and we are going to take a look at what we can do with it.
Smoked BBQ Chicken Breast
(prep time 24 hours, cook time 3 hours)
Ingredients:
4 split chicken breasts, bone-in, skin-on
Hatch green chili seasoning
Apple juice
Black Currant Chipotle BBQ sauce
Applewood chips for the smoker
Preparation:
Place your chicken breast onto a cutting board and season the chicken on both sides with the Hatch Green Chile Seasoning (recipe to follow). Place the chicken into a container with a lid and place it in the refrigerator for 24 hours.
Hatch Green Chili Seasoning
3 tablespoons of pink Himalayan salt
2 tablespoons of 5 peppercorn blend, black, white, pink and green peppercorns and allspice berries
2 tablespoons granulated garlic
2 tablespoons granulated onion
3 tablespoons pure Hatch Green Chili Powder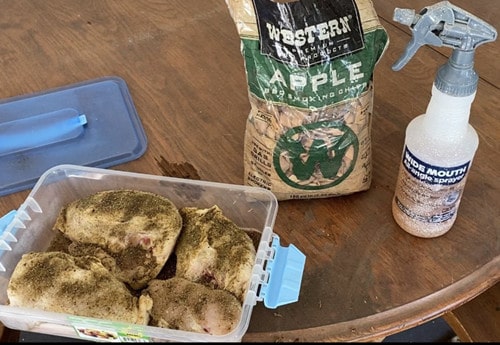 Once you have your seasoning made up, generously coat the chicken breast and place in the refrigerator over-night or for 24 hours. This is known as dry brining. Brining is a way to make meats more tender and juicy. There are two methods, wet brining and dry brining. Wet brining requires a large container, big enough to hold what you are brining and for it to be completely immersed in the brining solution, which is 1 cup salt, 1 cup sugar, and 1 gallon of water. Dry brining is the process of using a seasoning like the Hatch Green Chile Seasoning, and coating the meat, and placing it under refrigeration for 6-24 hours. The salt in the seasoning has the same effect as wet brining. Wet brining is most effective for large cuts of meat, whole chickens or turkeys, and for making smoked hams.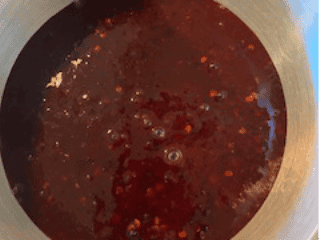 Black Currant Chipotle BBQ Sauce
This is one of the simplest BBQ sauces and is very versatile. You can change the flavor by simply changing one ingredient, the jelly, jam, preserve, or marmalade.
Recipe:
One can Chipotle peppers in adobo sauce
8 oz of apple juice
1 ½ cups Black Currant Preserves
Preparation:
In a blender, add one can of chipotle in adobo peppers, one cup (8oz) apple juice, and 1 ½ cups Black Currant Preserves. Blend until smooth. Transfer the sauce to a saucepan and cook on simmer for 20 minutes. Remove from the heat and strain it through a fine mesh strainer, throw away any large pieces and strain it again back into your saucepan. Return it to a simmer for an additional 20 minutes, remove from heat, cool it down, and place in a container and refrigerate.
Smoking the Chicken
Because this is skin-on, bone-in chicken, you will want to cook it at a higher temperature so that the skin will crisp and the fat renders and the chicken will reach the desired internal temperature of a minimum of 165 degrees.
Your desired smoke temperature will be between 275-300 degrees. You will need to prepare your smoker prior to putting in your chicken. Once you have your smoker heated up to temp and ready, then you will put in the chicken and start your process.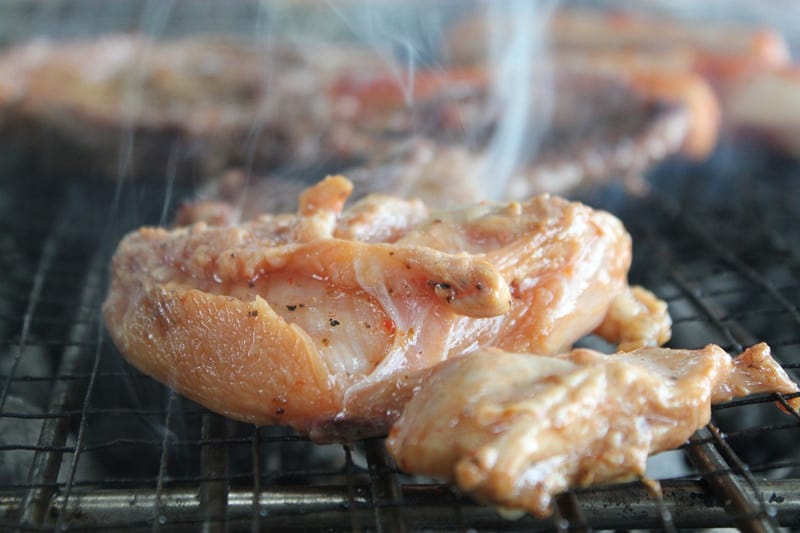 You will need your thermometer, your chicken, applewood smoking chips, and a spray bottle with apple juice in it to spritz the chicken every 30 minutes while it is cooking for 2.5 hours.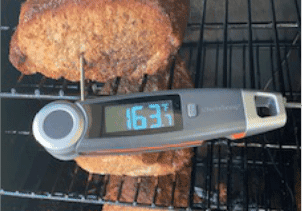 The smoking process is pretty straightforward, you want to maintain the temperature of the smoker at 275-300 degrees, add smoking chips as needed to generate one hour of smoking, apple juice in your spray bottle so you can open the smoker and spray the chicken as you are smoking it every thirty minutes.
Follow through with your spritzing until your chicken reaches the correct cooking temperature. Use your thermometer and place the tip into the thickest part of the chicken breast to take the reading.
As you can see we got the temp to 173. Once you get the chicken to the desired temperature, you will then glaze the chicken with the BBQ sauce and return it to the smoker for an additional thirty minutes, for a total cooking time of 3 hours.
The chicken is nicely browned with crispy skin, moist, tender, and ready for the application of the sauce and to be returned for an additional 30 to the smoker to set the sauce.
This is a very easy technique to master and will bring you some of the most wonderful chicken you have ever eaten.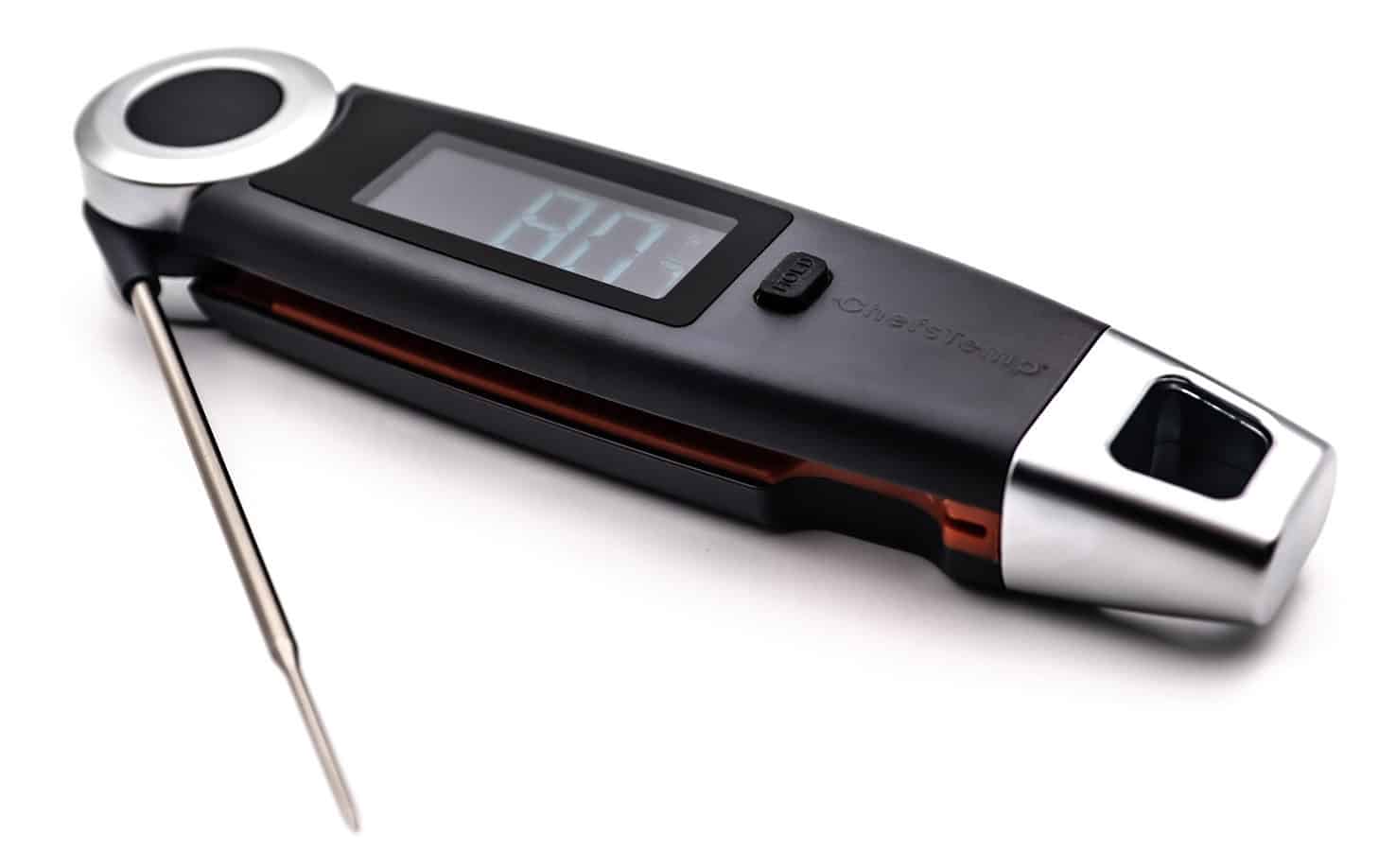 Finaltouch X10
The Finaltouch X10 thermometer from ChefsTemp gives an accurate reading not only for the inside of food but for surface temperatures as well. The diversity of the thermometer's usage is second to none compared to other thermometers. By getting a reading within 1 second, the Finaltouch X10 from ChefsTemp is prepared to take on any task it is given.
Discover more recipes and learn kitchen tricks by joining our cooking family on Facebook. 
Shop now for products used in this post: