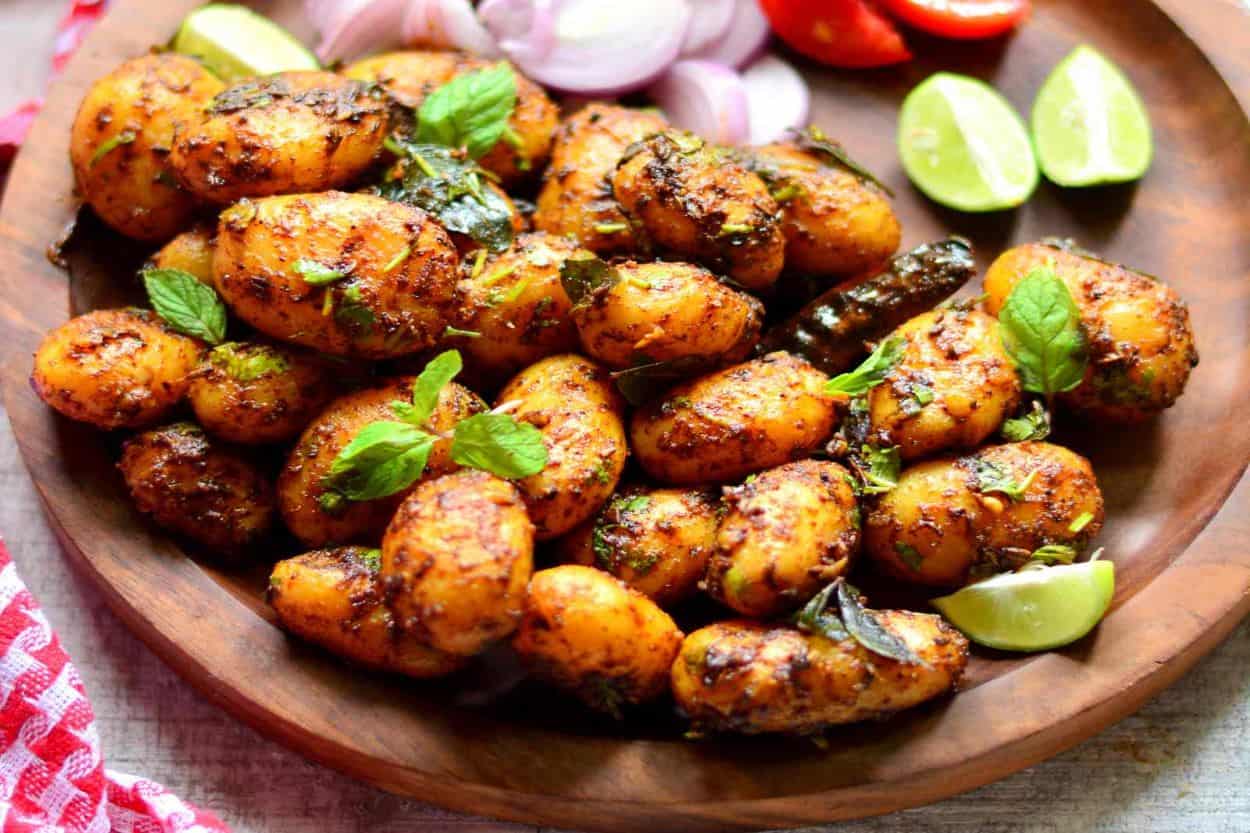 How to Make BBQ Baby Potatoes?
When summer comes, many are the times when you have everything set, from setting a date and inviting your friends, to having a BBQ meat recipe ready, drinks, and maybe a portable speaker for listening to some good music as you enjoy summertime with your loved ones. But you can agree with me that settling for a perfect side dish is a big challenge as your mind races from grilled veggies to fresh salads, pasta salads, corn on the cobs, and any other warm-weather friendly meal.
Breathe a sigh of relief and consider that problem solved. This grilled baby potatoes recipe is exactly what you need for your grilled pork, turkey, beef, or even those fish fillets. Despite being a staple food for many households globally, potatoes are highly disregarded and are mostly considered for deep frying and smashing. But there are many ways in which you can enjoy your potatoes, from oven ring fingerling potatoes, baked French fries, air fryer French fries, and of course these grilled baby potatoes.
Grilling potatoes is a healthy way of enjoying this vegetable that is full of starch. Despite being overlooked, potatoes have several health benefits. They provide nutrients like magnesium, are low in sodium, cholesterol-free, and rich in fiber. It is how you cook them that determines whether they are going to be healthy or unhealthy when consumed. That's why you need a bbq thermometer in all your cooking so that you can always cook your meals to the right internal temperatures.
While it is possible to grill just any type of potato you come across at the marketplace, perfect potatoes for grilling are waxy flesh and have thin skins such as new potatoes, red potatoes, and Yukon gold. However, Yukon gold baby potatoes win the jackpot because of their flavor and buttery texture, they hold up on the grill, and they cook quickly.
Tips on How to Make BBQ Baby Potatoes
Parboiling – It's possible to prepare your potatoes 24hours before the actual cooking time. This will save you time from 2 hours to about 45 minutes. Also, it will save you the disappointment of having burnt potatoes on the skin while waiting for them to cook inside. Use a kitchen thermometerto cook them to their right internal temperatures.
Potato Cuts – Large potatoes the size of a tennis ball should be cut into ½ an inch thick rounds to produce grilled potato slices. If they are slightly smaller, cut them into quarters or halves. Also, since we aim at having delicious crispy grilled baby potatoes, ensure that you don't remove the skin. For this recipe, we are using baby potatoes, and just like the name suggests they are small in size.
Olive Oil – The use of olive oil plays a fundamental role in flavor and by ensuring that the potatoes being roasted on the grill crisp and brown perfectly.
Spice Blend – It is solely your choice to pick seasoning spices depending on your desired final flavor. As for this recipe, we intend to have garlic herb-flavored potatoes as our final flavor. Our mixture will consist of garlic powder, oregano, and rosemary. Another option is a garlic/lemon combo or any other mixture of your choice.
Grill Space – Make sure that the arrangement of your potatoes on the grill allows enough space for each potato to become crispy.
Long Tongs – They will help you flip your grilled baby potatoes confidently and safely.
Aluminum Foil – Potatoes covered using aluminum foil tend to cook well inside since no heat is being lost. However, you should not cover them for long to prevent them from overcooking.
Digital Food Thermometer – If there is a device that you should never forget when barbecuing it's a bbq thermometer. It will help you in controlling temperatures from the beginning of your cooking to the end. Apart from causing foodborne illnesses, overcooked or undercooked food interferes with food taste. Thus, you cannot afford to cook without it. We recommend that you use a Chefstemp Finaltouch X10 instant-read thermometer.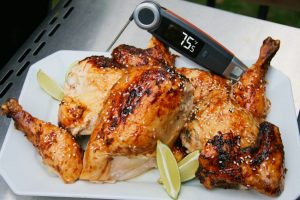 It gives you quick readings in a short time of up to 3 seconds, so your potatoes won't burn while still waiting for results. It has a widescreen and large figures so it will take you a twinkle of an eye to read the observations. It has a backlight so you don't have to worry if you choose to extend your cookout till darkness falls. It is waterproof and therefore can withstand spillages, and much more. Now let's get to our recipe:
2 Pounds Yukon gold baby potatoes
1 tablespoon garlic powder
1 tablespoon dried rosemary
1 teaspoon kosher salt
½ teaspoon dried oregano
¾ teaspoon ground black pepper
3 tablespoons extra virgin olive oil
Freshly chopped herbs such as basil, rosemary, or any other for serving (optional)
Step 1: Put all the spices in a small bowl and stir together until they are evenly mixed up. Drizzle oil on the baby potatoes and then sprinkle the spices blend on top. Alternatively, you can use a large bowl and mix the spices, olive oil, and your potatoes.
Step 2: Preheat the grill from about 375°F (190°C) to 400°F (204°C).
Step 3: Season your potatoes using kosher salt before placing them on the grill. Also, repeat this before serving for a perfect flavor.
Step 4: Spread two large aluminum foils on the grill and arrange the potatoes. Seal them completely using another aluminum foil and heat them for up to 260°F (127°C). Use your best cooking thermometer to regulate the temperature so that you don't end up with smash potatoes. Use a tong to flip them so that they are done evenly.
Step 5: After 10 minutes uncover them to allow the excess moisture to evaporate and also to crisp.
Step 6: Confirm that they are done to the right internal temperatures and remove them from the grill.
Step 7: Allow them to rest for 10 minutes till they are at a room temperature of about 165°F (74°C).
There you have your crispy charred outsides and soft fluffy insides grilled baby potatoes. You can serve them as desired. Store the leftovers in a fridge for up to 5 days. You can have them as snacks or serve them with any meal that you would serve with potatoes. Reheat at 350°F (177°C) in the oven until they are at their right internal temperatures thanks to your grill thermometer.
Discover more recipes and learn kitchen tricks by joining our cooking family on Facebook. 
Shop now for products used in this post: