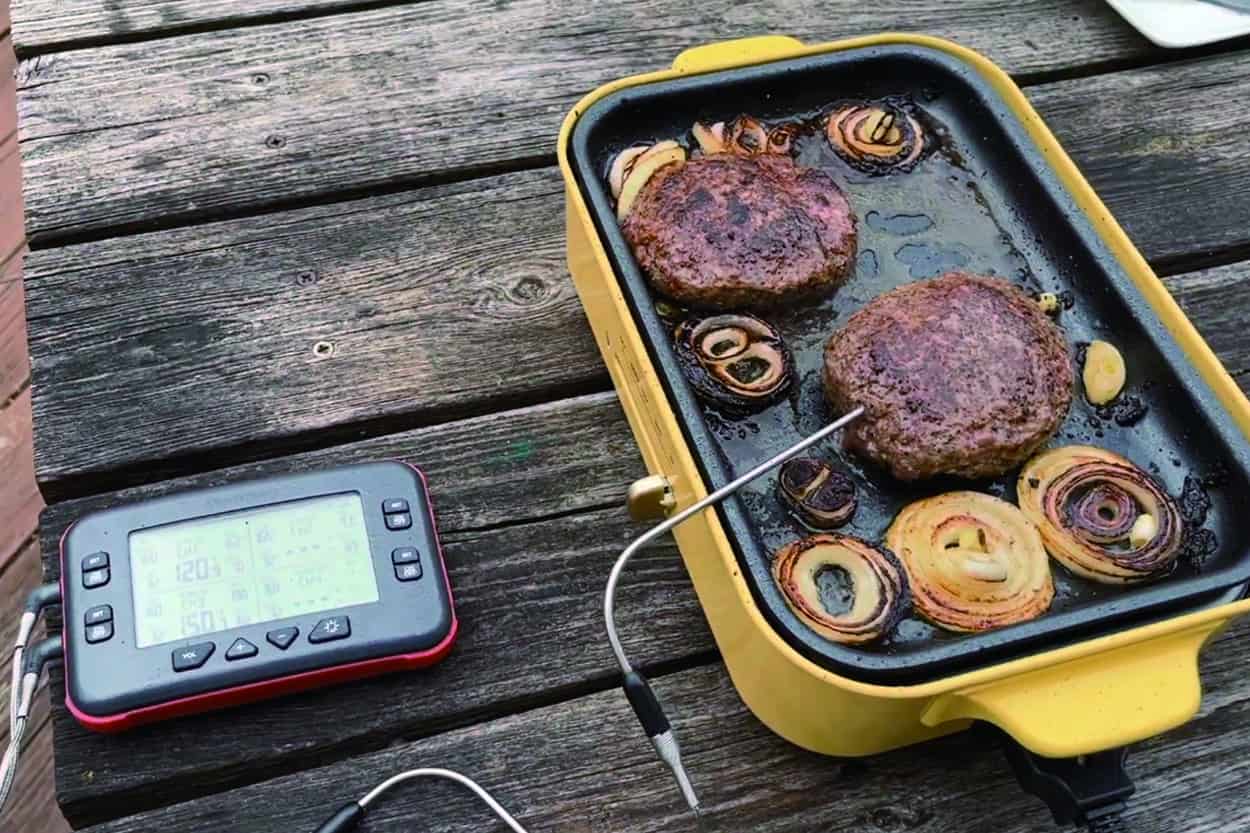 Best Grill Thermometer to Invest In
There is no worse feeling than cutting through a piece of meat and then discovering that the center is still raw or undercooked. It is not just a matter of flavor and texture, but also of food safety. Investing in the best grill thermometer is a must for those who are serious grill enthusiasts. It takes the guesswork out of the grilling process so you can guarantee that the meat is ready to be enjoyed once you take it off the heat.
Lucky for you, there are plenty of options on the market when it comes to thermometers designed for grilling and BBQ. 
Best Grill Thermometer: Top 5 
Enjoy the perfect BBQ with the entire family when you add these grill thermometers to your arsenal. You'll never want to grill without them again!
1. ChefsTemp Quad XPro Long-Range Remote BBQ Alarm Thermometer
Kicking off the list of the best smoker thermometers is the ChefsTemp Quad XPro. This BBQ thermometer is the ideal solution for monitoring the temperature of your meat when you are grilling in your backyard. Unlike a traditional cooking thermometer, it tracks the temperature of your food while it cooks. This enables you to know when your food is ready and not a minute later or sooner. It is crucial to achieve the perfect grilled meat so you won't have to deal with undercooked or overcooked BBQ.
Since this remote thermometer is designed for long-range use, it can stay connected up to 500 feet (or 150 meters). This means that you can sit back and relax while enjoying a drink with your friends and family instead of being tied down in front of the grill keeping watch on your BBQ meat. 
In the event that the temperature of the grill or your meat has gone up or lower than the ideal settings, it will send an alarm through the receiver. While this is considered the best grill thermometer on the market, it is also a versatile cooking device since you can use it for roasting or smoking, among other cooking methods. 
The ChefsTemp Quad XPro comes with 6-inch probes that have a right angle bend to make it easier to pull out the meat when done. The cable that is attached to a receiver for remote monitoring can withstand up to 700 F. You can also easily switch from Celsius to Fahrenheit readings depending on your preference. It uses the Thermistor sensor technology with a transmission rate of 38 seconds.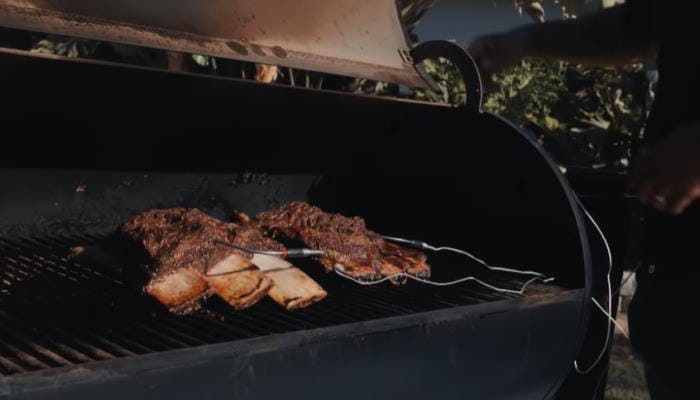 2. MEATER Plus Wireless Smart Thermometer
The Meater Plus wireless smart thermometer is another one to add to the list of the best cooking thermometers on the market. Designed for outdoor cooking, this is a unique thermometer because it allows wireless monitoring. This is the unique value proposition of this particular model, especially for those who do not like to deal with a long-range cable when grilling.
The Meater Wireless Thermometer is equipped with two sensors. Each sensor is designated to keep track of two temperature readings: the internal temperature of the meat and the ambient temperature. Just like the ChefsTemp Quad XPro, this thermometer has the ability to send alerts and notifications according to the desired cooking settings. 
This device can be monitored through its corresponding app so you can keep track of your cooking for best results. The thermometer is battery-operated using AAA batteries and is also dishwasher safe.
3. ThermoWorks Thermapen Mk4
Next on the list of the best cooking thermometer for the grill is the ThermoWorks Thermapen Mk4. This is one of the go-to choices for BBQ enthusiasts and seasoned chefs because of its technical accuracy. It is also a fast-reading thermometer that gives you a temperature reading within a couple of seconds. The temperature display is waterproof with a backlit screen making it easier to use even for a nighttime BBQ. The auto-rotating display is a nifty touch that makes it convenient to use for left-handed cooks!
In terms of practical use, the Thermapen Mk4 offers excellent battery power. It has an automatic shut-off feature that automatically switches off battery use when left idle. It also automatically turns back on when you pick up the device. 
Just like the ChefsTemp Quad XPro, this grill thermometer gives you the option to switch between Celsius and Fahrenheit readings. The probe that comes with this thermometer can be folded after use for ease of storage.
4. ThermoPro Grill Thermometer
If you are looking for a cheap BBQ thermometer, then this one's for you. This is one of the best cooking thermometers on the market because of its digital capabilities. It also offers precise temperature readings and a stainless steel probe. One of the most unique features of the ThermoPro grill thermometer is the temperature presets that are available for you to choose from, which are based on the USDA standards for food temperature and safety.
The presets available on the ThermoPro grill thermometer take the guesswork out of your cooking. All you have to do is choose your ideal preset depending on the type of meat you are grilling and you are good to go. The grill and your thermometer do the rest of the work for you! 
With all of these features, it's no wonder why Amazon users are all raving about this one.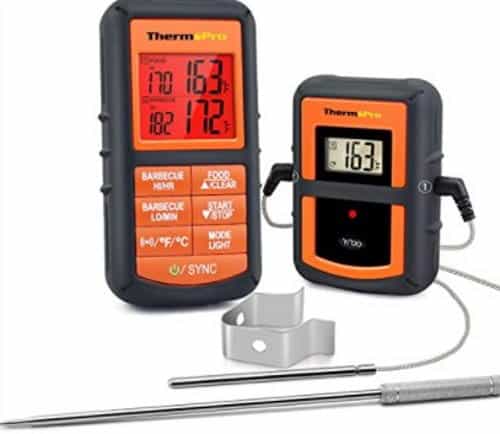 5. NutriChef Bluetooth Wireless Digital Thermometer
This is another remote thermometer that offers wireless capabilities for serious grilling enthusiasts. The NutriChef digital thermometer is equipped with Bluetooth technology that makes it more convenient to monitor the internal temperature of the meat you are grilling. However, you need to set up a digital tabletop console before you can begin monitoring your food on the grill. Another option is to download the accompanying app so you can keep track of the progress of your grilling from your phone.
Whichever method of monitoring you prefer, this thermometer will send you an alert whenever you have reached the ideal internal temperature for the grilled meat. All you have to do is to preset your desired temperature according to the desired level of doneness and you will know exactly when you have achieved this. This thermometer also comes with two probes, but you can purchase more if needed, allowing you to grill several meats at once. 
Discover more recipes and learn kitchen tricks by joining our cooking family on Facebook. 
Shop now for products used in this post: