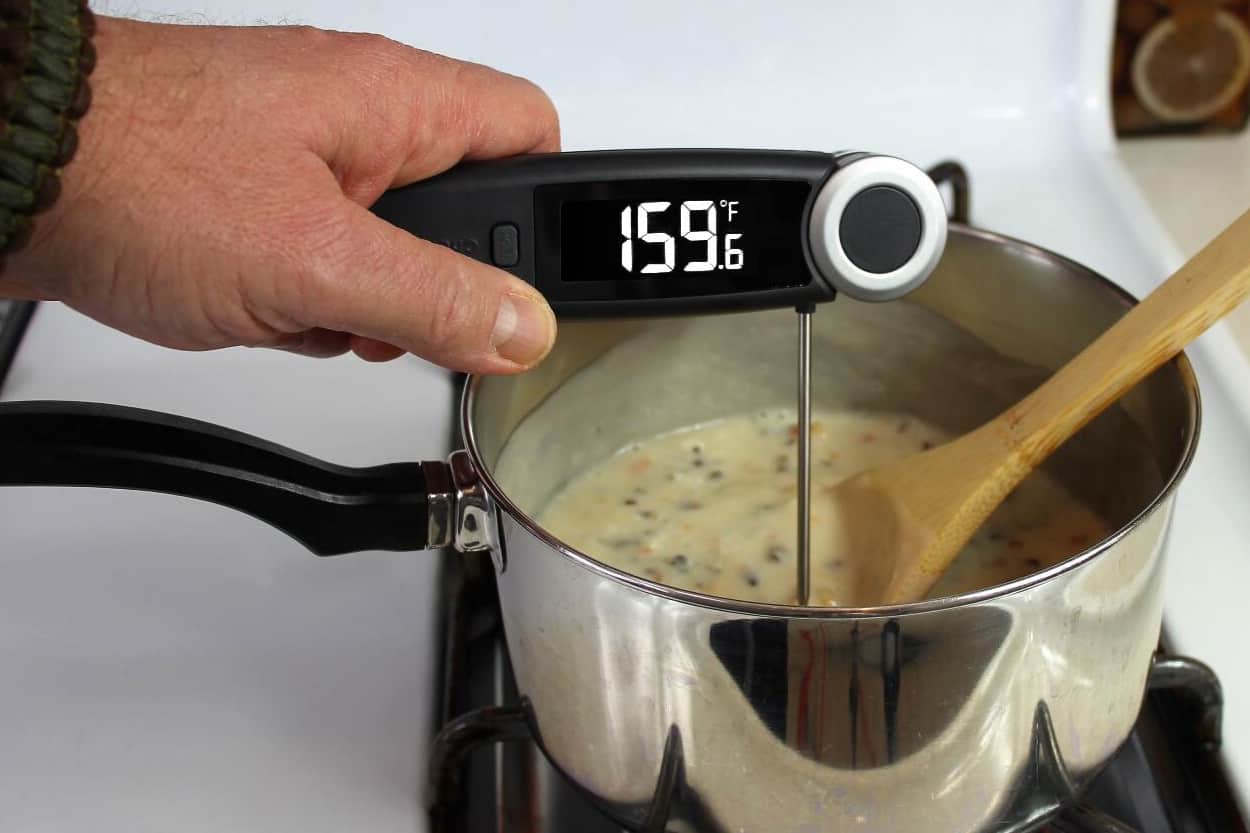 What Is the Best Instant Read Thermometer for Cooking Large Cuts of Meat?
Checking your meat doneness requires the best instant read thermometer. If you ever had issues serving undercooked meat, you need the best thermometers. It will eliminate your cooking meat issues as you can ascertain the doneness of your meat.
You don't have to depend on guesswork to know if your roasts, pork chops, or chicken are cooked because a digital thermometer solves that. It doesn't matter what you cook; you don't have to cut or poke meat as we will share three of the best meat thermometers. These thermometers offer accurate readings that won't damage your meat during the process.
Digital Instant Read vs. Probe Thermometer
A probe thermometer offers a unique benefit as it can stay inside the oven while cooking. This allows you to see the reading while your meat is cooking. It is usually suitable for large meat pieces that stay inside the oven for a longer period. In most situations, probe thermometers come with a digital display, making it visible for everyone to see from outside the oven. Furthermore, it comes equipped with alarms that get triggered once it reaches the desired temperature.
However, an instant read thermometer is different as it is used during or at the end of the cooking. Unlike probe thermometers, instant read thermometers are used outside the oven and have a small footprint. Overall, they are suitable for checking the temperature as it allows you to check your meat quickly.
ChefsTemp Finaltouch X10 Instant Read Meat Thermometer
Instant read thermometers are available in different styles and forms, but the ChefsTemp Finaltouch X10 Instant Read Meat Thermometer is best overall. It integrates the latest technology for both outdoor and indoor cooking experiences. It offers an accurate and intelligent cooking thermometer you would want to have in your kitchen. Let's look at some of the few features you can see in it.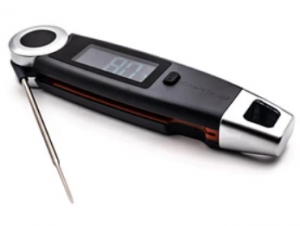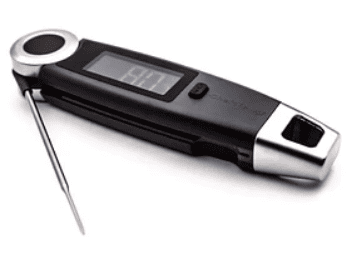 Product Features
Accurate and super fast – The ChefsTemp Finaltouch thermometer uses top-notch thermocouple technology to provide pinpoint temperature reading immediately. It reads the temperature within 1 second with an accuracy of ±0.7°F (±0.4°C).
Big sharp display – The thermometer comes with a large screen with significant digits, making it easier to view the temperature from different angles. Indeed, it is suitable for cooking both night and day.
270 degrees rotation probe – It offers awkward angles with perfect left-handed cooks.
Auto-rotation display – The inbuilt motion sensors can detect when the device is upside down while the display rotates accordingly.
Magnetic backing – It allows you to stick the digital thermometer to any metal surface when cooking.
Intelligent backlight – the motion display comes with an intelligent feature that wakes and sleeps automatically.
Wake-up activated mode – The device turns up and off automatically. You can set the sleep mode with the device.
ChefsTemp Quad XPro Long-Range Remote BBQ Alarm Thermometer
Another best instant read thermometer is the Quad XPro long-range thermometer with excellent features that automatically adjust the backlight and display sensor. Interestingly, it displays the temperature in seconds with a large visible screen.
It comes with an automatic off and on feature with displays that rotates automatically. Furthermore, it can be used in Fahrenheit or Celsius with a customizable whole number. The essence of a thermometer is to make cooking easier.
If you want to stay connected to your cooking without losing track of real-time temperature, we recommend the Quad XPro. It covers a distance of 150 meters, thereby displaying the right temperature for all your cooking. Significantly, it has low and high target settings that make a sound whenever it reaches a particular level.
It is the best multi instant read thermometer you would want to have as you can use it for several cooking methods, such as barbecuing, roasting, smoking, and more. It's among the essential tools you need in your home to get ready for Thanksgiving or dinner party. The Quad XPro is your companion as the best bbq thermometer for your roasting.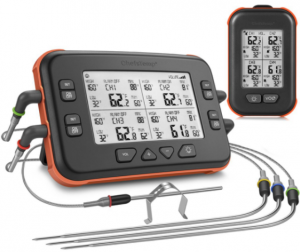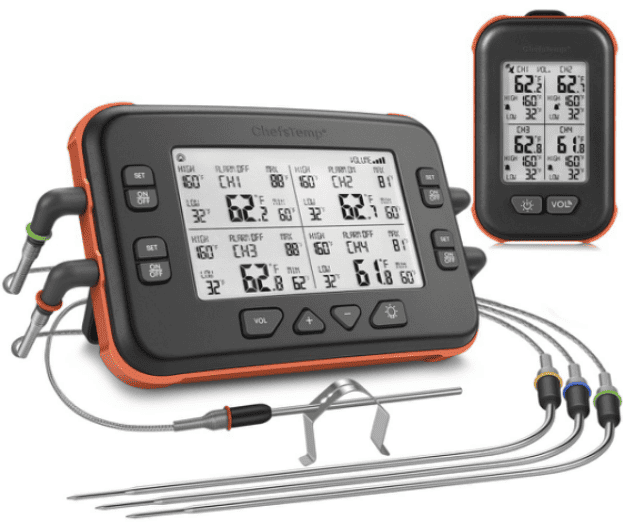 Product Features
Long-range – The product comes with a long-range feature that enables you to monitor your cooking temperature from far.
4 Channel display – You can track four different meat cooking simultaneously.
IP66 waterproof – It is designed for use outside due to its splash-proof sealed design.
Wireless technology – This thermometer utilizes the latest RF wireless technology.
Why Choose ChefsTemp Finaltouch X10 Instant Read Meat Thermometer?
There are several reasons why we consider the ChefsTemp Finaltouch X10 as the ultimate product for your cooking. It is worth investing if you want a kitchen thermometer without breaking the bank.
Accuracy – An important feature of a good thermometer is the accuracy level. The ChefsTemp thermometer doesn't lag in this area as it offers a precise and accurate measurement when required.
Excellent Design – Design-wise, ChefsTemp products are top-notch as they come with simple designs. The backlit display, large readout features, and easy adjustability are just a few to mention.
Quality product – The product comes manufactured with the best material possible in the industry. It offers durability with ease of cleaning after use.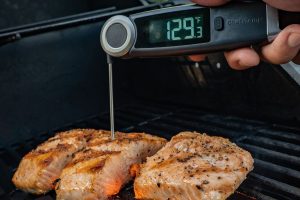 Buying the best instant read thermometer for cooking comes with a price. You need to perform due diligence because you want to invest in something that can protect your health. We have reviewed three of the best instant read thermometer you need in your kitchen in this article.
Discover more recipes and learn kitchen tricks by joining our cooking family on Facebook. 
Shop now for products used in this post: