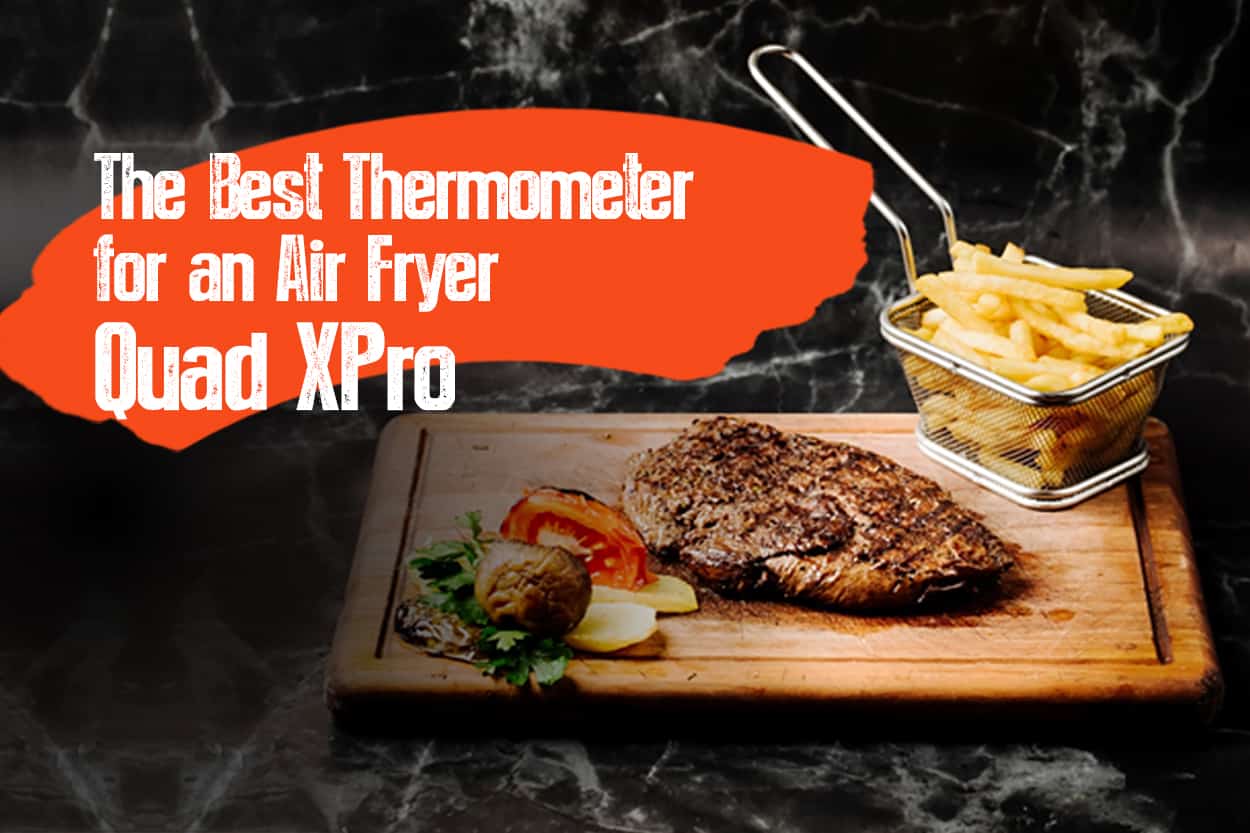 The Best Thermometer for an Air Fryer – Quad XPro
Have you ever air-fried your pricey meat loaves without using a meat thermometer? You probably have to run against the time, constantly checking when it's done for a turn.
Pricking meat with a fork or visually observing it will give you a fully-cooked, undone, overdone, or burnt meat. Undone meat pieces carry bacteria and pose serious health concerns like fever, diarrhea, stomach pain. Likewise, the fully-cooked, overdone, burnt meat versions eliminate the tenderness and juiciness of the steak. And we seriously don't want to put our loved ones at risk, or serve them something we wouldn't eat either!
Updating your kitchen weaponry with a remote thermometer for air frying will make kitchen errands easy, and meat cooking fun! These reliable kitchen gadgets are loved by celebrity chef artists, browning the meat to perfection, with measured sears, and textural crust. The final version: served juicy, with a lot of tenderness, a hint of crispiness, and loads of flavor. Becoming a household master chef was never that easy; cook your meals and your meat with a professional touch.
Quad XPro Long is the perfect specimen of an instant-read thermometer made for making air frying stress-free. You stick the 6-inch-long right-angled probes into the meat and instantly read/track the internal temperature from a distance of up to 150m or 500ft. The thermometer is handy for all types of cooking methods – roasting, barbecuing, smoking, and more – particularly, made to make hot air frying precise.
The temperature and cooking times in a hot fryer vary. You cannot expect the fryer to be at your desired temperature to kick-off your steak cooking marathon, it all depends on the steak cut on the fryer! And yes, different red meat cuts cook well in different temperatures. For some of these prized meaty possessions, the time to cook maybe a bit more than baking/ roasting, a little less than deep fat frying, or even similar to pan-frying! Hence, your eyeballs and instincts will not help you much!
The Overcook-Undercook Dilemma Solved
Not having a portable thermometer check makes it easier for your meat to go overcooked! Undercooking is easy to fix, but overcooking makes your kitchen life a whole lot miserable. No one can undo the wrath overcooking unleashes on the meat. And to be very honest with you here, home cooks tend to gravitate towards overcooking their meat. Why? For food safety, of course.
Overcooked steak cuts mean the guest is served with leathery, rubbery, drier, no-so-enjoyable food. Looking at food prices these days, everyone wants to enjoy food cooked to perfection and served with love! Optimum food cooking practices keep the essential nutrients and taste intact giving the food-eating experience of a lifetime!
Monitoring temperatures from your home or yard is made easy and fun with ChefsTemp's Quad XPro BBQ Alarm Thermometer. Now, you can spend time with your guests, entertain them, and worry less about breaking down the essential nutrients on the cow! What a blessing it is to stay connected and track the live temperature on your meat, knowing the right time to turn the fryer off on your perfectly-charred and smoked steak!
The alarm thermometer is powered with RF wireless technology, long transmission, dashboard-style display, long-range transmission, and four tracking channels. Now you can enjoy cooking your seafood, fish, meat to perfection. And even tell when the veggies are cooked al-dente – softer on the inside with a bit of crunch on the surface.
The four probes on QuadXPro Long thermometer lets you keep a check on the ambient temperature and meat temps simultaneously. The probes are capable of measuring different safe temps for different food items in an instant. Now, you can enjoy watching your favorite sports, entertain friends and family, take a dip in the pool, or take a lot of pictures, without worrying the meat is smoked to perfection or not. Just take a glimpse down the display to know when it's done! Enjoy, relish, cherish, and treasured memories.
The large dashboard-style display, an ever-bright 20-second backlight feature, long battery life makes cooking exciting, precise, and flexible. Now, you don't have to unnecessarily worry about squinting your eyes in the yard, on winter evenings, or in the kitchen. The large screen is capable of displaying both metrics – Celcius or Fahrenheit –  to eliminate the hassle of following and recipe, monitoring the meat, and converting the temps!
The four-channel splash-proof casing on the QuadXPro makes the main unit and the receiver very forgiving when kitchen counter accidents take place. Do not worry about your pet jumping over the counter and splashing water on the unit – it's water-proof. Moreover, be free from the horrors of dropping your unit/ receiver off the counter. The QuadXPro has gone through rigorous testing, faced a lot of water splashes, stood the test of accidents, and bounced back strong to poke yet another meatloaf!
Quad XPro Long-Range Remote BBQ Alarm Thermometer Specifications
Be it summers or winters, steak cooking is about the love for the meat! Grilled, pan-seared, oven-baked, reverse-seared, tartare cooking are the conventional ways of cooking your steaks. Nowadays, celebrity chef stars prefer air frying steak cooking methods to keep the taste, juiciness, and tenderness intact. Quad XPro Long-Range Remote BBQ Alarm Thermometer is your best bet when it comes to entertaining your loved ones, or treating you and your date with well-cooked food at home!
Discover more recipes and learn kitchen tricks by joining our cooking family on Facebook. 
Shop now for products used in this post: