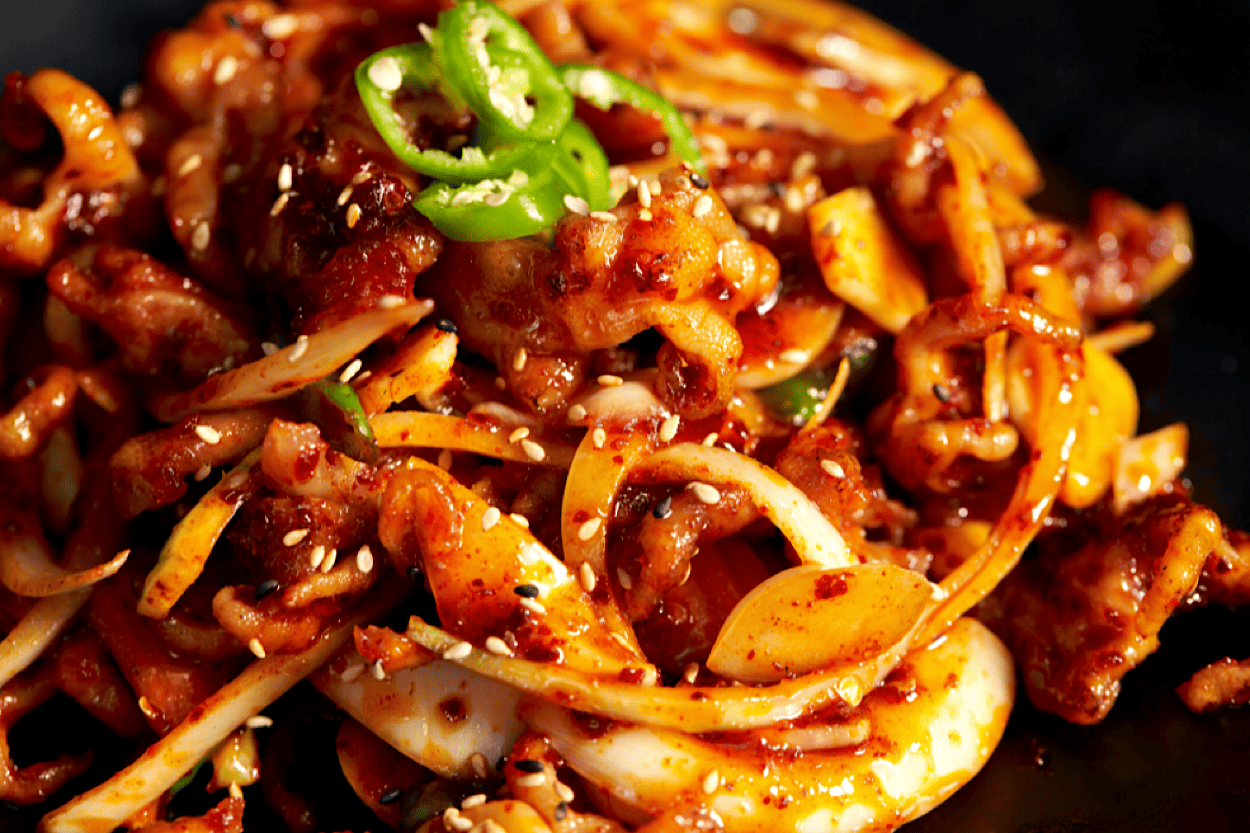 How to Cook a Delicious Chicken Feet Curry
Chicken is one of the most popular proteins around the globe, famed for its immense versatility and recipe potential. It also requires a much shorter cooking time than other meats and every single part of the animal can be used up for minimal waste.
With that in mind, let's talk about chicken feet.
Have you ever cooked chicken feet? Ever seen, touched or even eaten them?
In this blog post, you can expect to learn all about this unique ingredient and how to create a delicious Jamaican-inspired chicken feet curry.
Ready to get cooking? Let's begin!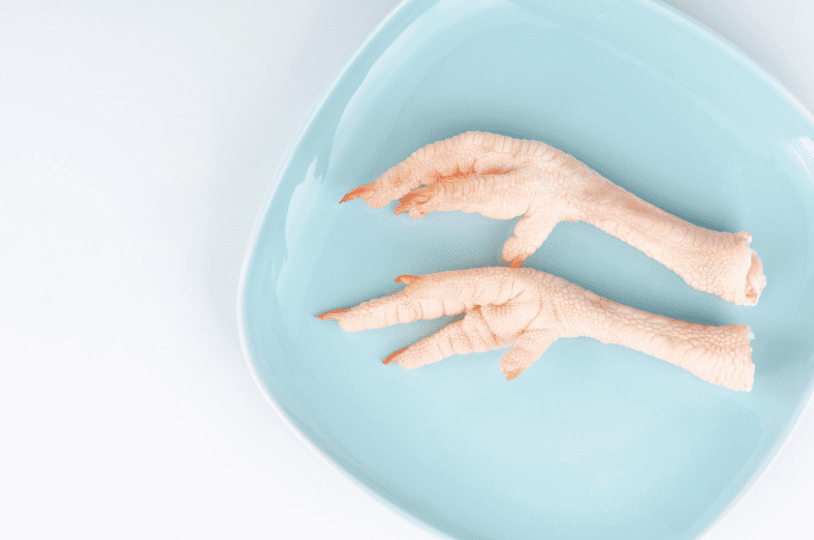 Are Cooked Chicken Feet Really Edible?
So, let's address the chicken-shaped elephant in the room. If you're unfamiliar with global cuisines or avoid cooking anything exotic altogether, you probably didn't even think it was possible to eat chicken feet.
It may seem bizarre, but this ingredient is enjoyed widely in cultures all over the world. Countries like China, Vietnam and the Philippines are famous for their crispy, feet-flavored street food – but the excitement isn't limited to Asia. African, South American and Caribbean nations are also avid chicken-feet eaters, often using them to bulk out classic recipes.
Every part of a chicken is edible when cooked, including its feet. Now we've got that out of the way, let's find out how to whip them up into a delicious Jamaican-style curry.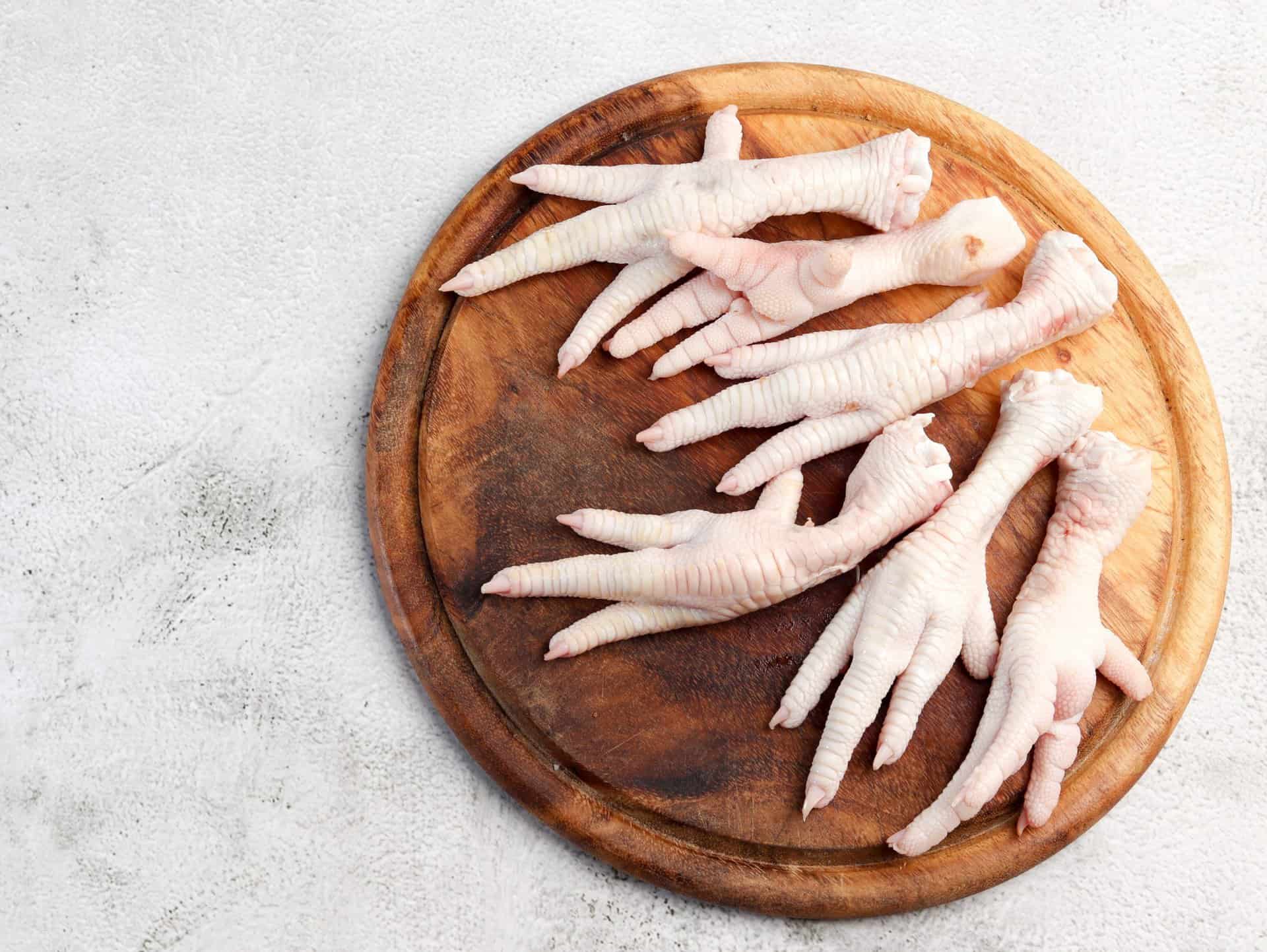 How to Make a Cooked Chicken Feet Curry?
Step 1: Prepare Your Ingredients
For this Jamaican-style Cooked Chicken Feet Curry (Serves 6), you will need:
900g of chicken feet
1 large onion (chopped)
1 tbsp of Jamaican curry powder
3 cloves of garlic (crushed well)
5 tbsp of dried thyme leaves (or 2 fresh sprigs)
Half a Scotch Bonnet pepper (remove the seeds!)
1 large diced carrot (plus any other root veg of choice)
1 chunk of fresh ginger (grated)
1 tsp chicken seasoning
1 tsp salt
1 tsp pepper
2 tbsp cooking oil (olive or vegetable)
1 tbsp vinegar
Lemon (or lime if preferred)
Plenty of water
Step 2: Clean the Chicken Feet
The first step to take before creating your warm and spicy curry is to prepare the chicken feet. It's incredibly important to clean each piece thoroughly, removing the nails and peeling away the skin.
To complete this task effectively, place a colander under a cold tap. Add each chicken foot individually, skinning, washing and de-nailing as you go. Once washed to perfection, rinse again in a mixture of vinegar and lemon juice, then place in a large bowl ready for the next step.
Step 3: Marinate and Season the Meat
The next step? Marinate. Marinate. Marinate! Jamaican food is all about bold, brilliant and unique flavors, pushed into meat with heartfelt love and attention.
In a large bowl:
Add the freshly prepared chicken feet.
Throw in the onion, garlic and scotch bonnet pepper – then mix.
Next, add grated ginger, thyme, curry powder and chicken seasoning.
Using clean hands, mix the ingredients and coat all of the meat.
Cover the bowl and let the marinating commence for 45 minutes!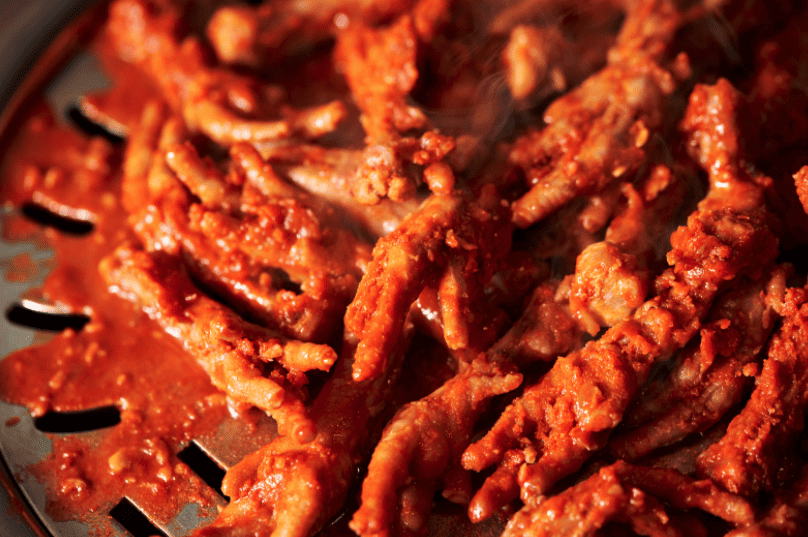 Step 4: Smoke the Chicken Feet
Time to start cooking! In the next step, you'll need to fire up your stove to medium and find a large pot to put to use. Getting a curry right isn't easy, especially if you're an amateur chef. Focusing on heat and consistency is important, so this step really does require your full attention.
Once you've placed your pot on the stove, you'll need to:
Add the cooking oil and the curry powder – mix and simmer for 1 minute.
Throw in the bay leaf and allow your kitchen to fill with a delicious aroma.
Once the oil begins to smoke, add the chicken feet to the pot and stir.
Cook for 5 minutes on a medium heat and allow the feet to fully contract.
You'll know when it's time to move on to the next step by watching your cooking chicken feet intently. As the heat stimulates the meat, the muscles in the feet will contract as if curling up. They will also begin to change color slightly, so watch out for this too!
Step 5: Leave to Cook
Next up, leave to cook! Before heading to the sofa for a well-deserved rest, there are a few things you need to do to ensure your curry is on its way to perfection.
Add plenty of water to the pot, ensuring the meat is covered.
Throw in as much salt as you like, but be sure to save some for final seasoning!
Cover with a lid or alternative and reduce the heat slightly.
Allow the curry to cook for one hour.
While the curry itself needs an hour to cook fully, your vegetables don't need as much heat to taste delicious. That's why you should set a timer for 30 minutes at this point to add your carrots and any other root veggies to the pot.
Step 6: Temperature Check
The final step is here! Before you take your curry from the stove and dig into your delicious cooked chicken feet, it's important to check the temperature of your dish to make sure it's safe to eat.
Our range of professional cooking thermometers are the perfect solution for this stage of the process. Ideal for probing meats and grilling from a distance, you'll never have to worry about food poisoning again with our intelligent devices. Simply calibrate your thermometer and get accurate readings in seconds!
Once your chicken feet have reached 165 Fahrenheit, you're good to go. Serve with creamy rice, crusty bread and fresh green beans for an authentic finish!
Thanks for reading our recipe for this delicious cooked chicken feet curry – we hope you enjoy cooking and devouring it! If you're looking for the right thermometer to take your recipes to the next level, visit ChefsTemp now for equipment that gets the job done.
Discover more recipes and learn kitchen tricks by joining our cooking family on Facebook. 
Shop now for products used in this post: