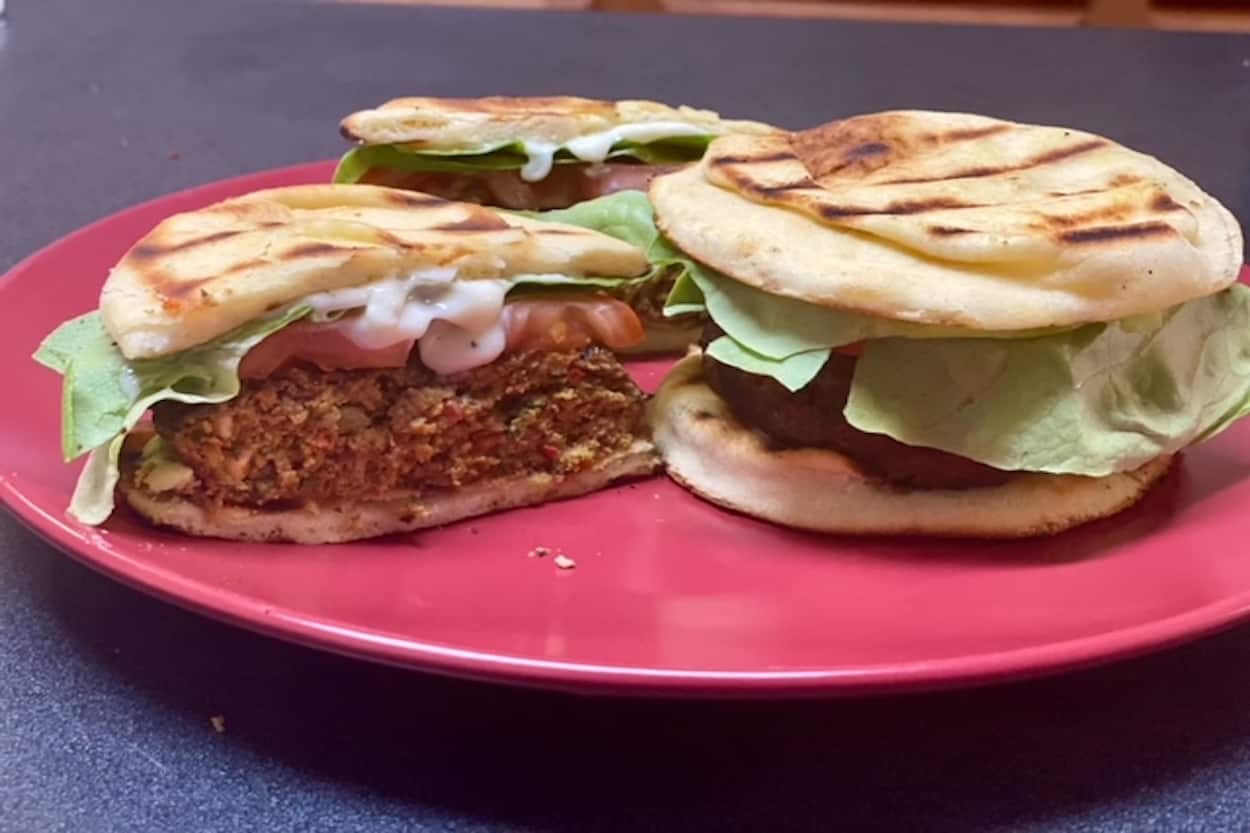 How to Cook A Curry Lamb Burger
This recipe is a great twist on a lamb burger. The curry powder gives it just enough kick while the honey adds a taste of sweet. Feta incorporates a salty, cheesy texture. This burger is a great way to introduce your family to lamb if they haven't had it before.
Prep Time: 30 minutes
Cook Time: 15 minutes
Serving Size: 5
Ingredients
1 pound ground lamb
1/2 pound ground beef
1/4 cup red bell pepper, roughly chopped
1/4 cup red onion, roughly chopped
1/4 cup celery, roughly chopped
2 cloves garlic
1/4 cup loose fresh cilantro
1/4 cup loose fresh parsley
1/2 cup feta cheese
2 tbsp curry powder
1 tbsp honey
1 tomato, sliced
5 pieces of butter lettuce
2 packages of naan
olive oil
salt
pepper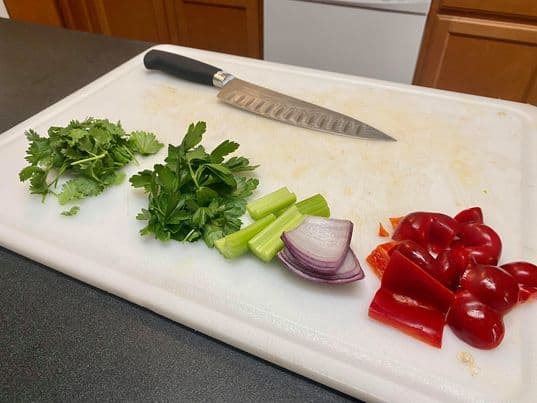 Roughly chop red bell pepper, celery and red onion so they will easily fit into the food processor.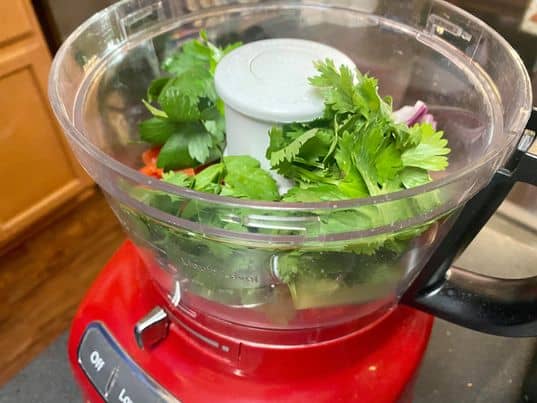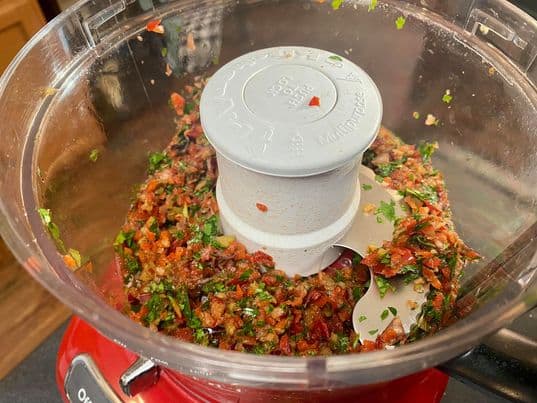 In the food processor combine red bell pepper, celery, red onion, garlic, cilantro and parsley , process into a paste.
I like mine processed into pretty small pieces but you can leave them in bigger chunks if you please. In my opinion the smaller pieces combine into the meat better.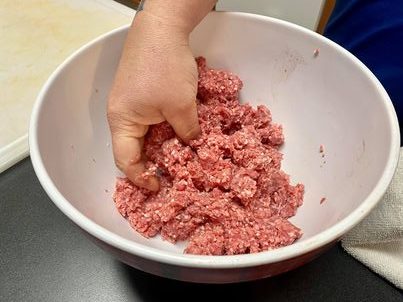 In a large mixing bowl combine ground lamb and ground beef. Season with salt and pepper.
The beef adds valuable fat to the lean lamb while not affecting the tase of the lamb.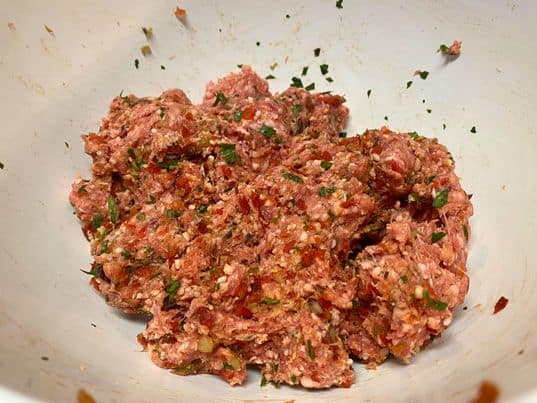 Once meat is combined, mix in the vegetable mix until well combined.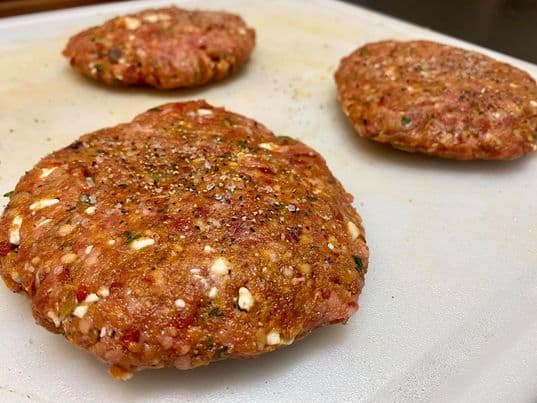 Mix in curry powder and honey. The honey adds a great sweetness while keeping the curry from becoming too bitter.
Lightly mix in the feta cheese to meat mixture and form into patties. Season both sides of patties with salt and pepper. Preheat grill to 500 º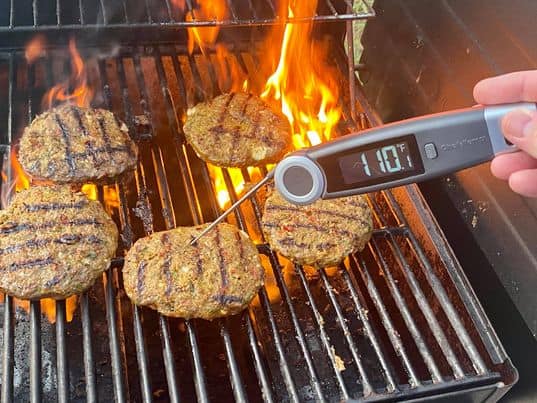 Place patties on hot grill and cook to an internal temp of 160º on your ChefsTemp Finaltouch X10 thermometer.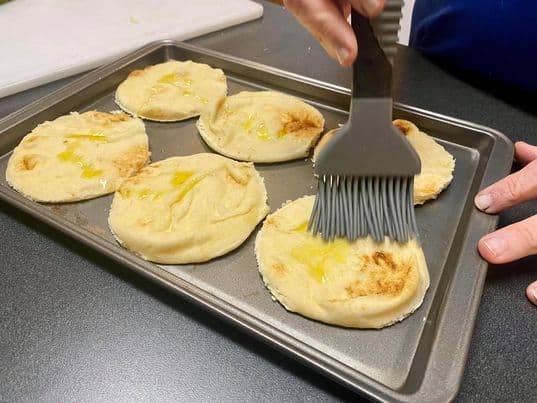 While burgers are resting , use a round instrument to cut the size of you burgers out of the naan.
I use a large cup to press down the circle shape and cut around the cup.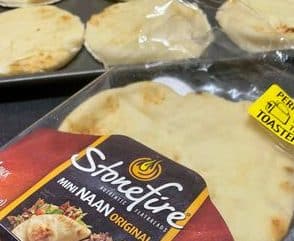 Brush both side of the naan with olive oil and cook each side for 30 seconds on the hot grill.
This warms the bread and adds char to both sides.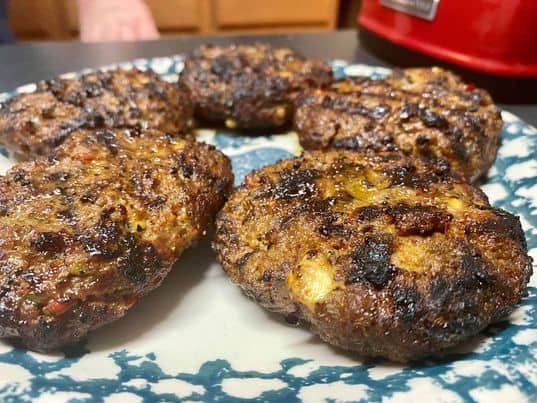 Serve the burgers with lettuce , tomato and mayo.
A few tips when cooking ground lamb is that it should be defrosted in the refrigerator, never at room temperature. Ground lamb should be cooked as so as possible after it is defrosted. Always allow your frozen patties to be fully thawed. A frozen or partially frozen patty will need cook evenly and the center will not cook to the proper temperature even though the outside may be completely cooked. This is why it is very important to use a digital thermometer like the ChefsTemp Finaltouch X10 to assure the lamb is completely done and has reached the recommended internal temperature of 160º for ground lamb. Also with ground lamb dishes it's especially important when the lamb has been blended with dark sauces or veggies. It's hard to indicate if the lamb is done by sight, always check the temperature to insure doneness.
It's hard to believe I wasted so much of my life not knowing how tasty lamb is. Now that I have discovered it, I can't get enough. Lamb is big in Texas and I am lucky to be able to get grass fed lamb from Cedar Elm Ranch Meat Market.
Curry lamb burgers combine ground lamb, beef, curry powder, honey, feta, red bell pepper, red onions, parsley , cilantro and celery into a large patty. Grilled and served with naan , tomatoes, butter lettuce and mayo.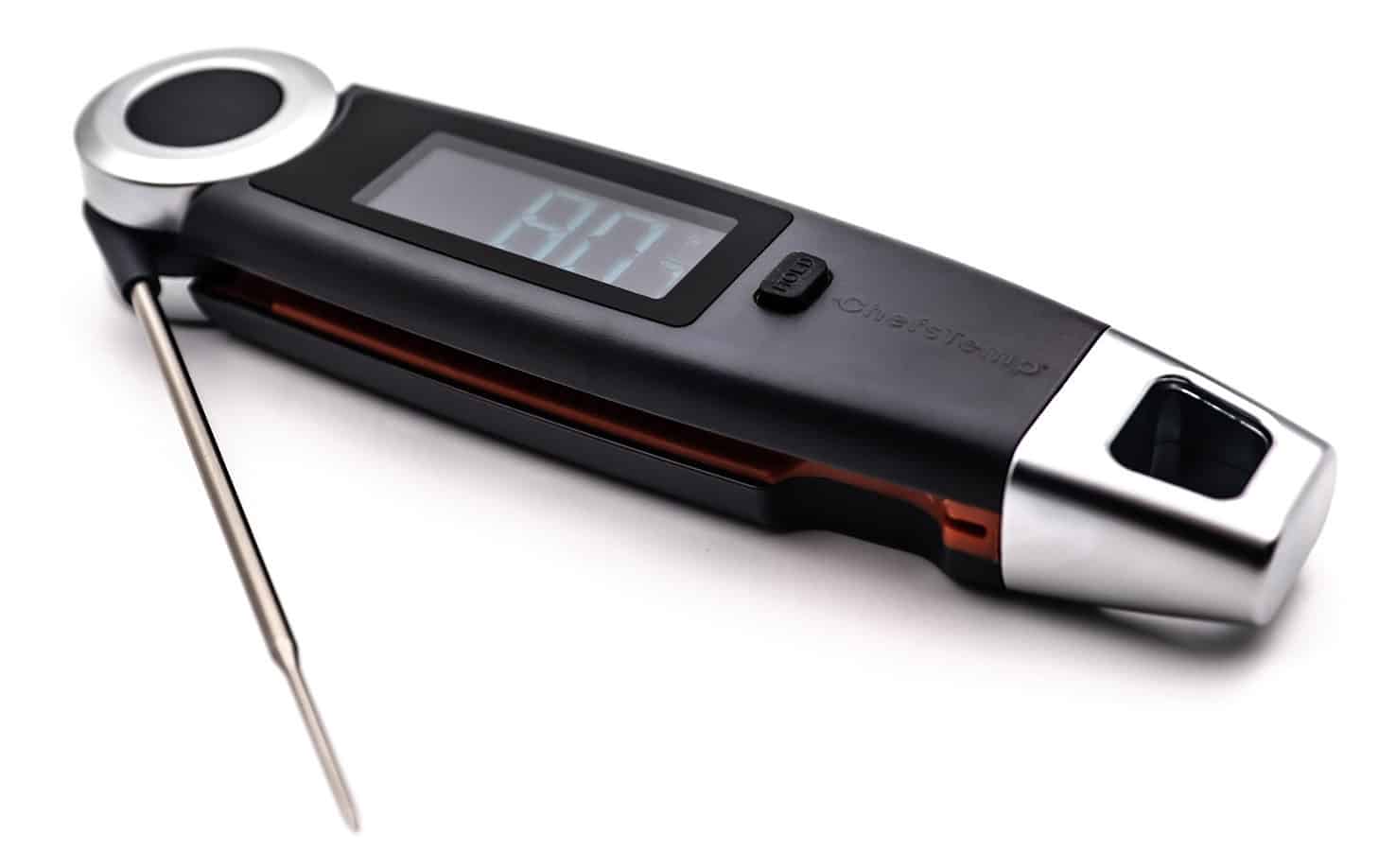 Finaltouch X10
The Finaltouch X10 thermometer from ChefsTemp gives an accurate reading not only for the inside of food but for surface temperatures as well.  The diversity of the thermometer's usage is second to none compared to other thermometers.  By getting a reading within 1 second, the Finaltouch X10 from ChefsTemp is prepared to take on any task it is given.
Discover more recipes and learn kitchen tricks by joining our cooking family on Facebook. 
Shop now for products used in this post: