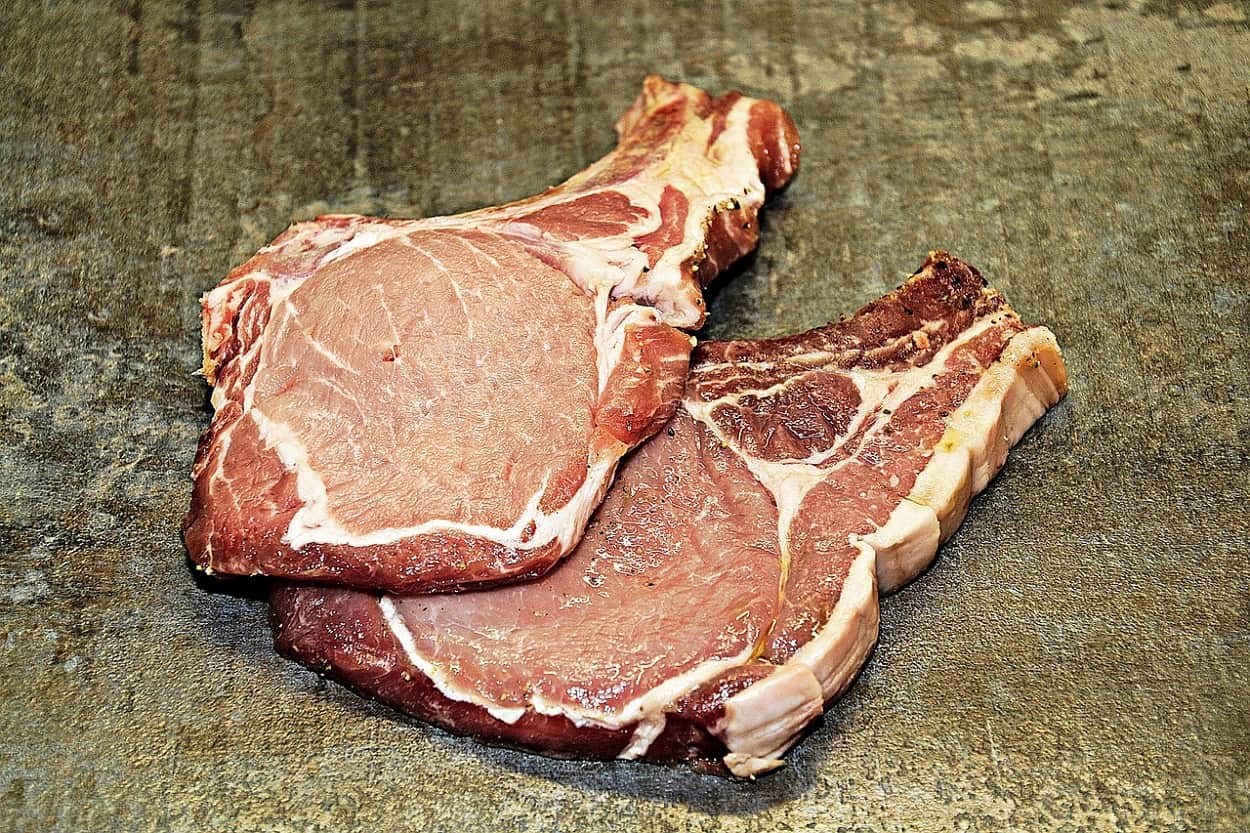 How to Grill Thick-Cut Pork Chops?
You don't have to go with the norm when you want to spice things up for a dinner party or get-together. Ditch the costly steaks and chicken and try something different. If you are running out of options, it's high time to think of pork. The pork meat is multipurpose and can be grilled immediately without any stress. Just slice it or whip it up, and your dinner is ready. Interestingly, pork chops are healthy, lean, economical, and cook quickly.
Get your grill thermometer ready if you are ready for business because you won't want to prepare an undercooked pork chop. Nowadays, you find several affordable meat thermometers to check your meat doneness.
What Parts of Pork Chop are Suitable for Grilling?
If it's your first time purchasing pork meat, there are several options because you can get chops from different loin parts. The rib chops have a sizeable smooth meat section and are leaner, whereas the blade end is situated at the loin front – directly beside the shoulder. The sirloin is located at the back end, containing several muscles, while the bone-in center and cut chops both have tenderloin and loin.
Notwithstanding, it is preferable to choose the center-cut chops or rib chops for grilling because they lack any chewy muscles and are tender. In addition, ensure you buy a pork chop with a minimum thickness of 1-inch.
It's always advisable to brine your pork chops prior to the grilling. Most people brine their pork chop because it preserves the meat's wetness, thereby providing some insurance assuming the meat becomes overcooked. The other reason is that it equally seasons the pork chop and goes into the meat.
You don't have to go overboard when brining your pork chop. Chops are not like turkey, and 30 minutes can work magic. You can allow your brine pork to stay for two hours before grilling. Peradventure, your pork chop is frozen; you can also brine it as it gradually defrosts.
How to Season Pork Chops?
After brining your pork chops, you don't need water to clean them. You can use paper towels to dry them properly. In addition, you can sprinkle black pepper on it or use any of your favorite spices. Ensure the spice doesn't contain any salt since you have seasoned it already.
If it's your first time, you might be thinking about how long to leave the pork chops. Well, you will need a grill thermometer to ensure you don't go below the temperature danger zone. Assuming you are using an open-air grill, you must do two-level heating. You can use a higher temperature to grill it before moving to moderate heat for the finishing process. Based on the thickness of the chop, it can take four to seven minutes as the heat creates juicy meat inside while giving out that nice crust outside.
Understanding the Right Pork Chop Temperature
There is a need to ensure you don't overcook your pork chops. You have to consider two things – temperature monitoring and target temperature. A few years ago, the United States Department of Agriculture altered the recommended safe pork doneness temperature from 71°C (160°F) to 63°C (145°F).
This temperature difference means you can cook your pork safely to delicious doneness rather than getting dehydrated. To achieve the target temperature, you need to have the best food thermometer to ensure it reaches 60°C (140°F). Nevertheless, this would depend on the chop's size and cooking method.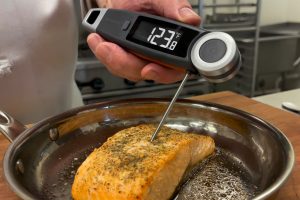 The first step is to learn how to use a meat thermometer, as that knowledge will come in handy when grilling the pork. With that sorted out, you can get ready as you start your pork chops grilling process. We believe you already have your outdoor grill equipment ready to grill your pork chops.
Ingredient Needed
1/3 cup of salt (any salt would do)
5 cups of cold water
One teaspoon of black pepper or dry rub or salt-free spice
Pork chops (boneless port with at least 1-inch thickness)
Three tablespoons of granulated sugar
Step One – Preparing the Brine
We've already talked about why you need to brine your pork chops. Mix the three teaspoons of granulated sugar and 1/3 cup of salt. Add the 5 cups of cold water and whisk until you have a dissolved solution. Submerge the pork chops completely into the solution. Use a bowl with a cover and store it in a refrigerator for thirty to two hours.
Step Two – Heating the Grill
Twenty minutes prior to the main cooking, you can heat the outdoor grill. If you are using a charcoal grill, ensure you arrange the coals in one part of your grill while allowing the other part to stay empty. However, if you use a gas grill, you can heat the burners (the minimum temperature should be 232°C or 450°F). You can use an instant-read thermometer to check if it has reached that temperature.
Step Three – Seasoning the Pork Chop
Remove your pork chop from the brine and use paper towels to dry it. Use seasoning to spread through the pork chop. Here, it will depend on the season you use. Remember to avoid a season that contains salt since you have initially brined it with salt.
Step Four – Place the Chops Over the Grill
Scrape your oven grill if necessary. If it is a gas grill, you need to reduce one of the burners to generate medium heat. Drop the pork chops on the warmer burner and allow to cook. Ensure you turn each side within 3 minutes once the grill mark appears.
Step Five – Finishing Cooking
Now, you can transfer the pork chops to where there is no heat on the grill. Continue flipping every minute pending when you get a temperature of 145°F or 62°C using a grill thermometer. To avoid preparing undercooked meat, the temperature must not be within the temperature danger zone.
Once you can confirm that the pork chops have reached the desired temperature with your kitchen thermometer, you can take them to a serving tray. Use an aluminum foil to cover loosely and wait for five minutes before sharing it to your guests. You can refrigerate any leftovers inside a sealed container.
Getting your pork chop grilled doesn't have to be stressful. You can try the recipe above and see how you can improve your grilling skill. Whether you want to grill pork chops for a small party or dinner, you need a good grill thermometer to ensure your meat is not below the temperature danger zone.
Discover more recipes and learn kitchen tricks by joining our cooking family on Facebook. 
Shop now for products used in this post: