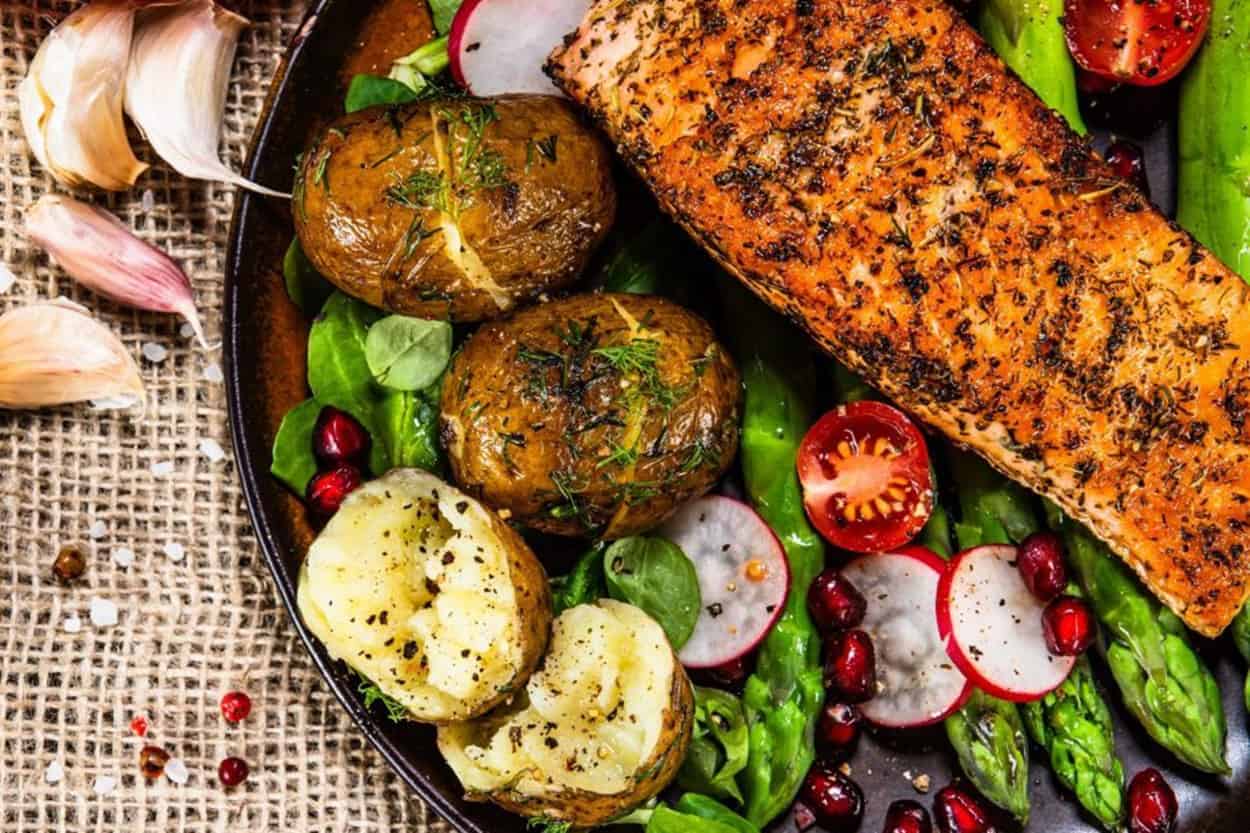 Grilled BBQ Salmon
There's nothing like the perfect grilled salmon that will easily impress your family and guests, or even if it's just for yourself. Mastering a grilled salmon takes a certain technique and once you get it down, one thing is for sure–you will be making this dish time and time again. This salmon recipe is certainly an easy, quick, healthy, and delicious meal that you will absolutely love. 
To make flavorful grilled salmon, you don't have to be the most skilled griller out there. In fact, this method of making salmon is a lot easier than you may think. But there are some tips and tricks that everyone should know to master a beautifully moist dish and avoid an overcooked piece of fish that gets stuck to the grill.
What's The Best Salmon for Grilling? 
This particular recipe doesn't call for too much–in fact, all you really need are some quality ingredients, a hot grill, and to make things even easier, the best digital meat thermometer for grilling. Using a quality meat thermometer is essential in achieving consistent and delicious results. 
But to start, you are going to need good salmon. Wild-caught salmon is great for grilling as it has more flavor, but if you or your guests prefer a more mild flavor, then farm-raised salmon is great too.
Ingredients for BBQ Salmon
4 6-8 ounce salmon filets with skin on (about 1 inch thick)

1 tablespoon of good quality oil (extra virgin olive oil or grape seed oil)

2 teaspoons of kosher salt

2 teaspoons of black pepper

1 lemon cut into wedges
How To Grill Salmon
Although there are many different ways you can cook salmon, there's something about perfectly made salmon on the grill. First, you'll want to preheat your grill. Whether you're using a gas or charcoal grill, you'll want to preheat your grill for about 10 minutes with the lid closed. Your grill should be at about 450-500 degrees. 
While your grill is preheating, add the olive or grape seed oil and season the flesh side evenly with salt and pepper. A good tip is to season just before cooking so the salt doesn't break down the fish. Once you have added the olive oil, salt, and pepper to your salmon filet, add the filet to the hot grill (skin side down) for about 6-8 minutes. Then flip the fish and grill the flesh side down for 1-2 minutes. 
Having a hot grill is essential so your fish (or any type of protein) won't stick to the grill and will easily lift off once it's done cooking.
Once it's done, let it rest for a few minutes and serve with lemon wedges.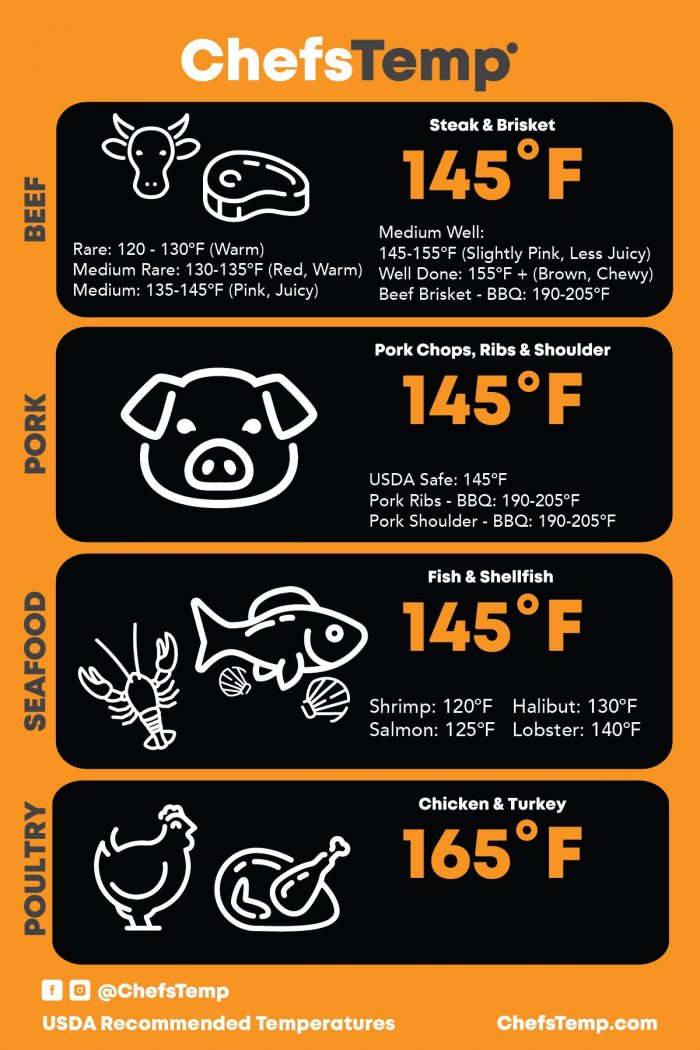 Which Side of the Salmon Should I Cook First?
When grilling fish–or any fish with the skin on–you should cook the skin side first. It is also important to always choose a cut of salmon with the skin on. The skin is important, as it adds a layer of protection between the flesh and grill while it cooks. Additionally, make sure the lid is closed to ensure a consistent cooking temperature.
ChefsTemp Quick Tip:

Fish and Shellfish: 145 degrees Fahrenheit. Steaks, Chops, and Roasts: 145 degrees Fahrenheit (Medium). Chicken and Turkey: 165 degrees Fahrenheit. 
Flip the Fish!
Next, flip the salmon once on the grill and let it cook for 1-2 minutes and then it's done. It's important that the salmon cooks the majority of the time on the skin side so it doesn't fall apart or stick to the grill.
What's the Best Temp to Cook Salmon to?
Salmon is cooked once it reaches 145 degrees Fahrenheit. However, remember that food still cooks once you take it off the grill. So it is best to pull it off once it reaches 125-130 degrees Fahrenheit and let it rest for a few minutes before serving. The best way to ensure your salmon is at the perfect temperature is to use a digital internal meat thermometer. A meat thermometer will be able to provide an accurate reading so you won't have to worry about undercooked or overcooked fish, providing the best results every time.
The Best Meat Thermometer For Cooking Fish and Meat
If you are looking for the best meat thermometer for cooking meat and fish, then ChefsTemp has you covered. The ChefsTemp Finaltouch X10 is the perfect digital internal meat thermometer that will make your grilling experience a seamless one each and every time. Achieving consistent results is important, especially when cooking fish. You never want to have fish that is overcooked or undercooked, and luckily with the thermometer, you will never have to worry about that.
Having the best meat thermometer for cooking meat and fish is truly a game changer and will have you grilling like a pro in no time.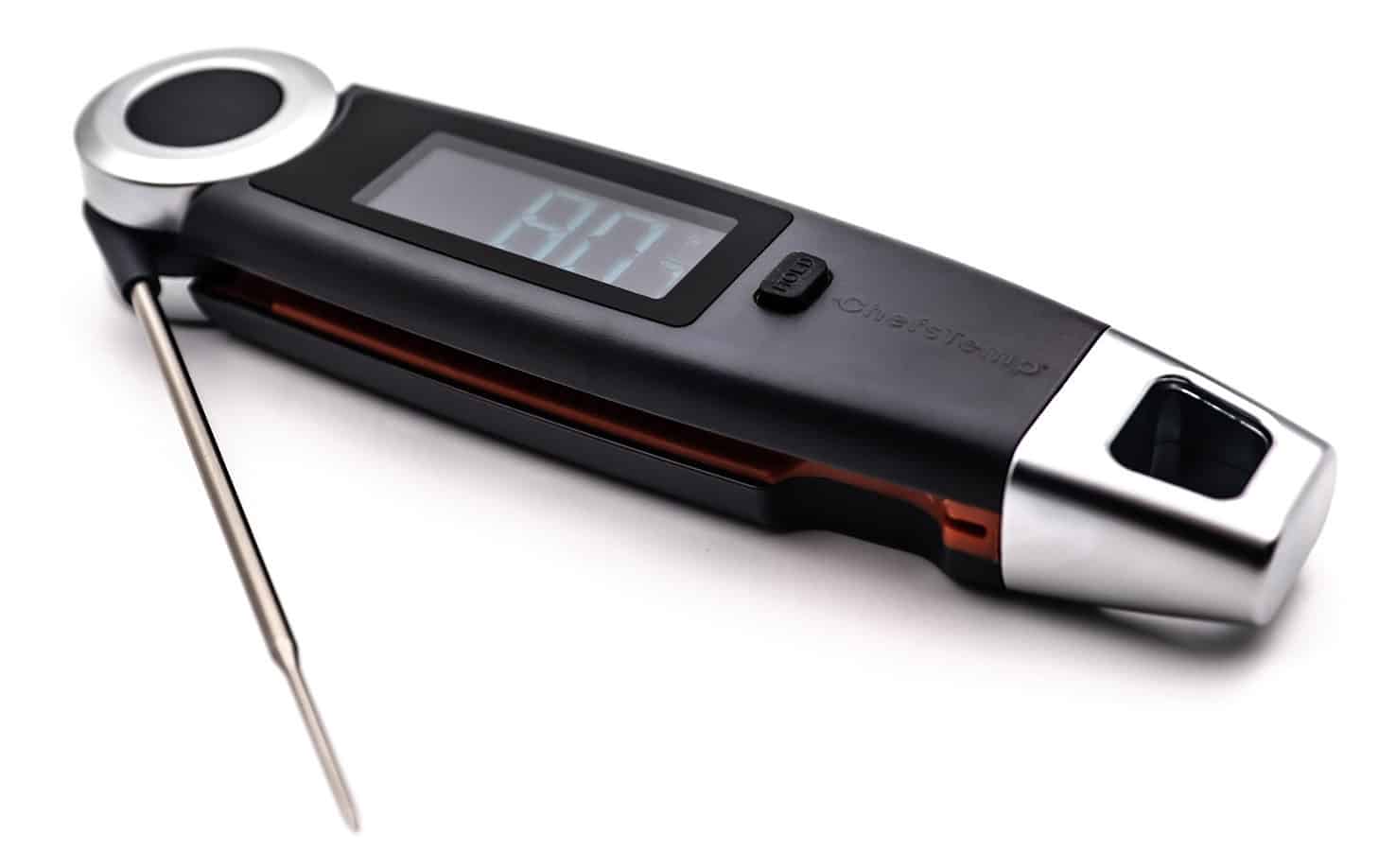 Finaltouch X10
The Finaltouch X10 thermometer from ChefsTemp gives an accurate reading not only for the inside of food but for surface temperatures as well.  The diversity of the thermometer's usage is second to none compared to other thermometers.  By getting a reading within 1 second, the Finaltouch X10 from ChefsTemp is prepared to take on any task it is given.
Discover more recipes and learn kitchen tricks by joining our cooking family on Facebook. 
Shop now for products used in this post: