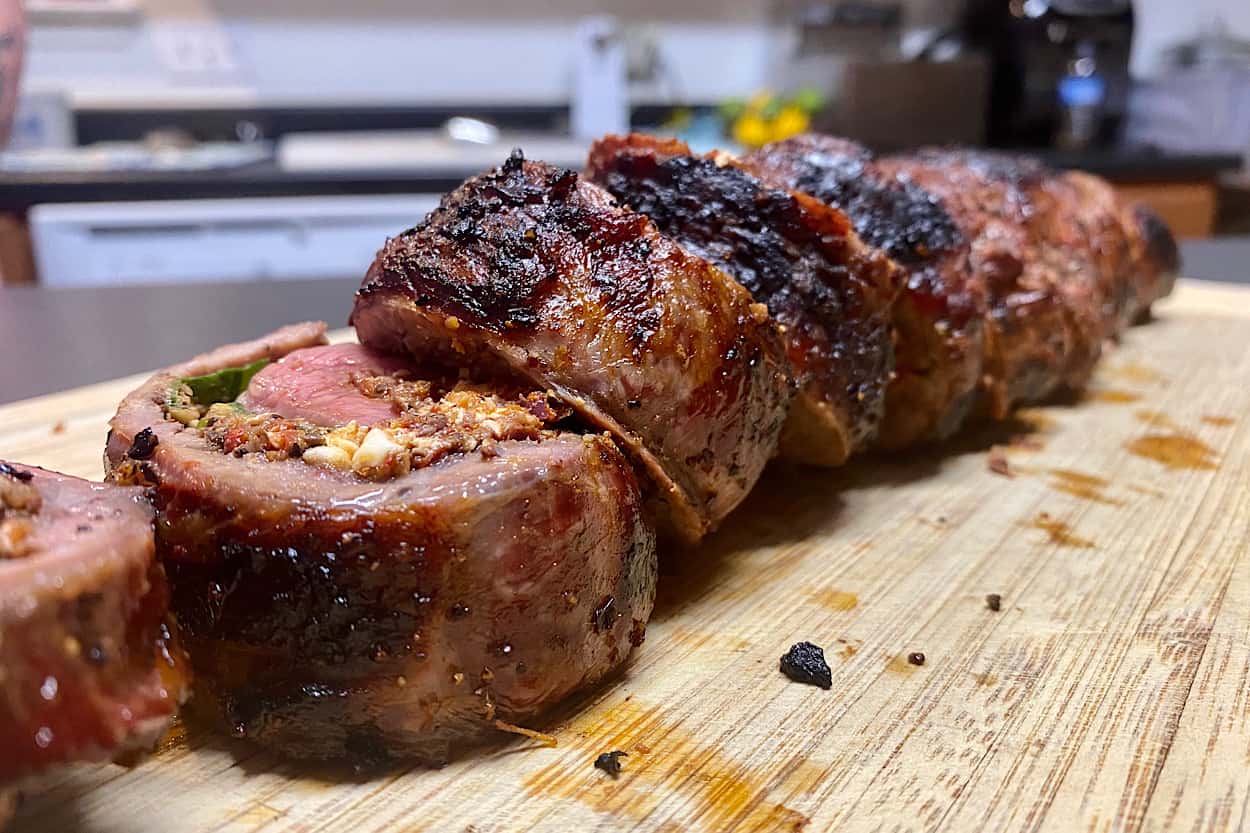 Mediterranean Roulade
Prep Time: 30-45 minutes
Cook Time: 20 minutes
Serving Size: 4
Roulade:
2 lb Flank Steak
1 cup Olive Tapenade
Fresh Spinach
Salt
Pepper
Butcher's Twine
Olive Tapenade:
1/2 can Artichoke Hearts
1/2 cup Kalamata Olives
1/2 cup Sun Dried Tomatoes
1/2 cup Roasted Red Peppers (jarred)
1 tbsp minced Garlic
1 tbsp Olive Oil
Salt
Pepper
Pesto:
3/4 cup Walnuts
1 cup Fresh Basil Leaves
1 cup Fresh Flat Leaf Parsley
2 tbsp Minced Garlic
1/4 cup Parmesan Cheese
Olive Oil
Salt
Pepper
1 Lemon, juiced
Blue Oyster Mushroom Orzo
1 cup Orzo
2 cup Beef Stock
4 tbsp Butter
4 oz Blue Oyster Mushrooms, roughly chopped
1 tbsp Minced Garlic
1 Shallot, finely chopped
1 tbsp Olive Oil
Salt
Pepper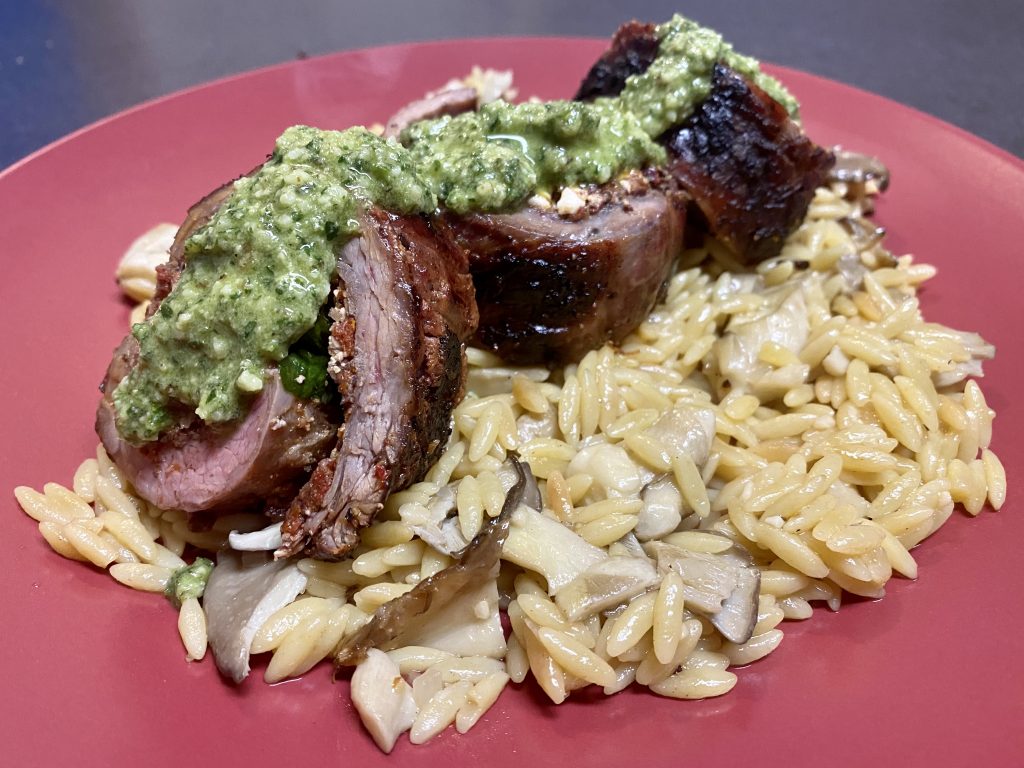 Growing up in Kansas there is steak then there is other meats.  Nothing is better than a grilled steak with simply salt and pepper.  While I am a purist , every now and then I like to mix it up and add some variety to my beef.  This roulade satisfies the purist in me while taking my taste buds on a trip to the Mediterranean. Roulades can seem intimidating to make but they are actually quit simple and a great way to show off your skills to friends and family.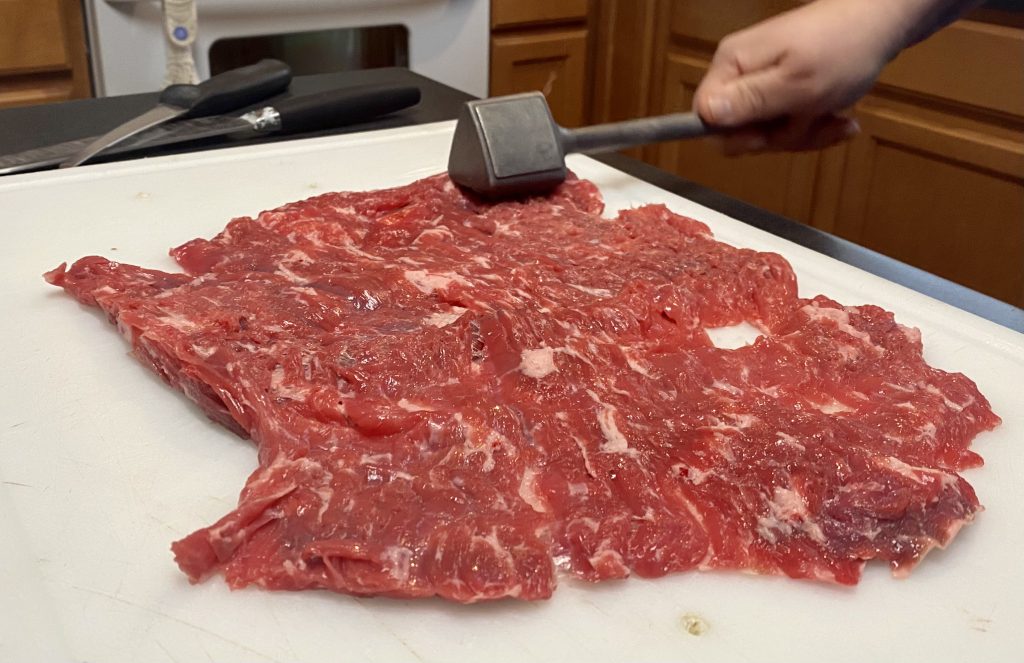 For this recipe I like to use Flank Steak.  It's the layer of meat that covers the outside of the cows ribs.  Skirt steak that is used for fajita could be used interchangeably for the roulade as well.  Flank steak is a leaner cut and a bit more tender.  If you choose to use the Skirt Steak you will want to trim some of the fat on the outside to help with flare ups on the grill.  Flank Steak will allow the roulade to stay moist because of the fat marbling throughout the steak.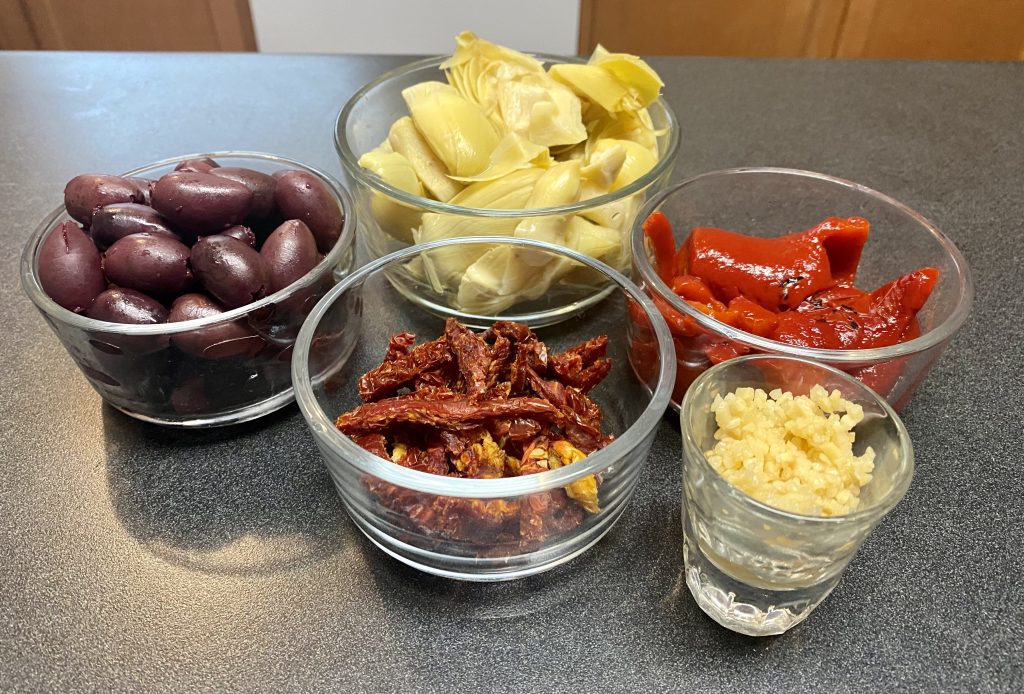 Step 3
The Tapenade and Pesto for the recipe can be made ahead of time. I believe it allows the flavors to really come together.  Allow the Pesto to stay at room temperature to avoid it "caking" up.   Pesto can be completely customize to your taste or the meat you are serving it with. Truly no herb or nut that could not used to make a delicious Pesto.  Cooking is all about trying new things and experimenting with food.  Any If you have any left over they go great on a toasted baguette or pita chips.  I tend to make more so I could have a snack later!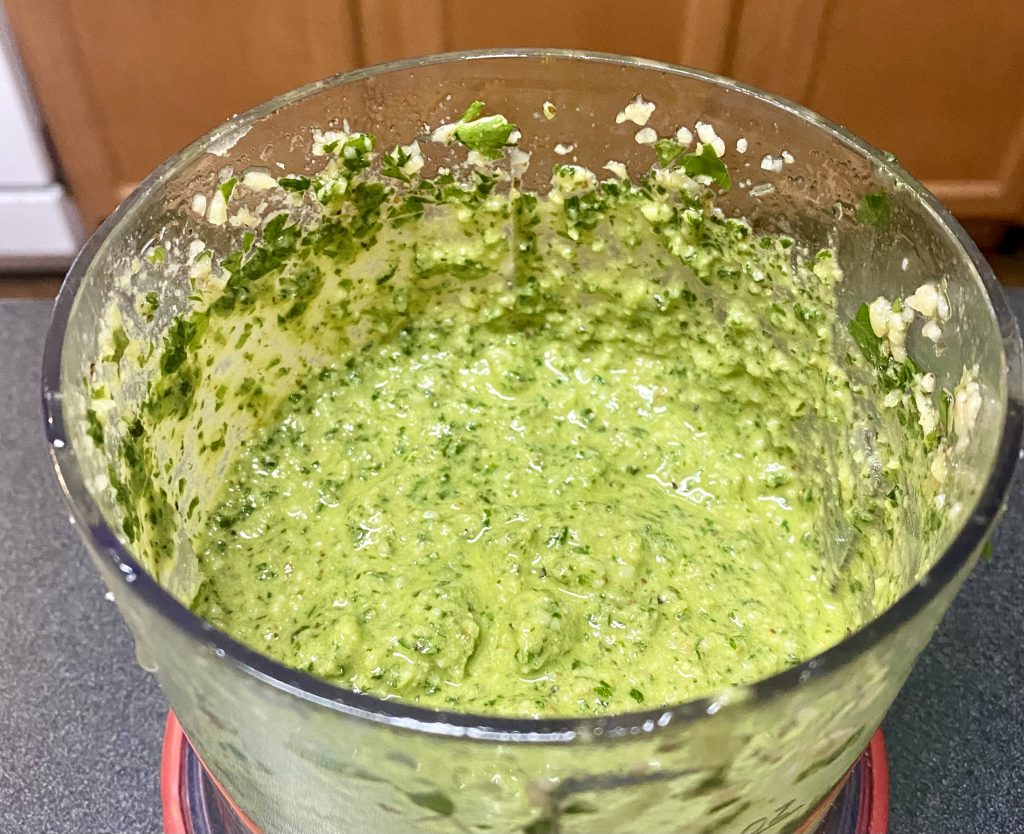 For the Olive Tapenade, make sure to drain and rinse the artichoke hearts before making.  This helps to eliminate the briny canned taste and salt content. Combine all the ingredients, minus the salt, into a food processor or blender and blend to a fine minced consistency.  Add more Olive Oil if you like a thinner Tapenade.  I prefer mine fairly think to add more texture to the finished Roulade.  Add salt to taste.  Transfer to a glass bowl and refrigerate until ready for use.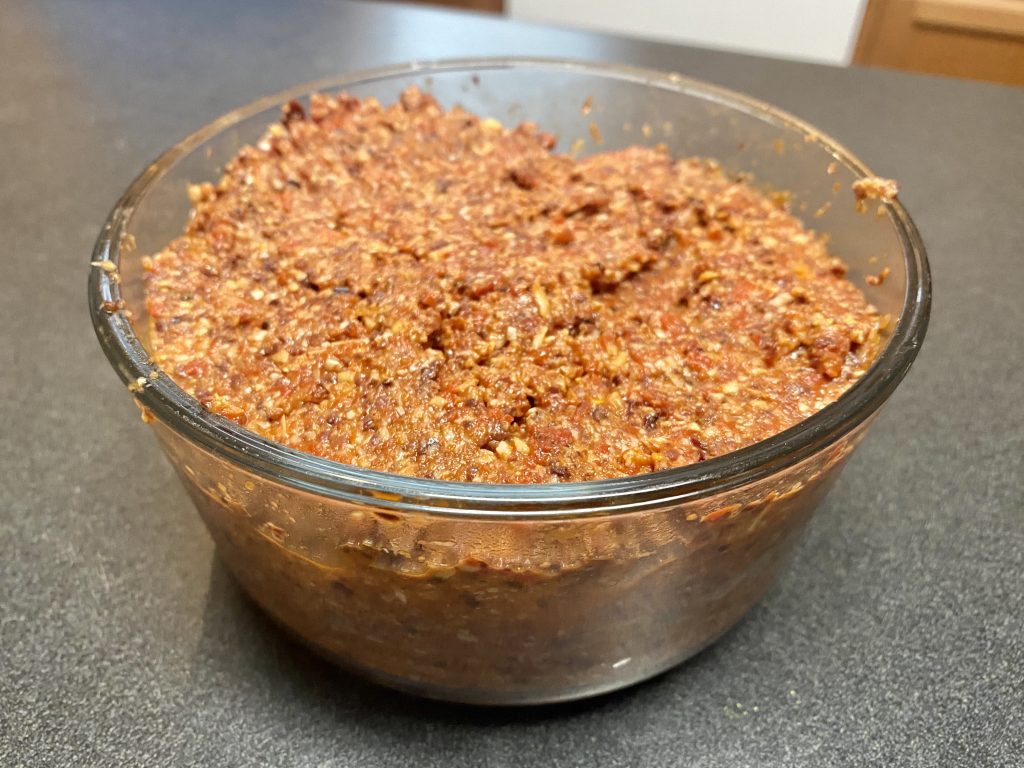 Step 5
For the Pesto, combine ingredients in a blender or food processor.  As you blend, slowly drizzle in your Olive Oil to achieve a smooth consistency .Place in a glass bowl and cover. Pesto does not need to be refrigerated before serving.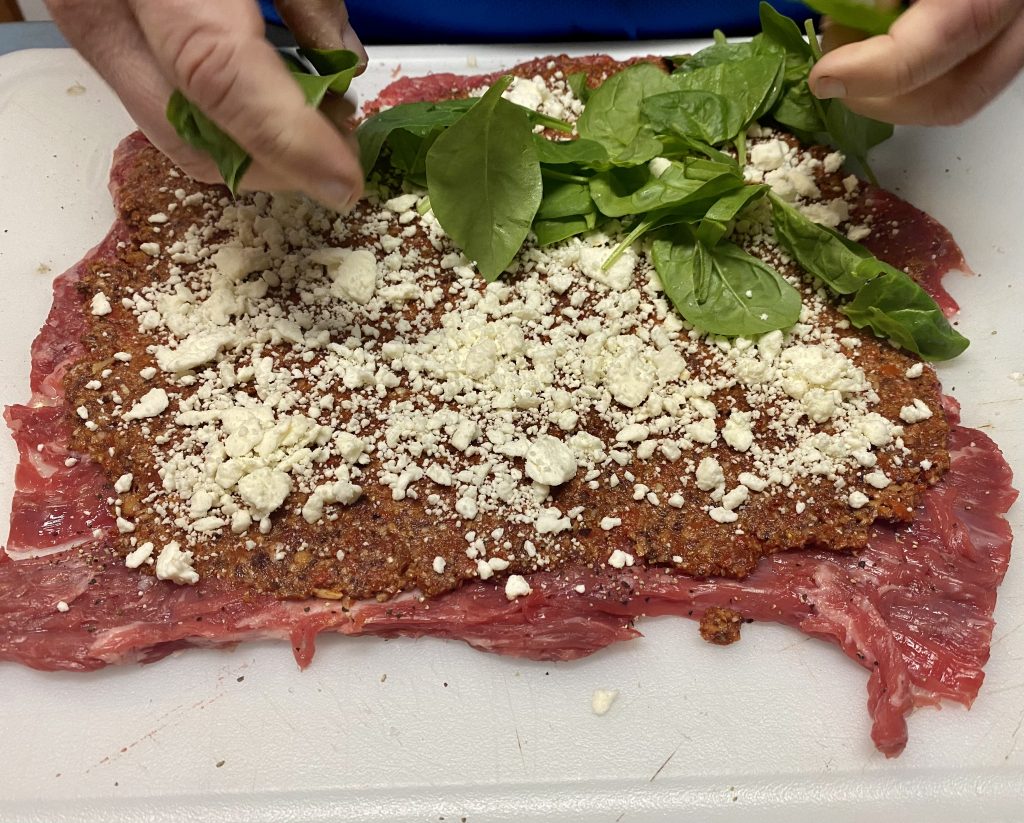 Step 6
For the Roulade, use a mallet to pound out the steak to an even thickness.  If you do not have a mallet you could use a small cast-iron pan to flatten it out. Once your steak is even, season liberally with salt and pepper.  Next, spread an even layer of Olive Tapenade over the inside of our steak.  Sprinkle the feta cheese over the top of the Tapenade then add a very healthy layer of spinach on top. The Spinach will cook down drastically.   Drizzle spinach with olive oil , salt and pepper.  Round the steak into a roulade, like you were making cinnamon rolls.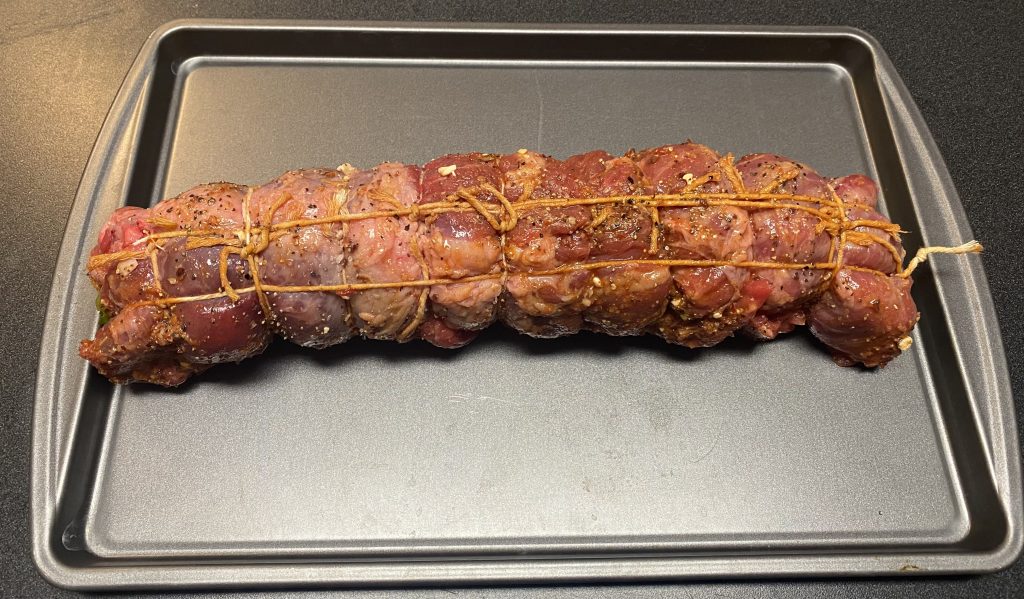 Now comes the fun part, the trussing.  The simple way is just to tie an overhand knot every 2 inches or if you are feeling fancy use a continuous truss.  Youtube has many "how to" videos to show you how to truss.  It takes a few tries to get it perfect.  I like to allow the met to set up in the fridge 20-30 minutes before grilling.  Anytime I make a roulade, meatballs or patties I feel like it holds together better.  This would be the time I start the grill and begin prep work for my Orzo. Heat grill on High and allow to reach max temperature.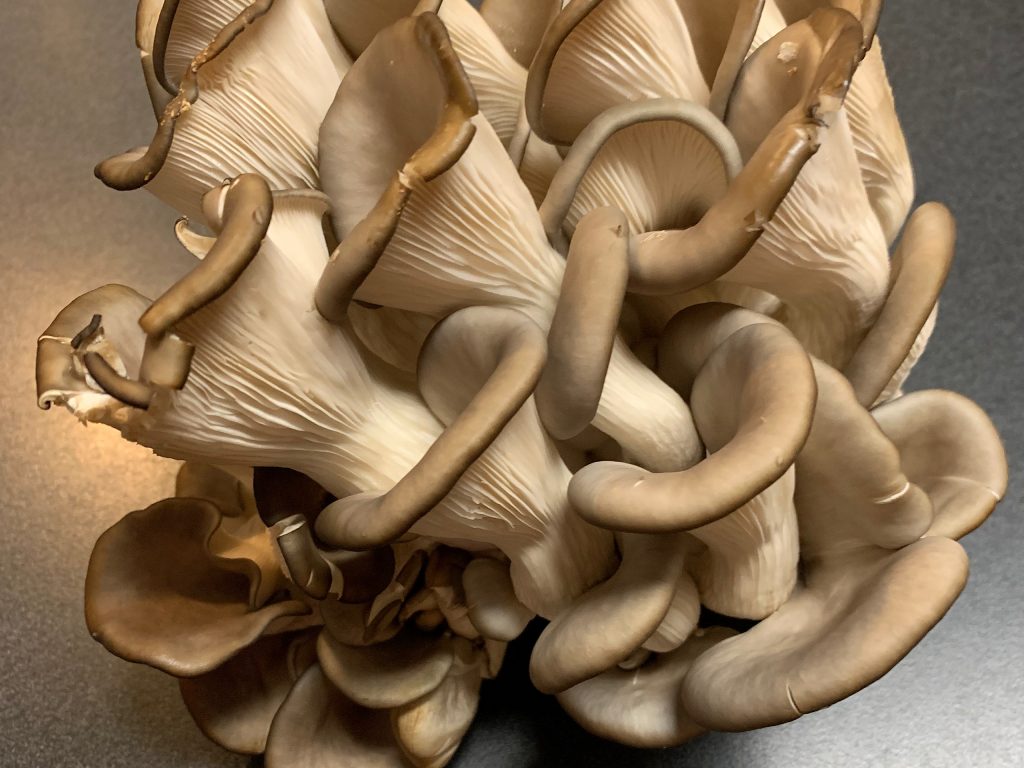 Step 8
For Orzo, roughly chop the Blue Oyster Mushrooms.  Then finely chop the shallots.  In a large skillet sauté garlic and shallots in Olive Oil and butter. Cook for 4 minutes then add mushrooms, salt and pepper.  Sauté until mushrooms are tender , remove from heat and set aside. Oyster Mushrooms do not take very long to soften online button mushrooms. They add a nutty, smokey flavor.  We are blessed to be able to get fresh organic mushrooms from No Label organics here in Austin.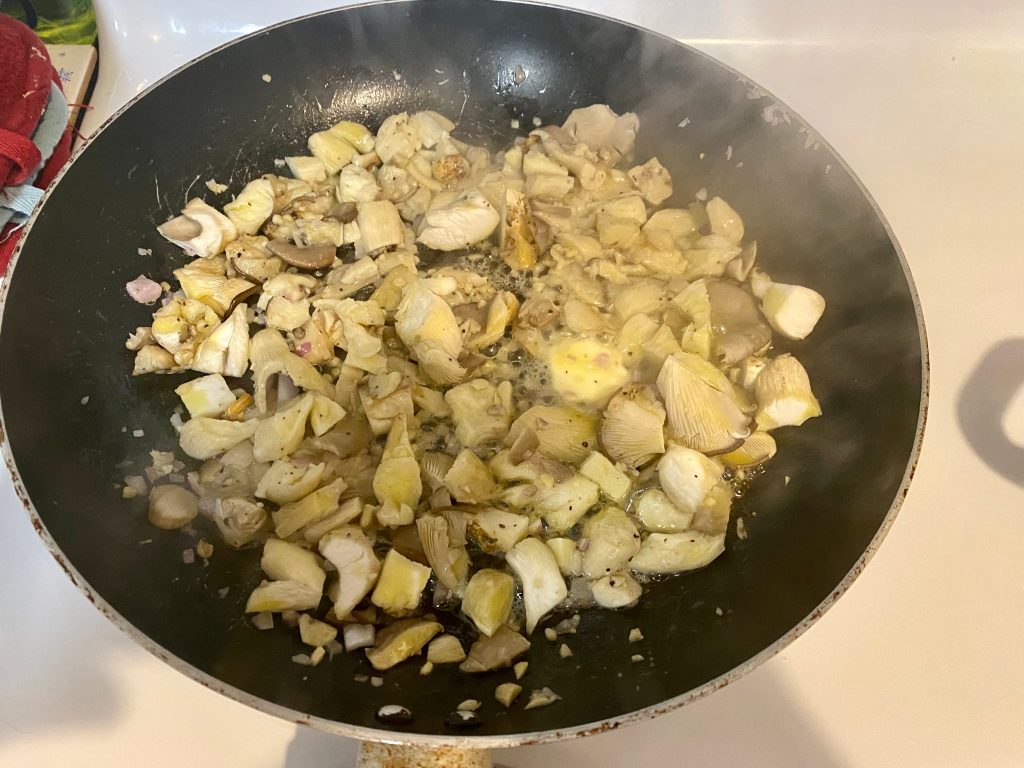 In a large deep skillet, toast the Orzo in butter over medium heat until golden brown. About 4 minutes.  Add the stock and bring to a light boil. Cover and simmer over low medium heat for 15 minutes or until the stock is absorbed. Once the Orzo is done, add in mushroom mixture. Remove from heat and set aside until ready to serve.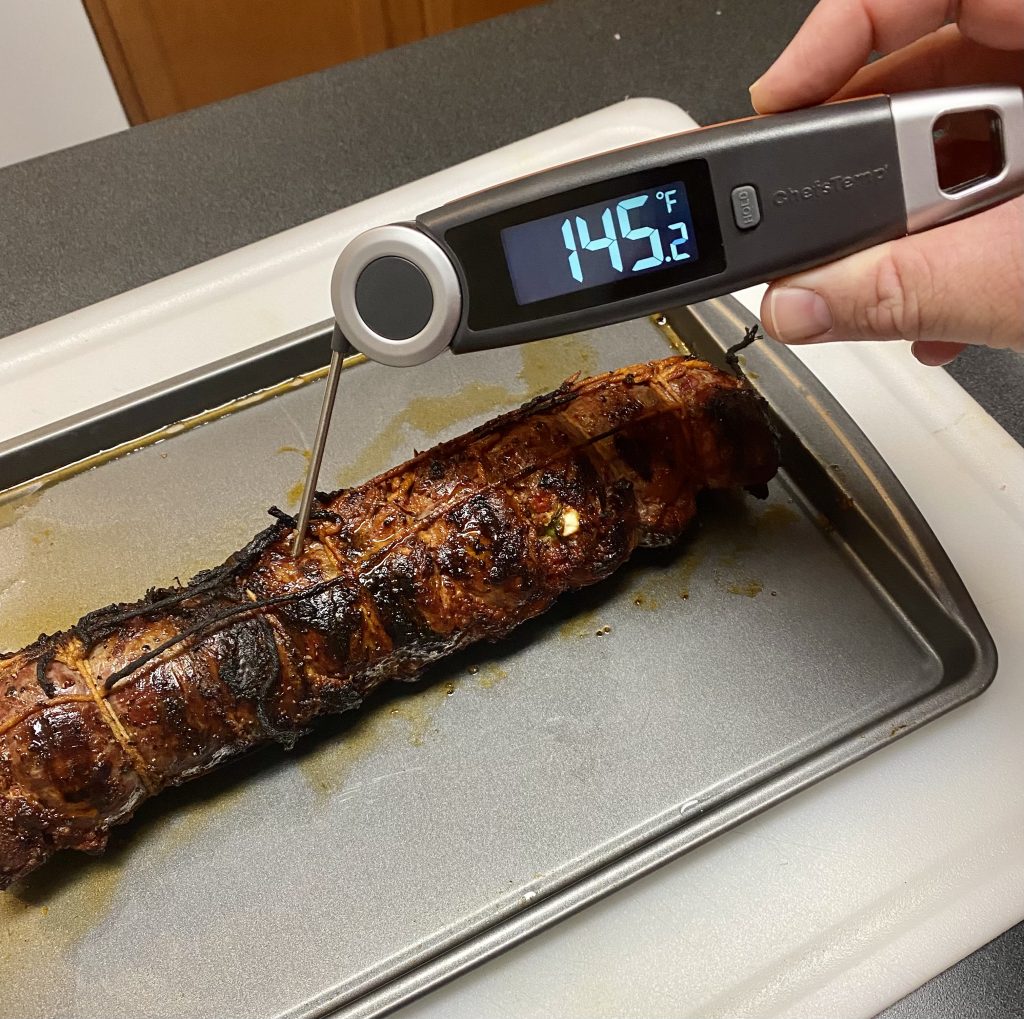 Once the grill is preheated on high, char the meat on all sides. Rotate about every 3 minutes for a perfect sear on every side.  Place Roulade on top grill rack, or reduce heat on the grill to low.  Cook to an internal temperature of 140º for a perfect medium steak.  Use the Chefs Temp Final Touch X10 to check the temperature of the steak in the middle of the Roulade.  If you check the temp of the steak on the thinner outside pieces they will be more down.  This works well when your guests or family members want their steak a little more well done.  Using an instant read meat thermometer is the best way to know when your meat is perfectly done and ready to come off the grill.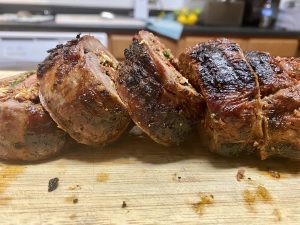 Allow your Roulade to rest for 5 minutes off the grill to retain moisture before cutting.  This resting time is vital to keep those flavorful juices in the Roulade.  Once the meat has rested, remove the trussing.  Cut into 1.5 inch medallions.  Place 2-3 medallions over your Orzo then top with Pesto.  This mind blowing dish will be so tender you won't need a knife.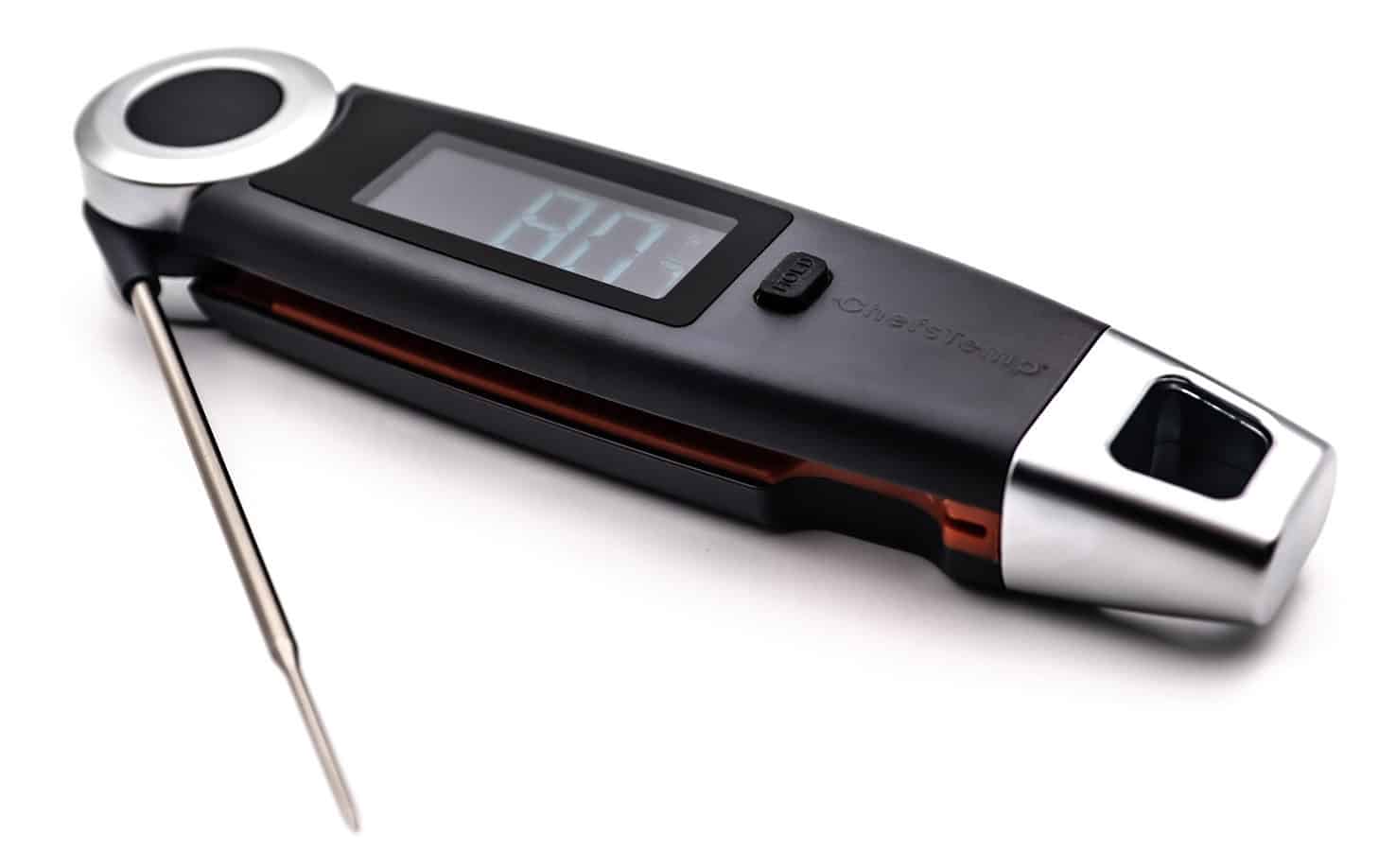 Finaltouch X10
The Finaltouch X10 thermometer from ChefsTemp gives an accurate reading not only for the inside of food but for surface temperatures as well.  The diversity of the thermometer's usage is second to none compared to other thermometers.  By getting a reading within 1 second, the Finaltouch X10 from ChefsTemp is prepared to take on any task it is given.
Discover more recipes and learn kitchen tricks by joining our cooking family on Facebook. 
Shop now for products used in this post: