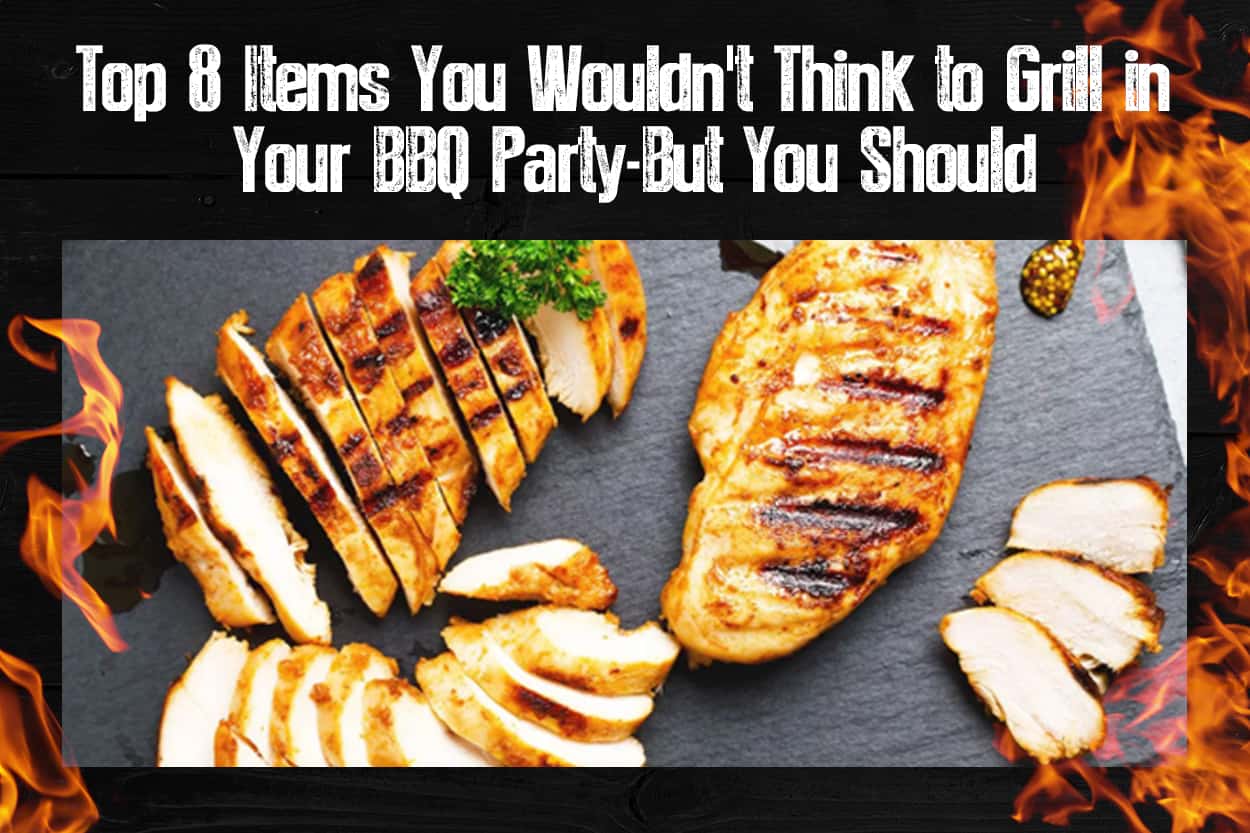 Top 8 Items You Wouldn't Think to Grill in Your BBQ Party – But You Should
Are you thinking about what can be cooked on a grill other than traditional food? What about trying something unique? Something different this time when you fire up the grill?
Delve into the article to know what else you can grill other than conventional food.
Have you ever thought about a toasted sandwich on the grill? No? Think about it and we bet you would love eating it. Mexican style quesadillas will be given a delightful flavor if they are toasted on the grill. For an enhanced experience, add a filling of your choice to your bread. Grill it on the fire on each side until the fillings are melted properly and the bread is toasted. You may love to eat it with some flavorful sauces.
People usually eat avocado with BBQ or in a salad. However, have you ever thought of cooking them on the BBQ? You would be amazed to know that they get a delicious smokey flavor when they are cooked on a grill. Here is how you can do it. To BBQ avocado, cut the avocado in half and keep them on the preheated grill. Leave them for around 1 to 2 minutes and then remove them. Additionally, you can also add additional flavors or sauces like tomato sauce, lemon juice, pepper, salt and more.
Wedges are something that you shouldn't miss BBQying this time when heating up your grill. The flame-grilled wedges would be full of crisp, flavor and fun to eat with your loved ones. furthermore, they are the easiest to grill. you just need to slice chips a little bit thinner than usual so that they can get cooked properly.
You may also boil them before even putting them on the grill. Boil them for some good minutes until they become soft. Now drizzle them with oil and put them on the grill. Wait for enough minutes so that they are all cooked and crisp to eat. You can also use an instant temperature reading thermometer to check if your food is cooked or not.
BBQ artichoke? What? Like seriously? Don't panic. This is one of the grilling food you would love to have this time. Although artichoke is not the kind of food that people usually cook, however you will be amazed at how better they taste when you BBQ them on the grill.
First of all, wash them and then boil until they are almost ready for grilling. Slice them in half and place them on the grill. You may add any sauces or drizzle BBQ sauce on them. Leave them for some good minutes on the grill until they are soft, crunchy and ready to eat. Have an amazing eating experience.
Are you thinking that why had you never thought about garlic bread on the BBQ before? Let us tell you it is one of the mouthwatering experiences that you will get to enjoy. Here is how you can easily do it.
If you have ready-made garlic bread, you will simply put it in the grill and leave it for a few minutes. However, if you want to make garlic bread on your own, you can do it easily. For this, toast the bread lightly on each side. Now drizzle lightly brown toast in melted garlic butter. You may also want to add some cheese if you want a bit extra flavorful garlic bread. Additionally, you may also add BBQ sauce to it for an enhanced garlic bread grilling experience.
You have tried many things on the grill, however what about BBQying halloumi cheese? The taste will be surprised that you would love to eat again and again. For this, it is an idea to take Greek cheese since it has a slightly tougher texture than other cheeses. This is why it can withstand grill without melting. When you will heat Greek cheese, it will get a squidgy and soft texture. The soft crispy cheese is ideal for salads, meats and other food.
Everyone love pizza. What do you say about BBQying pizza? Sounds amazing, right? It will be more than amazing trust us. You can easily BBQ pizza on a grill this evening you think to fire up for a lovely BBQ experience at your rooftop or maybe backyard.
To BBQ pizza, make the pizza dough from scratch, add some flour and oil it up before putting it on the grill. You may also oil up your grill so your pizza dough doesn't get a stick on it. Check the side of the pizza, if it's slightly brown you may oil the other side now and place it on the grill. leave it for a few good minutes. You may also like to add BBQ sauce, cheese or tomato sauce whatever you like on your pizza.
BBQ lovers use herbs mostly in a marinade for BBQ foods. However, you can grill herbs and eat them either with BBQ foods or with salad whatever you like. Smokey flavored herbs cooked on the grill will have a mouthwatering taste, that you would love to eat.
You may choose any herbs on a branch such as tarragon, thyme and rosemary according to your taste or choice. To grill them oil them up in any vegetable oil or olive oil and place them on the preheated grill. leave them for a few minutes on the grill. Heat them properly from each side. You can also use these crispy herbs with salad, or with meat. You can also add any sauces you like to have like tomato or other.
Conversely, there are a lot of vegetables, herbs and fruits like pineapple that you can grill whenever you want to change the tastes.
Grilling has no limits.
So, do something other than conventional grilling and have a remarkable experience ultimately.
Discover more recipes and learn kitchen tricks by joining our cooking family on Facebook. 
Shop now for products used in this post: