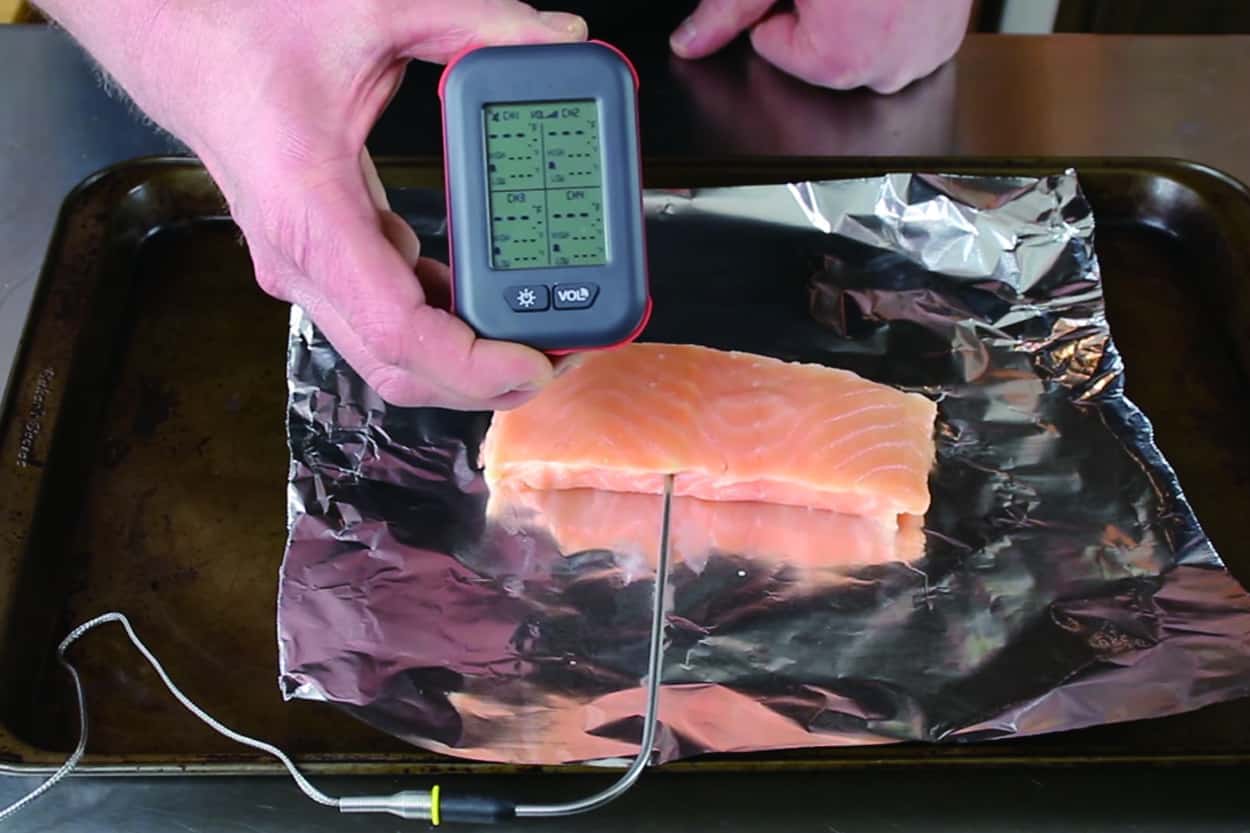 Understanding the Importance of Remote Thermometer in BBQ
Are you a BBQ enthusiast? Would you like to cook yummy and safe meat in each attempt? If yes, get the best remote thermometer for BBQ and grilling. The tool checks the internal cooking temps of meat to ensure it is safe for eating when you serve it. Besides, a wireless grill thermometer can monitor the ambient temperature drop or rise from a distance. Above all, you can cook and smoke your meat without standing beside the grill the whole time.
To make the most of this gadget, select it carefully. Ensure that you know its wireless range, temperature range, probe length, and safety in the oven. Although you can choose a simple thermometer, we would advise you against it. Select a more advanced device with built-in technology for tracking BBQ temperatures. To learn the qualities of a good smoker thermometer and more, read on.
Qualities to consider when choosing a remote thermometer
Do not just pick any cheap instant read thermometer you find online. Choose the best wireless thermometer there is within your budget. We would advise you to consider the following qualities when selecting one:
You already know what a thermometer probe looks like. It is usually a metal stick with a diameter of about 2.5 millimeters. When you want to measure the internal cooking temperature of meat, you insert the probe in the thickest part. The probe design matters because it controls how, when, and where to use it. When choosing a wireless thermometer or a wired one, always focus on the probe length. A probe length of at least 4 inches is ideal. The Finaltouch X10 is a good example.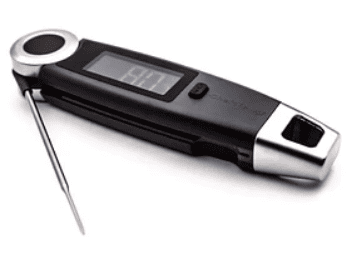 You can use it to check the internal temperatures of briskets, a whole BBQ chicken, or pork shoulders. Regarding the shape, most thermometers have a straight probe. However, you might find a wireless bbq thermometer with a curved probe. A curved probe can be ideal when using a compact smoker setup.
If you cannot avoid cooking many pieces of meat at once or smoking a large bird, you must ensure even and thorough cooking. Hence, you might benefit from purchasing a multi-probe device. Every probe will create a channel for displaying the temperature reading for the part you have inserted.
More advanced multi-probe thermometers allow you to label various channels. You can call a channel the name of the body part it is gauging temperature for.
How it displays temp readings?
The best food thermometer should display the temperatures well. With a wireless remote thermometer, you can keep your grill closed but still track the temperatures of meat as it cooks. Remember to select a device with a backlit display for your nighttime BBQ projects.
The wireless range in feet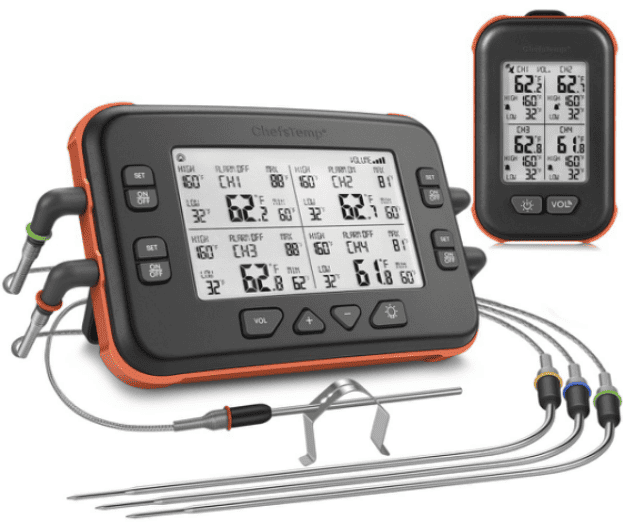 How far your best meat thermometer can transmit alerts is the most crucial quality to consider. You want the freedom to cook your meat perfectly from a distance. As a result, you need to check the wireless range before buying it. Once you start exploring various devices, you will realize that their range can vary.
Some can transmit signals to a wireless range of 100 feet; others can reach 500 feet. Note that buildings and tall structures may affect how well a meat thermometer delivers a signal. They can weaken the signal a bit. So, where you place your BBQ smoker matters when cooking with a wireless thermometer.
Temperature tracking and range
We use a meat thermometer for accurate temperature tracking when grilling or smoking food. If all you want to know is the actual internal temperature of food, most thermometers will help.
However, if you want to track the internal temperature and the ambient temperature of meat, get an app-based gadget. Such a remote device will track every temperature detail and store it for future reference. If you ever want to do a recipe again, you can retrieve the same temperature readings for referencing.
Regarding temperature range, it is such a vital consideration. If you already know your preferred highest and lowest grilling temperatures, it will be easy to find the perfect thermometer. You should ensure that the device you find meets that temp range.
It is also necessary to consider buying a device that can go as low as it does high. Such a tool will help you check internal temperatures when thawing.
The ability to transmit signals
The ability to send signals is the main thing that differentiates wireless and wired thermometers. When your meat reaches the internal temperature you are targeting, the remote thermometer should send you an alert. But, that is not all you might want to from it.
If you move away from the device's transmission range and lose the signal, you need to know. Also, if you want to cook your meat overnight, you should accurately track its internal temperature and ambient temperature.
Lastly, the device should enable you to switch off the alarm once you recognize the signals. If you can shut down the alarm remotely, that is the device you need to buy.
The common way to connect to a wireless digital food thermometer is via the probe. Since most people use smartphones nowadays, thermometer manufacturers have now released app-based devices. These thermometers have an app that links to the thermometer before transmitting temperature recordings to a mobile phone.
If your mobile phone maintains its bluetooth or wireless connection, the app-based thermometer can be the best device ever. Some people have less technical knowledge. If you are one of them, then find a gadget with a transmitter.
Although it will not be as advanced as an app-based or a bluetooth-based device, your device will be user-friendly and functional.
Most wireless grill thermometers use battery power. The most common type of battery for wireless thermometers is the AAA ones. You can also find some that use rechargeable lithium batteries.
These can be the best if you dislike disposable batteries or if you live far away from the shops. Once the charge depletes, you only need to recharge them the way you do your phone battery.
Rechargeable batteries are more convenient but might increase the cost of the wireless thermometer.
Like any other item you purchase online, consider the price of a thermometer before you order it. If you want a gadget with many useful features, do not be afraid to spend more money. Even if a decent wireless thermometer may cost over one hundred dollars, it is a more versatile item.
Check if a gadget you want to buy has all the qualities we have discussed in this article. We would highly recommend the ChefsTemp Quad XPro. It is a long-range remote barbecuing thermometer with four channels and up to 500 feet/150 meters wireless range. Thus, it can track the internal temps of three different cookeries simultaneously.
We have discussed the most important factors to consider when selecting the best remote thermometer. Once you get yours, use it the way the manufacturer instructs you. If you do that, you will enjoy cooking delicious meat while sleeping or doing other house chores.
Discover more recipes and learn kitchen tricks by joining our cooking family on Facebook. 
Shop now for products used in this post: