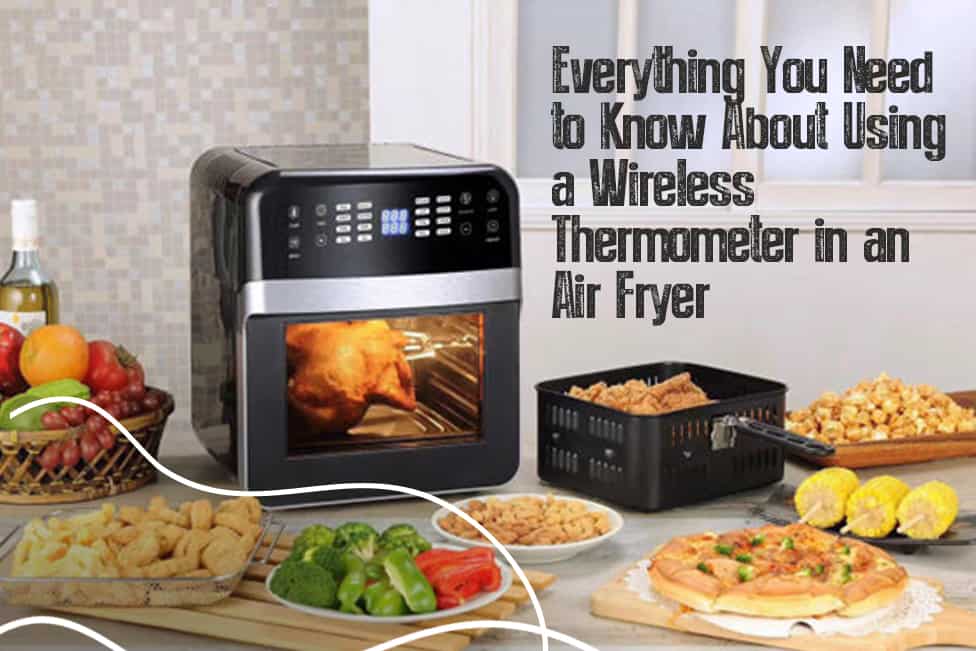 Everything You Need to Know About Using a Cooking Thermometer in an Air Fryer
Do you have an air fryer but you don't really know how to cook food in it? Or perhaps, you are afraid of cooking food in an air fryer because you don't know how to measure the temperature? Or do you feel nervous about using a meat thermometer in an air fryer to read temperature readings? If you struggle with any of these queries, don't fret anymore. As you have landed the right place, fortunately.
Delve into the article to explore what is an air fryer, what an air fryer does as well as what are the best temperature reading thermometers and how you can use them in an air fryer to check reading effectively.
What Is an Air Fryer and How Does It Work?
Chefs around the world prefer air fryers for cooking several kinds of foods – and that's for a reason obviously. An air fryer is the obvious and ultimate choice when it comes to cooking food in a limited time and seamlessly.
Like a conventional and average oven mostly used at homes and restaurants, an air fryer blows hot air over your food to cook it. This process results in the production of a chemical reaction Maillard between sugars and amino acids.
Moreover, a deep fryer also gets a similar reaction with hot oil. However, deep fryers are considered bad for health as you have to put a little more oil into deep fryers to cook the food. Whereas, in an air fryer there is no need to flood it with oil.  Air fryers usually take little oil to achieve a similar browned goodness ultimately.
In addition to that, what makes air fryers the ultimate choice of chefs is their adjustable controlling modes on it that allow for proper management of temperature when cooking food.
A timer
A temperature control
Meat Thermometers to Check Temperature in an Air Fryer
Furthermore, for a further enriched cooking experience, you can also use a meat thermometer to monitor, evaluate and read the foods' temperature. With so many types of thermometers available in the market, it becomes tricky to decide which one is the best. However, expert chefs around the globe considered Finaltouch X10 and Quad XPro remote temperature reading thermometers the perfect choice for getting accurate, precise and right temperature when cooking food.
Finaltouch X10 Instant Read Meat Thermometer
Chefs and cooks prefer Finaltouch X10 temperature reading thermometer to get a seamless cooking experience. this thermometer comes with various innovative features and of the most crucial is its backlight. At the time of dark, you don't need to worry about cooking your food as the Finaltouch X10 can easily and effectively sense when it is dark and effortlessly illuminate with a backlight so you can easily read the temperature.
Additionally, the thermometer incorporates all the latest technology for an enhanced outdoor and indoor cooking experience. Moreover, if you are thinking to cook something mouthwatering in an air fryer then just have a Finaltouch X10 thermometer and boom – you are all set to go ahead.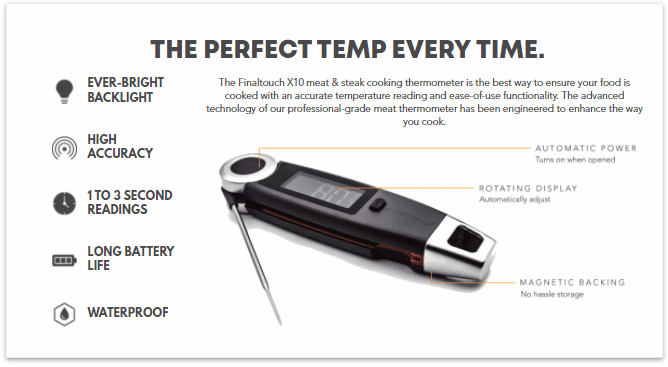 Noteworthy Features of Finaltouch X10 Instant Read Meat Thermometer
The Finaltouch X10 meat reading thermometer incorporates the latest technology enabling cooks to experience a healthy cooking experience. The thermometer features:
270 Degrees rotating probe– an essential feature that makes the product perfect especially for left-handed cooks allowing them to check food temperature efficiently.
Big sharp display– largest size screen makes this a perfect temperature reading thermometer. It also comes with a comparatively huge digits display that makes checking temperature reading easy from any angle.
Accurate and super-fast– the thermometer uses high-quality technology to help you get the accurate temperature readings of your food in an air fryer.
Automatic backlight– the backlight is useful in the dark that is bright enough for the dimmest conditions to help you check the temperature as well as the sensing display sleeps and wakes automatically.
Quad XPro Long-Range Remote BBQ Alarm Thermometer
A splash-proof sealed design Quad XPro thermometer is one of the top choices for cooks and chefs worldwide. The thermometer helps in reading temperature efficiently and effectively. This thermometer allows for reading the temperature on a certain transmission distance of around 500 feet ensuring that you stay connected to intermittently check the food.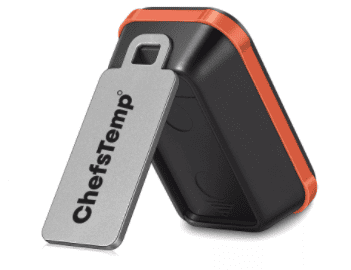 Moreover, if the temperature of an air fryer is over or lower than the suggested temperature, then this smart thermometer will send signals to you so you can prevent another cooking disaster this evening.
Significant Features of Quad XPro Thermometer
Every cook in the world wants to cook the perfect food. If you are a cooking enthusiast, you know that cooking the kind of food that leaves everyone biting their fingers out of taste is something very fascinating. Imagine everyone at a small party in your backyard praises you for cooking those delicious chicken steaks. Yes, you can show your cooking magic to anybody you want – however, you just need to make sure that the food is cooked at the proper temperature so you can prevent the chances of undercooked or overcooked food. You can achieve this goal just by investing in a meat thermometer like Quad XPro thermometer. This thermometer becomes the perfect choice for chefs because of its ultimate benefits.
Quad Xpro features:
No switching between channels or fumbling with buttons.
Ensures to keep you connected to your cook at your home.
It can view temperature data and all channels at the same time.
Advanced wireless technology featuring all-new RF wireless technology.
IP66 Waterproof technology advanced splash-proof design for outdoor use.
Wide-Range Transmission – 150 meters – 500 feet as well as 1m above the ground.
Dashboard-Style Display – represents high, low, minimum, and maximum temperature readings.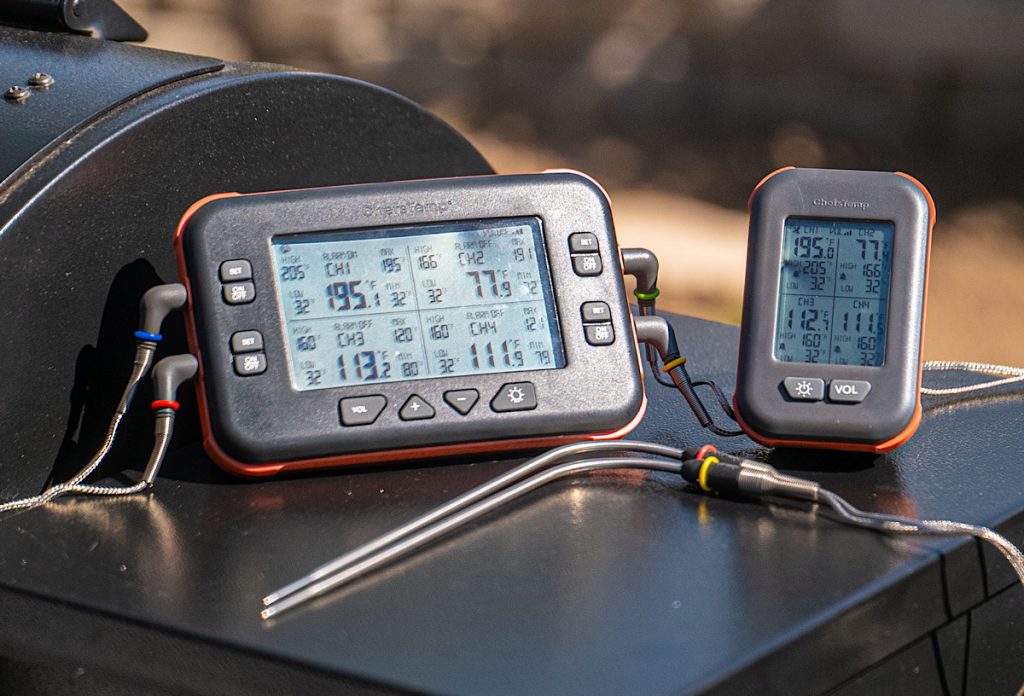 Wrapping it up – Investing in A Wireless Thermometer Is Must!
A meat thermometer is worth investing in when it comes to cooking all delightful and mouthwatering food. The aforementioned thermometers are considered best to use in all ovens, grilling and especially air fryers.
Discover more recipes and learn kitchen tricks by joining our cooking family on Facebook. 
Shop now for products used in this post: