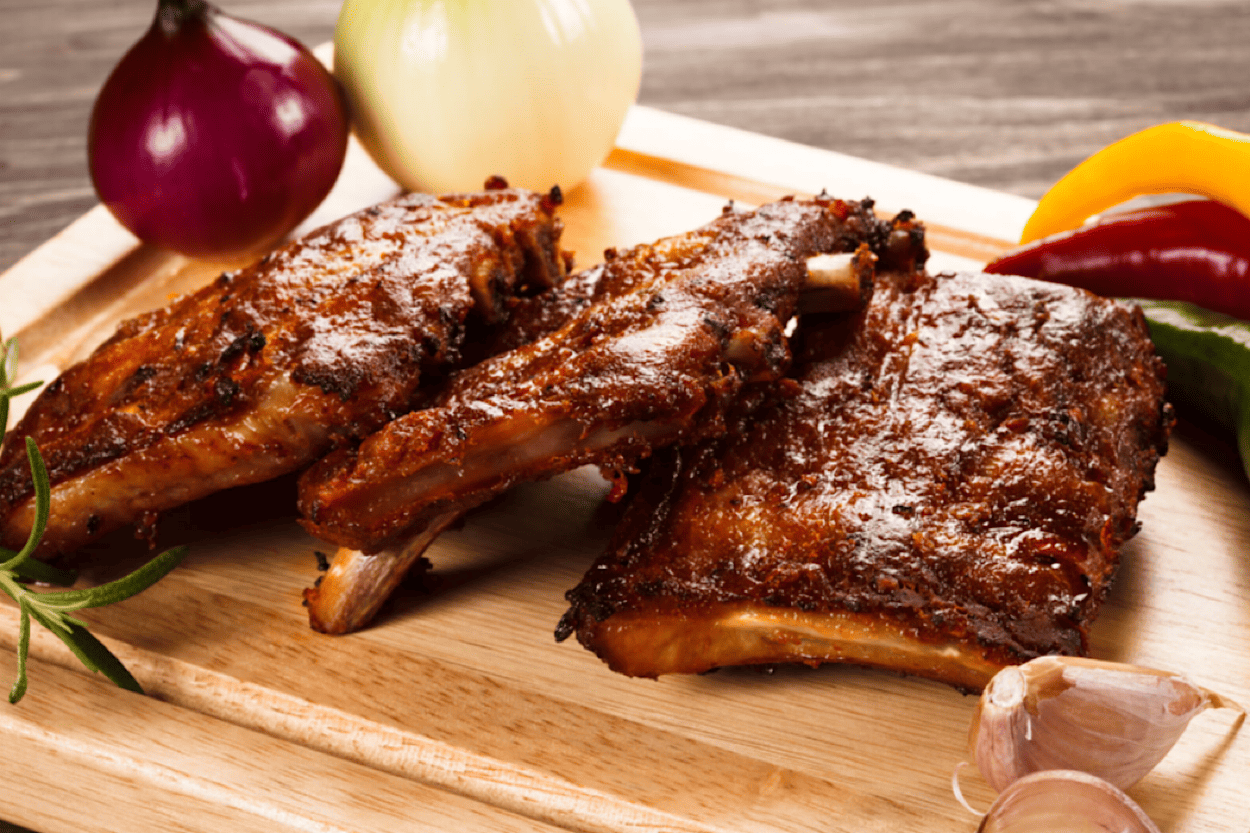 BBQ Get Together – Mushroom Ribs Done is Becoming Everyone's Favorite Thing
Summer is here again, which means it's time to light up the grill, toss a round of beverages, and crank up the volume for the best BBQ get together-Mushroom ribs party of the season. But before you throw a massive BBQ party at your house or plan to pack a nearby park with friends, have a look at our BBQ get-together ideas for some inspiration. We've got everything covered for your summertime BBQ party, from elegant decorations and fun-filled to the greatest beverages, dinners, and treats in the neighborhood.
Have you been storing your grill in the garage for the previous year? You should clean and repair it well beforehand for the summer, but if you're dusting it for the first occasion this year, warm it up to loosen any stuck-on food. For this recipe, we are going to be looking at short ribs with spring vegetables and mushrooms.
Let's start by preparing your site for your get-together, before moving into the Mushroom Ribs recipe.
Preparing Your Space for the BBQ Get Together-Mushroom Ribs
To begin, you first must decide on How to Use the Outdoor Space. Are you looking at it as a place for dinner parties? Do you want a quiet place to read a book? Or do you prefer it to be versatile? Knowing what activities, you want to undertake in the room can help you choose the right furnishings.
Buy Durable, Low-Maintenance Items
Weather-resistant furniture and easy-to-clean accents are essential. Look for aluminum, steel, cedar, teak, as well as all wicker rattan. With proper maintenance, they can last for years. Choose removable coverings or washable pieces for your comfy decorations such as – outdoor chairs, outdoor tables, outdoor sofas, outdoor dining sets, outdoor conversation sets, outdoor rugs, outdoor lounges.
Upgrade Your Outdoor Space
Your outdoor space can be transformed into the most relaxing, year-round vacation BBQ get-together with the addition of either a house gorgeous front gate, green bench, plug-in lights, mobile wet bar, all-in-one fireplace, instant cabana, or a weather TV, or all of them.
Yeah – that is it!
Now that you have all the materials in place, and your space is set for your guests, it's time to buckle up, head over to the BBQ or grill, and get started with your mushroom ribs right away. But before you do that, you must have all your ingredients and materials to prepare your Short Ribs with Spring Vegetables and Mushrooms in place.
For the Ribs
Dry red wine in a 1750 ml bottle
1 medium leek, peeled and chopped (pale green parts and white, coarsely chopped)
1-slice Onion (coarsely chopped)
Two carrots (coarsely chopped)
3 cloves of garlic (smashed)
Ten bunches of parsley
2 sprigs of thyme
2 bay fronds
On the bone, 8 short beef ribs (approximately 1/2 pound per with excess fat removed)
2 tbsp. of vegetable oil
Black pepper and sea salt
Flour of all kinds (for dusting)
2-cups of low-sodium chicken stock
2 cups of low-sodium beef stock
And for the Vegetables Sauce
2 tbsp. of vegetable oil
Caps and stems removed from 12 pounds of shiitake mushrooms; sliced 1/4 inch wide
Black pepper and sea salt
Shallots, perhaps two huge ones (thinly sliced)
Thyme leaves: 2 tablespoons
One clove of garlic (minced)
12 cups of a dry red wine
Flat-leaf parsley cut into 2 teaspoons
A pound of red pearl onion
A pound of turnips (chop into wedges)
Carrots of medium size (chop into inch sticks)
There are a dozen fingerling potatoes in this batch
For Temperature Control
For temperature control, you will need a BBQ thermometer or a grill thermometer. When it comes to mastering the art of grilling, a thermometer is a must-have. There are times when you're prepping side dishes or entertaining guests and keeping an eye on your grill might be difficult. You can learn how to use a grill thermometer, or how to find the best meat thermometer. You can stick a meat temperature chart magnet on the refrigerator or grill, to check the target temperature at any time.
Now let's get started with our mushroom ribs—
Using a large bowl, mix the wine and leeks and onions and carrots and garlic and parsley and thyme as well as bay leaves. Marinade the short ribs in two separate large resealable plastic bags. Refrigerate the bags overnight after sealing them, then place them on a baking sheet.
The oven should be preheated at 300°F (149°C). Afterward, blot the short ribs dry using paper towels. Discard the marinade after you've removed the vegetables with a slotted spoon.
Heat the oil in a big skillet. Salt and pepper the short ribs and brush with flour, scraping off the excess. 3 minutes each for the ribs inside the skillet. Move the ribs and put them on a roasting pan. Replace the ribs and decrease the heat as needed.
Transfer the veggies to the frying pan and cook for 4 minutes until they begin to turn brown. Bring the marinade to a boil, stirring the top. Bring to a boil the beef stock and chicken, scraping away any browned remains from the skillet. Pour over ribs. Cover up the frying pan with foil and bake for 3 hours, or until the meat is extremely soft.
Take the ribs out of the pan. Strain the fat off the braising liquid, and then toss the veggies.
Heat the oil in a saucepan. Salt and pepper the shiitake mushrooms. Cover and simmer for 5 minutes, stirring occasionally, until browned. Cook for 4 minutes with the shallots and thyme. Cook for 1 minute to fragrance garlic. Add your wine and cook for 2 minutes to reduce to 3 tablespoons. Add the scraped braising liquid and simmer for 5 minutes, seasoning with salt and pepper, 2 tbsp parsley.
Lightly heat the oven separately simmer the veggies in salted water until tender: 3 min for onions, 4 min for turnips, 5 min for carrots, and 12 min for potatoes. Prepare the onions. Cut the potatoes in half.
Return the rib meat to the frying pan after removing the bones. Pour the sauce over the cooked vegetables. Bake covered in foil for 15 minutes until cooked through. Serve in shallow dishes with parsley garnish.
Retain the slow-cooking liquid together with the mushrooms for a maximum of three days to preserve freshness. Short ribs can be chilled separately from the blanched spring veggies for the night.
Best Temperature for Your Mushroom Ribs
It is best to keep the temperature between 125 and 130°F (52-54°C) for the best results. After that, simply remove the grill from the heat and set it aside. They'll keep cooking until they reach the ideal internal temperature of 135°F (57°C), which is when they'll be done. To accurately measure temperature, ChefsTemp has spent decades developing portable, digital infrared thermometers.
Below is a list of the best food thermometer that will keep your cocking away from any temperature danger zone.
The most popular and often used forms of grilling thermometers are remote or wireless thermometers, which allow the griller complete control over food temperature monitoring. You don't even have to open the lid to get an accurate assessment of your meat's temperature.
Finaltouch X10 Instant Read Meat Thermometer
It's difficult to pick the finest option when there are so many to choose from. However, cooks around the world regard Finaltouch X10 Instant-Read Thermometers to be one of the greatest and most influential thermometers on the market.
Now that you have your mushroom ribs ready, how would you like to serve them? You can equally do some wine pairing with a Bordeaux-style blend, or Tarlov's Once Bouchon Cuvée. This makes the whole show classier and more memorable!
Discover more recipes and learn kitchen tricks by joining our cooking family on Facebook. 
Shop now for products used in this post: