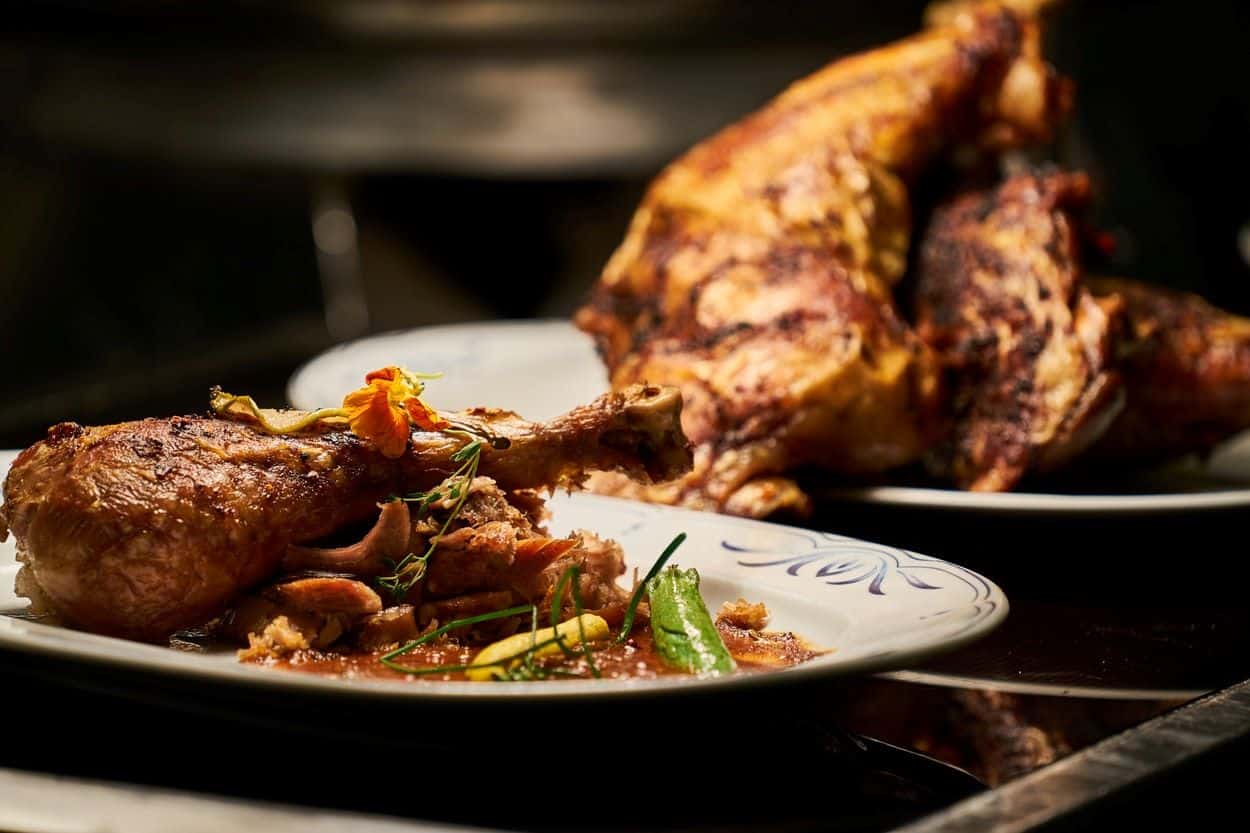 Achieve an Expert Level in Culinary with the Best Cooking Thermometer
Some people have a passion for cooking. They will do anything to advance their culinary abilities. However, there is one thing no aspiring chef should miss. It is none other than the best cooking thermometer. You can have a kitchen full of cooking and serving appliances. But if you do not have a kitchen thermometer, you will fail in your journey of becoming a good chef.
It ensures that you follow the internal temperatures as displayed on the temperature food chart. And if you do that, you can serve food that cannot harm people. Also, you can perfect cooking meat to various doneness levels. If you want more tips on this, keep on reading.
For someone who wants to improve their cookery, a digital food thermometer is a handy tool to have. However, it will do you no good if you do not know how to use it. You should know how to use a meat thermometer. If yours has a probe, use it in the following manner:
Step One: Ensure your digital probe thermometer is recording the temperature of its surroundings.
Step Two: Insert your probe smoker thermometer into the middle of the thickest area of the meat. Before you do, check if your thermometer is oven-safe. If it is, insert it into the meat and leave it there to monitor the internal temperatures. If it is not oven-safe, check the temperature often by lifting the grill lid. You can also lift the cut of meat from the grill grate, take its temperature, and put it back over the heat source.
Step Three: Check temperature readings on the thermometer display. Keep your steak temperature chart near when reading temperature readings. You want to compare the actual reading and the safest minimum temperature appearing on the chart.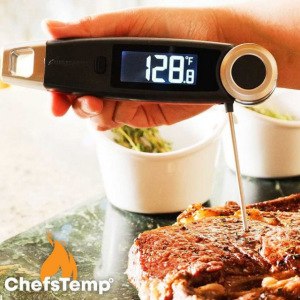 Let us say you are using an infrared grill thermometer. Follow these steps to gauge food temperatures.
Step One: Point the infrared thermometer at the surface of the meat where you want to measure temperature.
Step Two: Push the trigger button and hold it down until you notice a temp reading on the screen. The laser pointer is always a reliable guide when figuring out where to point your best meat thermometer.
Step Three: Record the temperature readings as you monitor your meat regularly.
Best Food Thermometer Options
If you decide to shop online today, what could make the best cooking thermometer for you? You will come across thermoworks thermapen and other thermometers online. You may even feel confused when sorting through various products. To avoid that confusion, check ChefTemps thermometers. The two shown below cannot let you down. These include the following:
1. ChefsTemp Finaltouch X10
The Finaltouch X10 is the best instant read meat thermometer you can buy. Out of 93 customer ratings it has received so far, 90 of them are a whopping five. Besides being one of the best-rated thermometers, Finaltouch X10 is an affordable device with modern features. People love it for being:
Quick and accurate– It offers temperature readings within a second. Its accuracy level is ±0.7°F (0.4°C), making the Finaltouch X10 super reliable.
A rotating probe– Finaltouch X10 offers a 270° rotation probe. When measuring the internal temperature from an awkward angle, rotate the probe. Also, the probe suits a left-handed cook.
A large display – Most probe thermometers offer the user a tiny screen. The Finaltouch X10 does not only offer a bigger display with huge digits. It also makes a perfect device for night backyard cooking. The auto-rotating display has motion sensors that can tell when your bbq thermometer is inverted. Again, this feature can favor a left-handed person.
Automatic shutdown and wake-up mode – The Finaltouch X10 is a modern meat thermometer with the ability to sleep when not in use and wake up at once when you pick it up. This mode or function can save battery life.
Backlight – This device comes with an automatic intelligent backlight. It makes night cooking easier.
Waterproof – The Finaltouch X10 boasts a 1P97 waterproof rating. Even if you submerge it in water up to one meter down, it will stay intact.
Excellent battery life – The Finaltouch X10 offers up to 3000 hours of battery life. It makes an ideal instant read meat thermometer for a regular cook.
Sticks to any metal surface – As it has a magnetic back, the Finaltouch X10 is easy to store. Place it on a metallic surface to stick there until the next use.
As a gadget that meets the standards of the National Sanitation Foundation (NSF), Finaltouch X10 is safe to buy and use. No wonder it is the first choice for most global top chefs.
ChefsTemp has other excellent cooking thermometers too. Someone who likes to do other activities and cook meat can choose their Quad XPro long-range remote thermometer. It has an alarm and a long-range transmission of 500 feet/150 meters. The four-channel probe thermometer can display temperatures from all probes at once. The screen readings appear as min/max or high/low.
Although it does not have a long battery life like the Finaltouch X10, the 1000 hours are enough for an occasional cook. It is also waterproof and ideal for outdoor use. The Quad X-pro long range is the best wireless thermometer you can buy. It is among the best-rated wireless thermometers with a bunch of useful features. One look at Quad X-Pro makes you admire its craftsmanship and gives you confidence that it would last longer.
Maintaining Your Thermometers
Thermometers are the easiest of all gadgets to maintain. After each use, clean them up to remove grim and food juice splashes. ChefsTemp thermometers are splash-proof, so exposure to moisture when cleaning will not damage them. Again, test your electronic meat thermometer for accuracy. The standard testing methods are two: the ice bath test and the boiling water test. If you notice a problem, calibrate your thermometer according to the manufacturer's instructions.
When selecting the best cooking thermometer, explore the ChefsTemp thermometers we have reviewed here. They are easy to use and ideal for someone starting a long journey of becoming an expert cook.
Discover more recipes and learn kitchen tricks by joining our cooking family on Facebook. 
Shop now for products used in this post: