Why the ChefsTemp Finaltouch is the Best Instant-Read Digital Meat Thermometer
Instant read thermometers are used to test the temperature of meat quickly and can be used when grilling or cooking on the stovetop, as well as checking the temperature of meat cooked in the oven. They can also be used to test the temperature of cooking water or cooking oil. Thermometers are an ideal way to get that perfectly cooked meal every time. They take the guesswork out of cooking your meat safely and to perfection.
Every single meat dish has a minimum cooking temperature that must be reached to make sure it's safe for human consumption, whether you're grilling chicken breast or smoking a brisket. We tend to guess the time required for meat to be cooked properly, but that's exactly how we end up with undercooked or overcooked food. This can take years to master while a cooking thermometer will be a huge benefit.
One way to guarantee that each meat dish you make is cooked to the right temperature is to use a high-quality meat thermometer. Despite many different types and styles, they all do the same thing, let you know when the internal temperature of your cooked meat is safe to eat and cooked to your liking.
Today you can buy all kinds of meat thermometers at all different prices. The problem is that too many meat thermometers on the market today are either poorly made, inaccurate or overpriced. With so many options you are probably asking yourself 'What is the best meat thermometer?'. In this article, we are going to introduce you to the two best meat thermometer brands.
ChefsTemp VS Thermoworks
When it comes to meat thermometers and guaranteeing the quality of your food, there are two brands to look out for, ChefsTemp and Thermoworks. Both design the latest food gadgets to help pitmasters and chefs throughout the world. ChefsTemp has recently released the all-new Finaltouch X10, while Thermoworks has released their Thermapen MK4 and One. Each of these devices can do the job when you cook, but there can only be one winner of the best instant-read digital meat thermometer crown. Let's take a look at these three products in detail and find out which one is the best meat thermometer you can buy.
Being able to see the temperature shown on the display is important and all three of these products are designed to be visible from a distance no matter how smoky your grill gets. Some of us also enjoy cooking at night, so we need a meat thermometer that has a clear sharp display whether the sun is up or down.
Thermapen Mk4 and One use small but clear displays that show the temperature clearly. The ChefsTemp Finaltouch X10 however also has a beautiful larger screen and the temperature shown can be visible from wider viewing angles. Another plus is the dark screen background and white digit design. This combination creates a sharper display and makes the Finaltouch perfect for cooking in the evenings. Thermapen Mk4 and One will struggle in dark conditions due to their traditional grey screen and black digit design which is the same display thermometers had ten years ago. If you like a larger screen and think you may cook in the evenings, you need the Finaltouch X10.
Winner: Finaltouch X10
Design & Appearance
As consumers, we are always looking for more intuitive designs in our products. The reason people complain about phone companies is that their phones always look the same every year! Brands are always trying to design the latest looks for their products and in the meat thermometer world, this is no different.
The Thermapen Mk4 & One are well designed and tick all the boxes for what we consider a basic meat thermometer should look like. One of the biggest criticisms of these thermometers is that Thermoworks has not innovated or changed the design of their thermometers in 5 years. In any industry, 5 years is a long time. Ambitious companies like ChefsTemp are leading the way in creating new modern meat thermometers. The Finaltouch X10 has a unique design unlike any other meat thermometer available today. It is designed for both left and right-handed users, plus comes with a magnetic back and hanging hole for easy storage. When you factor in the superior display screen, the Finaltouch is the best looking meat thermometer you can buy.
Winner: Finaltouch X10
Safety & Regulation
Millions of people take the safety of their food, water and consumer products for granted daily. Why? Because of three letters: NSF. When choosing a meat thermometer, NSF certification is your key to making sure that the product you use meets strict standards for health protection.
Besides using superior technology for more accurate readings, another reason ChefsTemp & Thermapen thermometers are sold at a higher price is because they are NSF certified. This means their thermometers use the highest graded materials which are extensively tested and evaluated. Cooking delicious food for ourselves and our guests is always the goal, but being safe should also be a priority. When it comes to thermometers, the Finaltouch and Thermapen are the safest products you can use on the market today.
Winner: Tie
We want to know the temperature of our meat as soon as possible. All these products are highly accurate and display the temperatures within seconds. No matter which product you buy, you will be surprised by how fast readings are shown. From the table, you can see that when it comes to speed & accuracy, the Finaltouch X10 and Thermapen One just edges it. We do need to give a worthy mention to the thermapen Mk4 which are so close to the speed and accuracy of the and Finaltouch X10 and Thermapen One, you would hardly notice the difference in real-time cooking.
You may however notice that the Thermapen One is around $40 more than the Finaltouch X10.  If you want value for money and the same 1 second fast and highly accurate readings, choose the Finaltouch X10.
Winner: Finaltouch X10
Instant-read thermometers require pitmasters and chefs to hold the device close to the cooking meat while readings are taken. For this reason, how well the thermometer fits and feels in your hands is of great importance. All three products are small, light and easy to hold. Sometimes taking readings can be tricky and cooks need to position their hands at awkward angles to measure different parts of the meat and grill. The standout product in this category is the Finaltouch X10. Unlike the Thermapen Mk4 and One, both right and left-handed chefs can use the Finaltouch X10 easily. You heard that right! This is thanks to the product's advanced rotation design, which allows rotation of 270 degrees. This is significantly more than the 180-degree rotation found in the Thermapen Mk4 and One. What this means in real terms is the Finaltouch X10 can be used at tighter angles and by both right and left handed chefs.
Another great function of the Finaltouch X10 is the hold function, this allows you to 'hold' the temperature shown on the screen after you have removed the probe from the meat. This great addition allows you to take a closer look at the readings. Unfortunately, both the Mk4 and One don't have this function, and with a smaller screen, you may encounter difficulty seeing the readings without leading forward towards the hot grill.
Winner: Finaltouch X10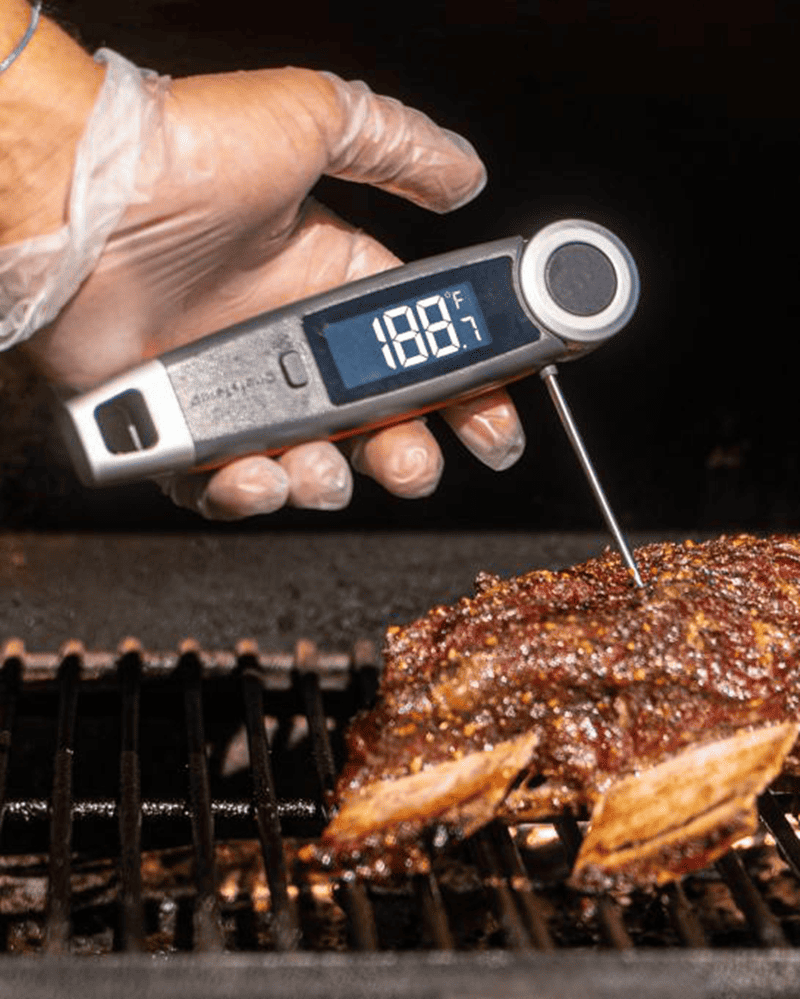 Battery life
Meat thermometers are designed to work all summer, but if you are at the grill often, you may encounter trouble with battery life. Thermapen Mk4 outlasts the Thermapen One by 1000 hours. The real winner, however, is the Finaltouch X10 which lasts 2000 hours longer than the Mk4. The Finaltouch X10 does need 1 extra battery, but when comparing the weights of these products, you won't be able to notice the difference. What amazed us the most in this review, was that although the Thermapen One is $40 more, the Finaltouch X10 lasts 3000 hours longer when being used at a grill by pitmasters and chefs. That is a big difference!
Winner: Finaltouch X10
Price
The Thermapen One can be yours for $109.99 and the Mk4 for $99.99. The Finaltouch X10 however only costs $69.99. The best value for money meat thermometer is the Finaltouch X10. You may want to spend $40 more for slightly faster and more accurate readings, but when you factor in the additional screen size, battery life and usability, there can only be one winner in this category.
Winner: Finaltouch X10
Verdict
All three of these thermometers would be great additions to your grill or kitchen and we highly recommend you choose one of them. In terms of which one is the best, based on our comparison the best instant read digital meat thermometer you can buy is the Finaltouch X10. You get more battery life, a bigger display plus nighttime functionality, accurate fast readings and an innovative design for a cheaper price. Not only that, the Finaltouch can be used by both left and right-handed users and is NSF certified making it one of the safest products you can buy. It is rare to find a meat thermometer that is superior in so many categories but costs so much less. We recommend the next time you cook at the grill or kitchen, you use the Finaltouch X10.
The Best Instant Read Digital Meat Thermometer: Finaltouch X10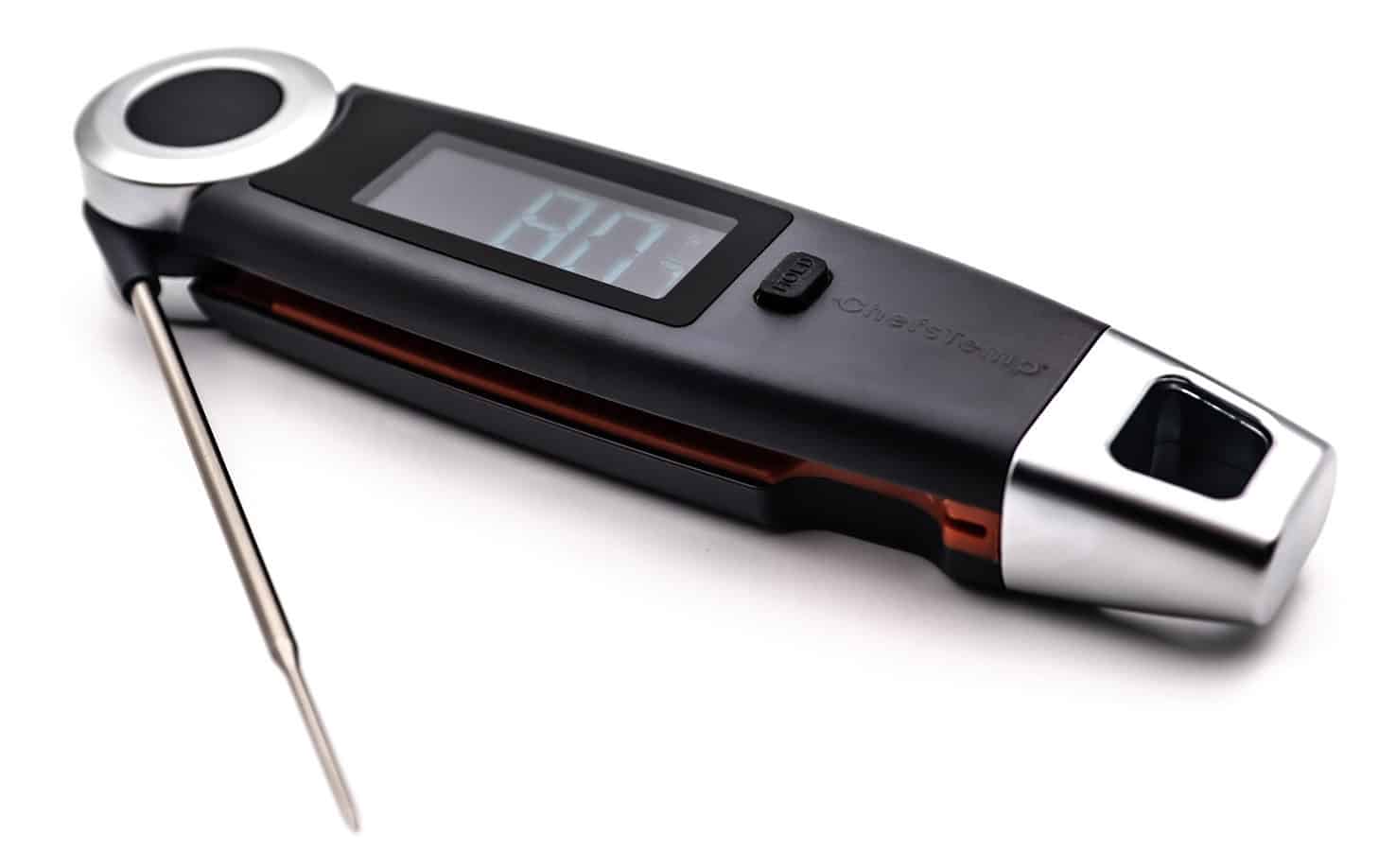 Finaltouch X10
The Finaltouch X10 thermometer from ChefsTemp gives an accurate reading not only for the inside of food but for surface temperatures as well.  The diversity of the thermometer's usage is second to none compared to other thermometers.  By getting a reading within 1 second, the Finaltouch X10 from ChefsTemp is prepared to take on any task it is given.
Discover more recipes and learn kitchen tricks by joining our cooking family on Facebook. 
Shop now for products used in this post: