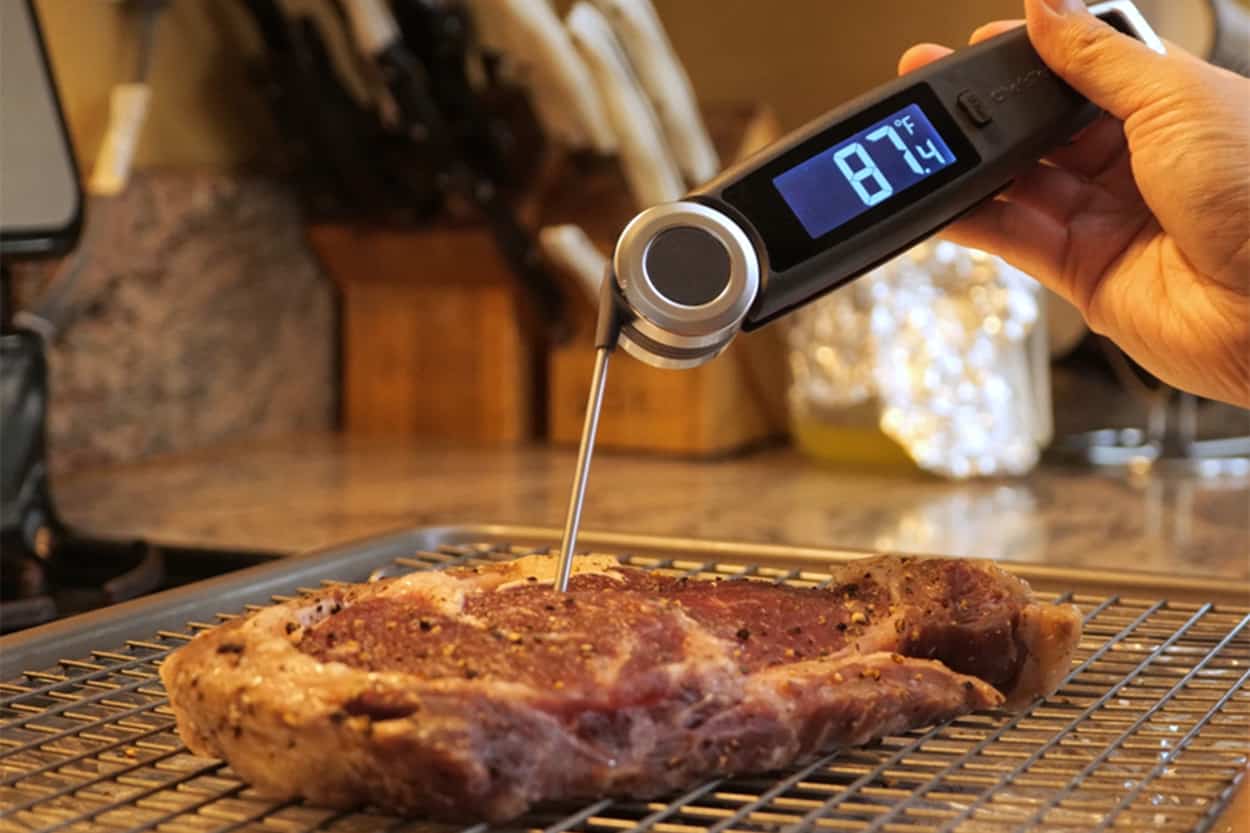 FAQs about Food Temperature
Frequently asked questions about food temperatures, so much so that she's taking to the keyboard to answer as many of them as possible. Here we go!
How do I wash and store my meat thermometer after use?
Gently rubs down the meat thermometer with cleaning alcohol, this is guaranteed to get rid of bacteria. Let the meat thermometer dry before storing and using it again.
When I measure my food in different places, I often get a different reading, why is that?
By ''different places'' I imagine you mean on the food and you're not getting different readings because you are in New York, Los Angeles, Miami, or Anchorage! It's quite a simple answer and you won't have to apply for a degree in physics to understand it. You get different temperature readings when measuring in different areas of the food because the food, whether it be meat or any other food, has a different temperature in different areas at the same time.
It's not at all uncommon to find that the internal temperature of a turkey varies by as much as 20 to 30°F all over the bird. If we can get away from turkeys for a minute, you'll also find that beef or a chicken breast can display variances of several degrees if you change the tip of the meat thermometer probe from the exterior toward the center of the food. This can even happen if you move it from end to end, pretty much contingent upon the accuracy and speed of your thermometer.
My meat thermometer reads medium but my steak was cooked medium-well, why is this?
Meat continues to cook after you take it out of the oven or remove it from the grill. It's also known as ''carry-over cooking.''
Always allow your cooked meat to rest after cooking and before carving. In this way, the lovely juices will be absorbed into the fibers of the food. If you don't do this you are an idiot, because you'll lose all the great flavor of the meat juices when the meat is carved. This is because, the meat temperature rises a bit during its rest. This doesn't just affect great big pieces of meat, also a small beef joint or a chicken piece's temperature can rise four degrees during resting. A big meat roast or a turkey (it's always turkeys!) can rise in temperature to up to fifteen degrees. The best way to get around this problem is to remove your meat from the oven a few minutes before you get to the target temperature. This will allow for the meat's resting period and stop it from becoming over-cooked. So to avoid over-cooking test the temperature with your thermometer and judge when to remove your meat in time for it to continue to rest and cook to perfection.
Sometimes my chicken remains bloody even though the meat temperature says that it's properly done. Why is this?
Believe it or not, the marrow in chicken bones can release blood while the bird is cooking. This can happen even if your meat thermometer says it is ready. The thing to remember is that if your bird has reached a temperature of at least 160°F (71°C), for a period of five minutes or more, it's safe to eat it.
Can you tell me something about critical food safety temperatures?
There is an organization called the United States Department of Agriculture (USDA) and these nice people publish temperature charts to advise you on food holding and cooking. Use your meat thermometer to check meat temperatures and save yourself a lot of trouble. Bacteria are a pesky nuisance and flourish amid temperatures of 40°F (4.5°C) to 140°F (60°C). DO NOT store food between these temperatures for extended periods.
Do I need to take special precautions when using a meat thermometer near a grill?
DO NOT EVER leave your thermometer inside an oven, grill, microwave, or any other cooking appliance while cooking, unless it is specifically designed for that purpose. Also, NEVER leave your thermometer close to an open flame or on the hood of the grill. You can buy meat thermometers that are specifically designed for this job but even they have to be used under strict regulations.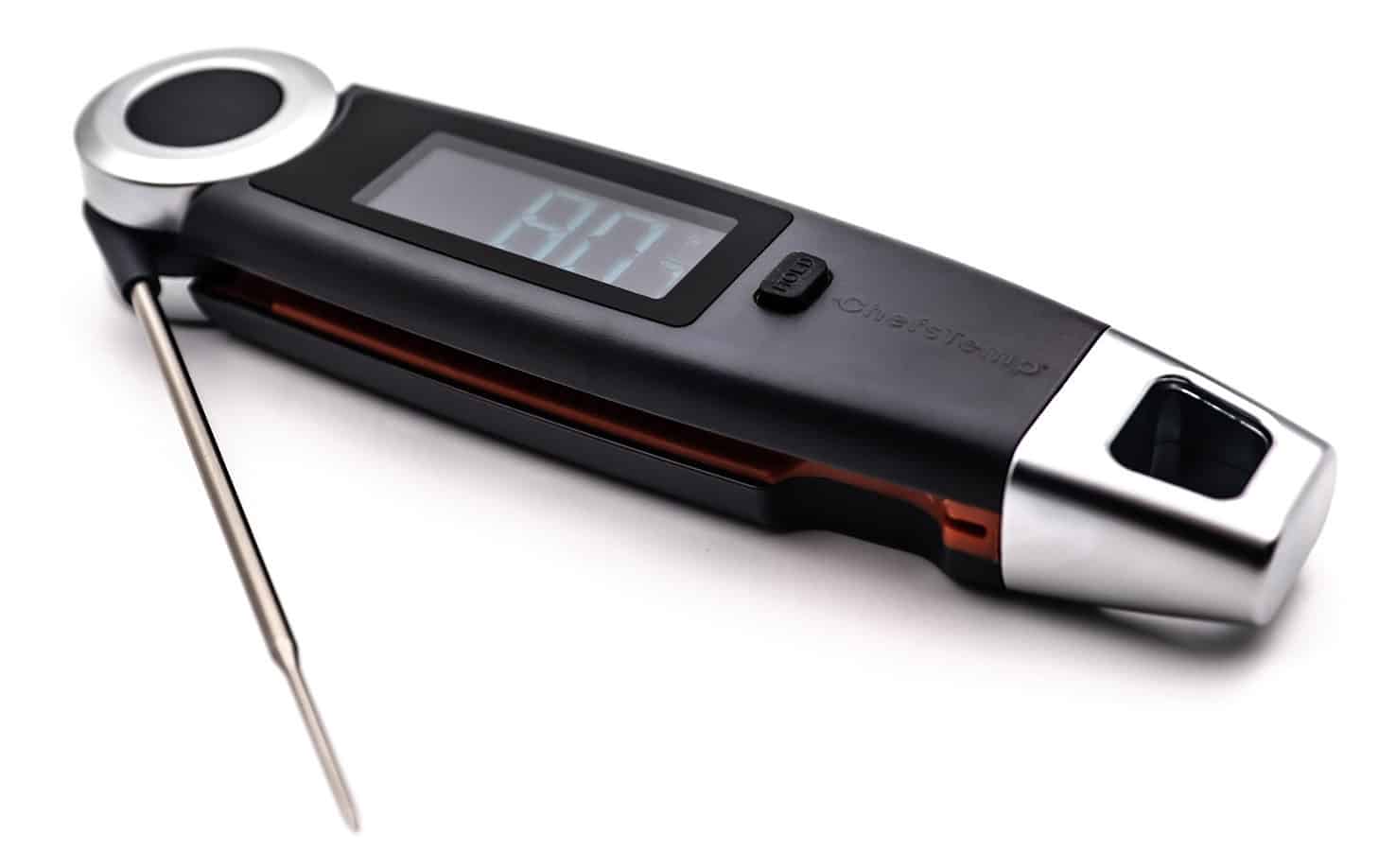 Finaltouch X10
The Finaltouch X10 thermometer from ChefsTemp gives an accurate reading not only for the inside of food but for surface temperatures as well.  The diversity of the thermometer's usage is second to none compared to other thermometers.  By getting a reading within 1 second, the Finaltouch X10 from ChefsTemp is prepared to take on any task it is given.
Discover more recipes and learn kitchen tricks by joining our cooking family on Facebook. 
Shop now for products used in this post: