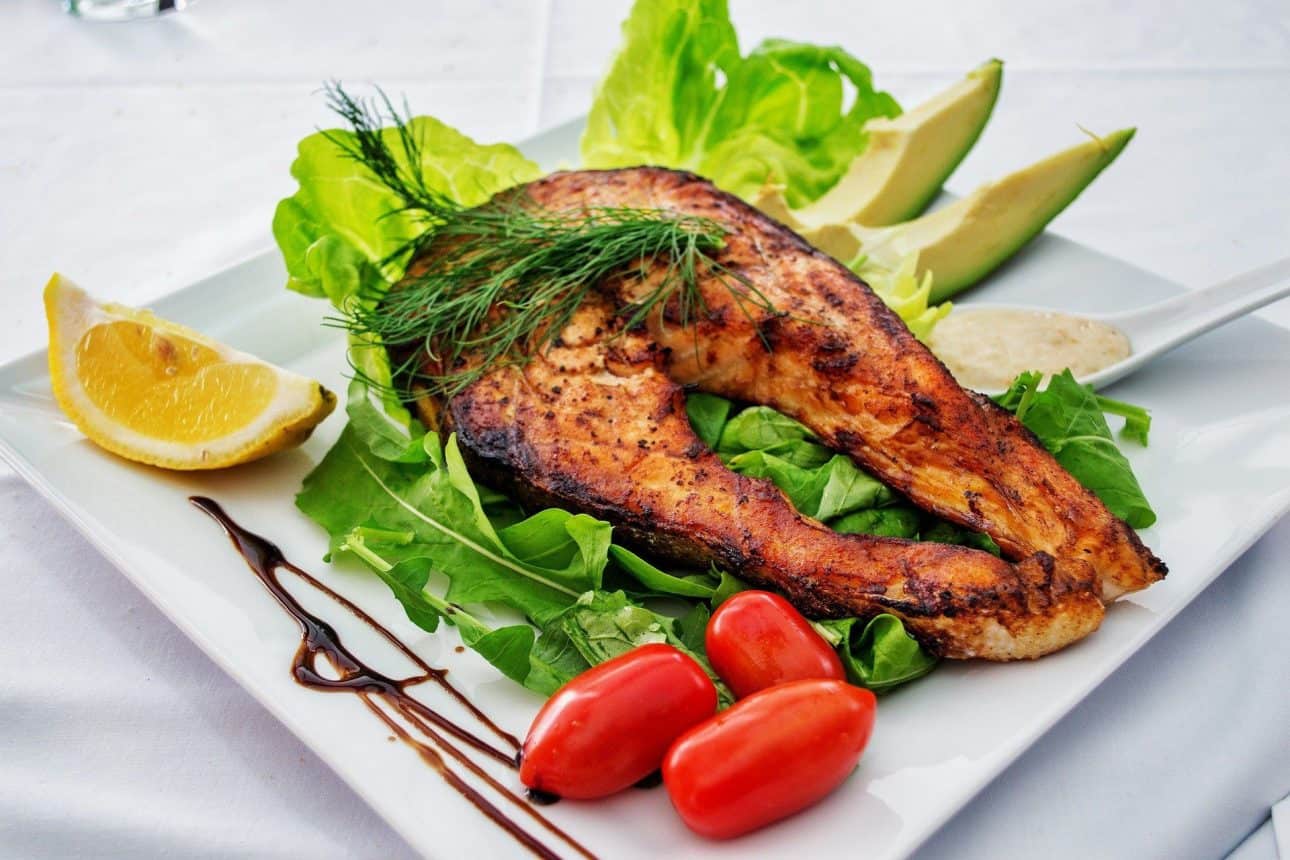 How Do I Cook Perfect Salmon?
Before we set off on our cooking journey, we want to explain why the salmon is a god-like creature in terms of health benefits.
The skin of a salmon is full of collagen which is a protein that improves and preserves the flexibility of bones, skin, joints, nails, and hair! Of all the known collagens, marine collagen has the highest absorption rate, so that's great. As most people know (from dozens of television adverts) salmon is absolutely packed with Omega 3 which helps the blood flow to our brains and may help protect you against dementia and Alzheimer's disease.
Doctors and scientists (like the American Heart Association) have been recommending that we eat salmon for a long time now as its unsaturated fatty acids can lessen the inflammation associated with strokes and heart disease. Salmon is also perfect for your post-exercise meal and eating a four to six-ounce piece of salmon once a week (at least) will help your health issues.
All this health stuff is all fair and well but ultimately the best reason to eat salmon is that it's bloody delicious!
Let's have a jolly look at the best way to cook the perfect piece of salmon, regardless of whether it's baked, roasted, or pan-fried it's a great meal and we are going to tell you the best way to crisp the skin and five diverse ways to cook this adaptable fish.
Choose the size of your salmon piece
Luckily, salmon is the simplest fish to cook and pieces of fillet have a tendency to be relatively thick. This makes them strong enough to move and flip halfway through cooking if necessary. Salmon skin comes off effortlessly, so if you cook bits with the skin on, you can peel it off when the salmon is cooked. There are several portion sizes to choose from including: whole salmon, sides of salmon (half a fish), large pieces of fillet, and individual pieces. Just choose what suits you and your family/guests the best.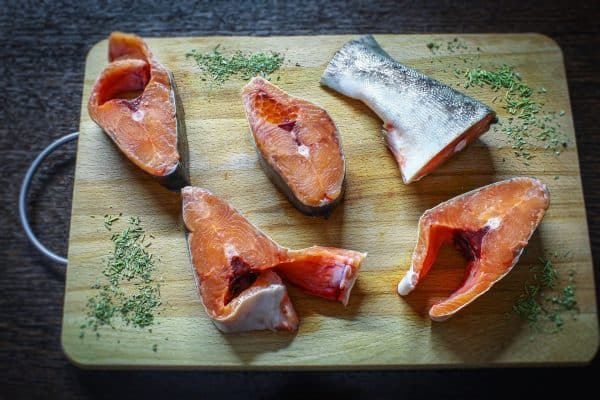 Cook the thing
This fish can be pan-fried, stir-fried, baked, roasted, wrapped in foil or paper, or steamed but the easiest (and laziest) way to cook salmon is in a baking dish in the oven. This is the least messy way to cook the fish and offers less of a fishy smell in the house (this might disappoint the cat). Add a tiny bit of oil to prevent the salmon from sticking to the tray. If you don't want to use oil for any reason, then steam your salmon by placing it on a plate with any seasoning that you want to use, and putting it inside a steamer. You can also wrap it in foil or paper and then steam or bake the fish. If you desire crisp skin then pan-fry the fish skin-side down to ensure delicious crispy salmon skin.
If you want perfect salmon (of course you do, who wants imperfect anything?) it's of extreme importance that you check the cooked temperature of this joint as it cooks.
To give you a helping hand,  here below we will detail two of our favorite salmon recipes and methods of cooking.
Salmon fillets on vegetables in an oven dish
First of all, it's recommended that you buy 4 pieces of salmon fillet, some olive oil, chopped herbs and spices and lemon.
Heat your oven to 356°F/320°F fan/gas 4. Then, brush each piece of fish fillet with oil or butter and season them well.
Place the bits of salmon in an ovenproof tray and choose whether you want to cover the dish (if you require the fish to stay tender on top), or leave it uncovered (if you want the flesh to bake slightly).
Bake the salmon for 10-15 mins. We think that the best way to measure how long to cook for is to base it on 4 minutes per 1cm of thickness in the center. When the fish has finished cooking it will look solid and the flesh will be flaky when you jab a fork into it. Do not overcook salmon, it will dry out. Just cook in the center, you can make sure of this by using your thermometer meat and fish thermometer.
Roast salmon with bacon, peas and potatoes
Firstly, go and buy yourself a 500g bag of baby new potatoes. Cut them in half. Olive oil (you'll need 2 teaspoons). A 150g pack of smoked bacon, 4 whole piece skinless salmon fillets, a 200g bag of frozen peas (defrost them), 4 spring onions, slice them up good! You'll need a splash of white wine vinegar and some chopped mint.
Heat your oven to 428°F/392°F fan/gas 7. Next, put the spuds into a large low roasting tray and mix them in with 1 tablespoon of olive oil and some seasoning. Roast for 20 minutes until the salmon starts to get some color, check the fish cooking temperature and return to the oven for about 10 minutes to crisp up.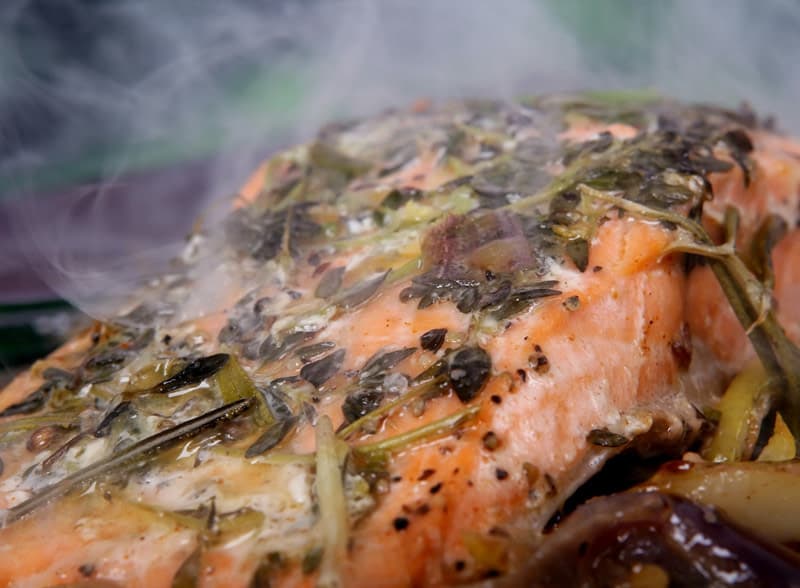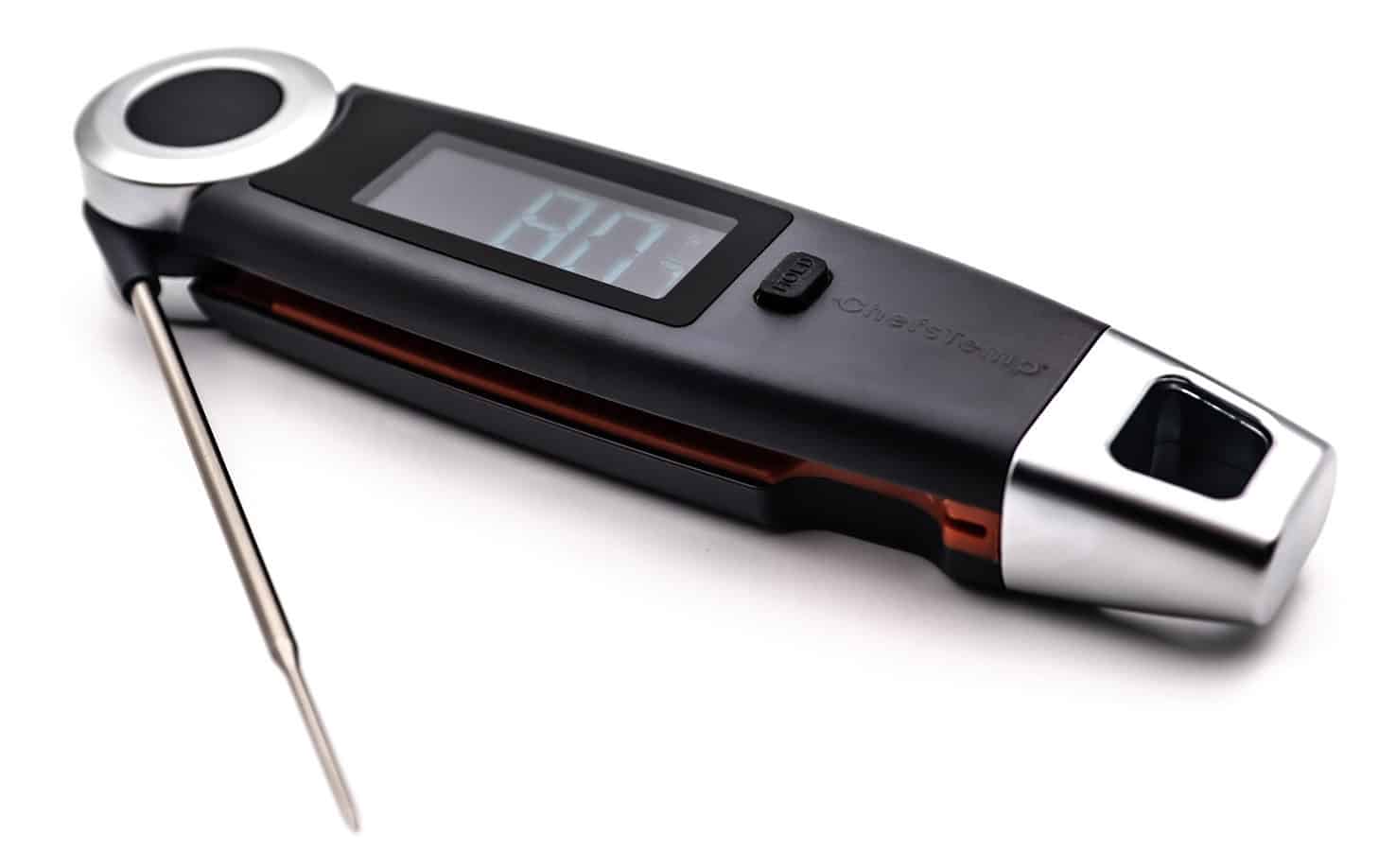 Finaltouch X10
The Finaltouch X10 thermometer from ChefsTemp gives an accurate reading not only for the inside of food but for surface temperatures as well. The diversity of the thermometer's usage is second to none compared to other thermometers. By getting a reading within 1-3 seconds, the Finaltouch X10 from ChefsTemp is prepared to take on any task it is given.
Discover more recipes and learn kitchen tricks by joining our cooking family on Facebook. 
Shop now for products used in this post: