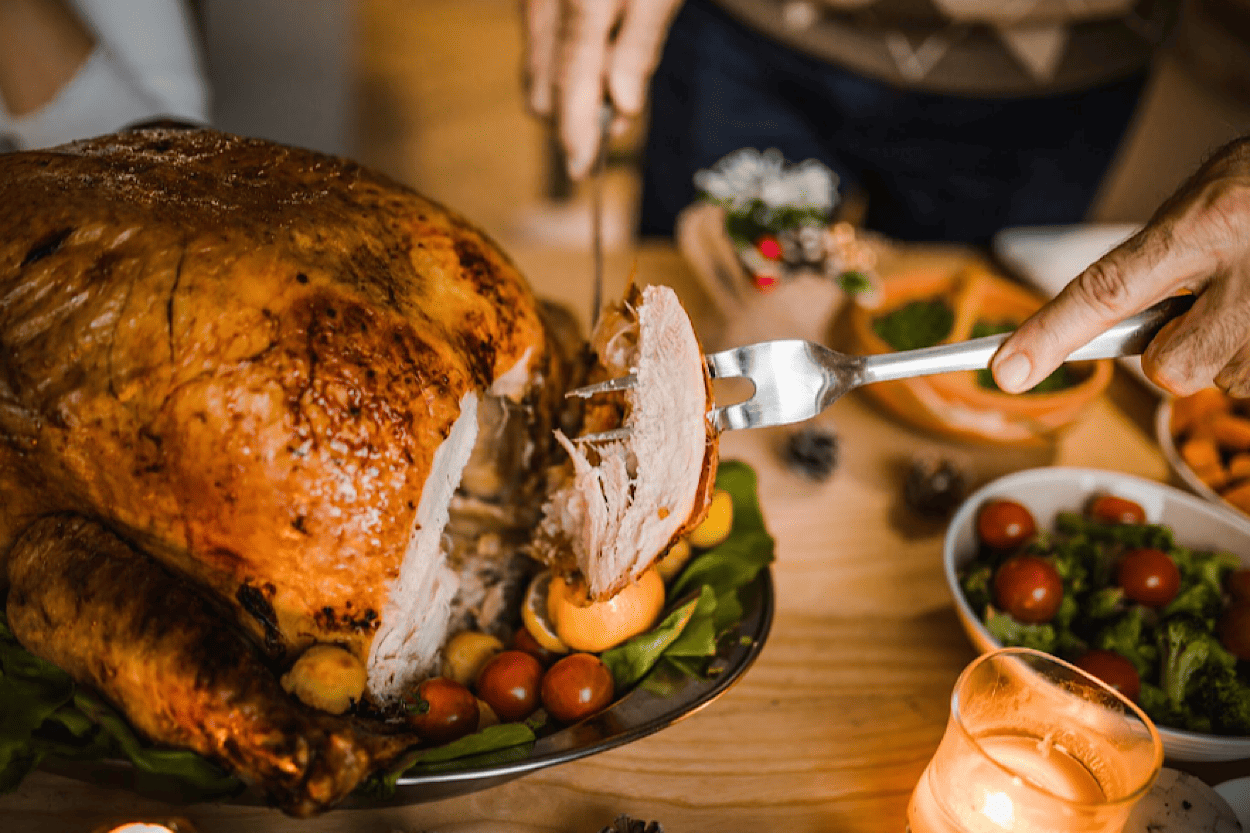 How to Make the Moistest Most Tender Turkey?
Turkey is one of the most amazing dishes ever. However, most people overcook the turkey, and it will come out dry and tough. There are many different methods to cook turkey, but the most important thing is to keep it moist. There are a lot of methods to keep a turkey moist, brining, oven roasting and basting, and smoking. But the technique I have found to be the easiest and simplest to produce a perfect turkey is to cook it on a charcoal grill.
Let us look at how a turkey is done on a charcoal grill and once we have looked at it, I am sure you will agree that this is the perfect way to cook a turkey any time of the year.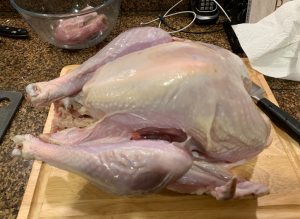 First, we need to prep our turkey. For this cooking technique, I prefer to use frozen turkeys. Frozen turkeys do not need to be brined. The act of freezing and then thawing under refrigeration takes 5 days, and will naturally tenderize the turkey. Once we have our turkey fully thawed, then we move on to prepping the grill.
For a 12-pound turkey, it takes 8 to 10 pounds of charcoal briquettes. Do not use the instant lighting charcoal briquettes for this, the lighter fluid that the briquettes are impregnated with will give you a horrible aftertaste. You will use indirect heat to cook the turkey.
Setting Up your Grill to Cook a Turkey
The most crucial step is to set up the grill correctly and the rest is easy. You want to place a foil pan in the center of the grill to catch any juices from the turkey to avoid a flame up. Second, you want to place 2-3 pounds of charcoal briquettes on each side of the pan. Next, you need to use a charcoal chimney and light 4 pounds of charcoal briquettes and allow them to become ready takes 20-30 minutes.
Once your charcoal is ready, dump half on each pile of briquettes and place your seasoned turkey on your grill and close the lid. In two to four hours your turkey will be ready depending on the weight of the turkey. Make sure to test for doneness and if you need to cook longer, add briquettes as needed, about 5 at a time to each side until the turkey is done.
Once you have the turkey on the grill and close the lid, it is of the utmost importance that you keep the grill closed except for checking your charcoal to see if you need to add some, and to check the temperature. You should not need to add charcoal for at least two hours. Now that we have looked at the cooking process, let us talk about turkeys, seasoning and cooking sides to go with the turkey.
For this recipe, I used a 12-pound frozen butterball turkey. You can use any brand of Turkey you wish. The most important thing is to take your frozen turkey and place it in the refrigerator and allow it to thaw completely, that takes 4-5 days. Once your turkey is thawed, and you are prepared to cook, set up your grill and light your charcoal. Take the turkey from the netting and bag it comes in, rinse it thoroughly, and then pat it dry with paper towels. Remove the giblets and either uses them for stuffing and gravy or throw them away, do not re-freeze them. Once your turkey is patted dry, season it inside and out with salt, black pepper, and any other seasonings you desire. Pour the lit charcoal onto the unlit charcoal and then place your turkey directly over the foil pan and close the lid. Resist the urge to open the lid of the grill during the first hour of cooking, the turkey needs the skin to brown and get crisp to lock the juices inside the bird, once the first hour has passed, check your charcoal, and add more if needed. Remember the turkey must reach a minimum of 165 °F in all temperature zones, and that means the thigh and leg are going to be closer to 200 degrees by the time the turkey breast reaches pull temperature. You will need to have an instant-read probe thermometer to check the temperature.
While the turkey is on your grill this is when you want to make your sides, I made mashed Yukon gold potatoes, cornbread stuffing, candied sweet potatoes, green bean casserole, and turkey gravy, along with pumpkin, cherry, apple, and mixed berry pies, and a Jell-O salad. Sides are what you like to fix and serve with your turkey, and family favorites.
Yukon Gold Mashed Potatoes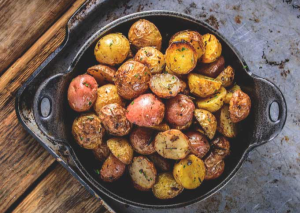 5 pounds peeled and diced Yukon Gold Potatoes
2 tablespoons whole butter
salt and white pepper to taste
cup of milk
Boil your potatoes until fork soft, drain them and leave them in the strainer, heat the milk and butter add the potatoes back in, and add the salt and pepper, mash until to the desired consistency. Place them in a foil pan and cover them with foil, then place them in a 170℉ oven and hold until the turkey is ready to serve.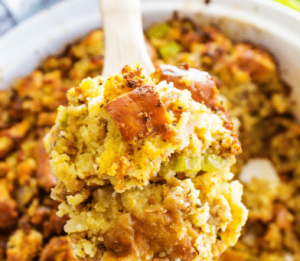 8×13 pan of cornbread
bag of bread cubes for stuffing
4 cups chicken broth
4 tablespoons of butter, divided in half
poultry seasoning
fine diced onions and celery, half cup each
Sauté the onions and celery in half the butter, add the broth and the other half of the butter, bring to a boil, add the bread cubes and the cornbread that you have broken up, and stir until all is moistened. Place in a baking pan and bake at 350 °F oven for 45 minutes.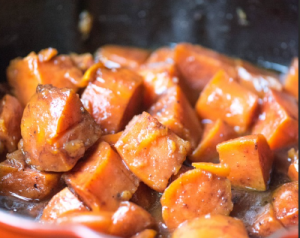 3 sweet potatoes, peeled, diced, and boiled until fork soft
2 tbsp whole butter
1 cup brown sugar
1 cup water
Tbsp pumpkin pie spice
1 cup chopped pecans
1/2 bag of miniature marshmallows
In a pan melt the butter and add the brown sugar, water, pecans, and pumpkin pie spice and cook until it makes a syrup, add the sweet potatoes, and gently stir to coat, pour into a baking dish, top with the marshmallows and place uncovered in a 350°F oven and bake until the marshmallows are nicely browned.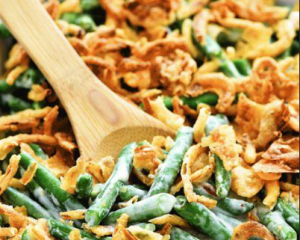 28 ounces (about 828.06 ml) green beans, canned or frozen or blanched fresh
14oz (about 414.03 ml) can cream of mushroom soup
1 cup of shredded cheddar cheese
2 tbsp Worcestershire sauce
6 ounces (about 177.44 ml) French fried onions
In a bowl combine all the ingredients except for the French-fried onions. Place in an uncovered baking dish, top with the onions and bake at 350°F oven for 45 minutes.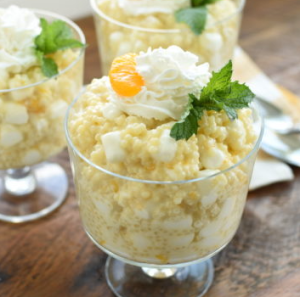 2 boxes pistachio pudding mix
1 large can crush pineapple
1 cup shredded coconut
1 cup chopped pecans
8 ounces (about 236.59 ml) non-dairy whipped topping
In a bowl, combine all the ingredients except for the non-dairy whipped topping, thoroughly mix, fold in the non-dairy whipped topping, and put into a dish and cover and refrigerate.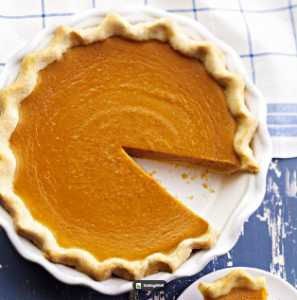 1 large can solid pack pumpkin F
2 unbaked 9-inch pie shells
3 cups evaporated milk
1 1/2 cups granulated sugar
4 large eggs
2 tbsp pumpkin pie spice
In a large bowl combine the pumpkin and eggs, in a separate bowl mix the dry ingredients, add the dry ingredients to the pumpkin mixture, and stir until combined, add the evaporated milk and whisk until smooth, pour into the pie shells. Place the pies on a baking sheet and bake for 15 minutes at 425 °F, then turn the oven to 350 °F and bake until the pie sets, approximately 45 minutes. Remove from the oven and place on a cooling rack for 2 hours, then serve with whipped cream, or refrigerate the pies.
Can of pie filling
9-inch pie pan
Two pie crusts
Place the first pie crust in the pan, empty the contents of the pie filling into the pie shell, top with the second pie crust, seal the edges together, place on a baking sheet and bake at 400 °F for one hour.
This is a typical thanksgiving dinner, everyone has their own interpretation of the meal, and the sides vary, some do corn, various kinds of salads, deviled eggs, cornichons, and olives, but it all comes down to one thing, a well cooked, moist, tender turkey with a crispy skin. To achieve this, it is important to monitor the cooking temperature, make sure the turkey is fully thawed so that it cooks evenly, and do not open and close the lid on your grill. This will give you a turkey your friends and family will beg you to cook every year.
Discover more recipes and learn kitchen tricks by joining our cooking family on Facebook. 
Shop now for products used in this post: