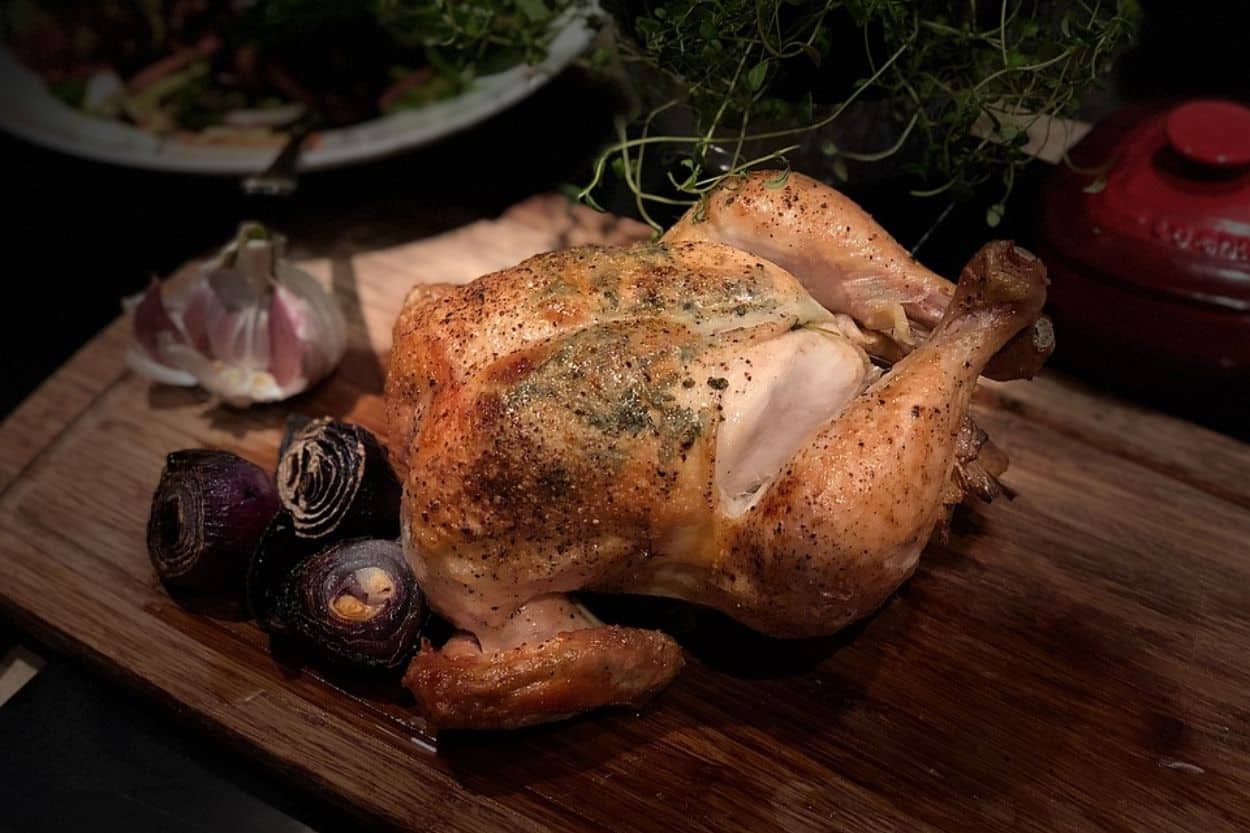 The Safest and Correct Chicken Internal Temp for a Juicy and Tasty Meat
Chicken meat is delicious and nutrient-dense, but only if it's cooked to a certain internal temperature. Go below it, and you'll end up with devastating health problems. Go above it and you'll end up chewing on a dry, hard, and tasteless piece of meat.
Figuring out what chicken internal temp is the safest for cooking poultry is something a lot of people struggle with.
If you are struggling with the same issue, this article is written for no one else but you. Without further delay, let's get going.
What is the correct and safest chicken internal temp?
Red meat gives you a lot of cooking doneness levels to choose from, like rare, medium, medium rare…etc. With chicken, however, you don't get that luxury. A piece of chicken meat is either cooked, undercooked, or overcooked.
Undercooked chicken is harmful. It contains pathogens, like campylobacter and salmonella. These could lead to serious health problems. Overcooked chicken meat, on the other hand, while not particularly harmful, is dry and flavorless. Who wants to eat that?
The secret to a healthy and juicy piece of chicken meat is knowing the exact internal temperature you should cook it to. This depends on the type of chicken meat, the cooking method you plan to cook it with, and the time it takes the meat to cook according to each cooking method.
There are two types of chicken meat, the white and the dark chicken meat. The internal temp to cook each one to is slightly different. The USDA recommends cooking white chicken meat to 165 degrees F, and dark chicken meat to 175 degrees F.
However, you should get your chicken out of the oven at around 160 to 162 degrees F, as the temperature will still go up by a few degrees before it dips, while the chicken is resting.
To get your chicken meat to an internal cooking temperature of 165, your oven's temperature needs to be between 350 and 450 degrees F.
The time the meat should be on fire to achieve such internal temp from one cooking method to another. For example, cooking chicken breasts in the oven set at 350 degrees F will take you around 20 to 30 minutes. On a grill, on the other hand, it will only take you 7 to 8 minutes on each side.
How to check the chicken's internal temperature?
To check whether a piece of chicken meat is fully cooked or not, there are a few ways that a lot of cooking experts recommend.
Let's say, for example, that you are cooking a few chicken breasts and you'd like to see if they are ready to take out of the oven or they still need a few more minutes. The first method to go about that is to cut through the chicken breast and squeeze it.
If the juices coming out of the meat run clear, then it's a good indication that the meat is safe and fully cooked. You also need to pay close attention to the color of the meat. If you cut through the meat and it's still pinkish from the inside, you should return it to the oven, as it is not fully cooked yet. A well-cooked piece of chicken meat should be white, tender, and juicy. While this is a great way to check out the chicken internal temp, the second method trumps it.
A better, faster, easier, and more accurate way to check the internal chicken temp and make sure your meat is healthy and tasty is using an instant-read meat thermometer.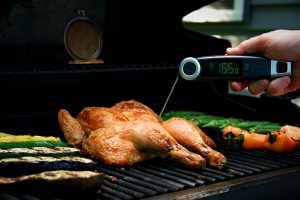 How to use a meat thermometer to check internal chicken temp?
Checking your chicken's internal temp with an electronic meat thermometer is easy. If it's a whole chicken you are cooking, push the tip of the thermometer probe into the thickest part of the chicken's breast slowly and make sure you don't hit the bone. Then, slowly pull it out and look at the reading. It should be at around 162, as discussed before. Do the same thing with the thighs.
For chicken breasts, you will need to tilt the digital food thermometer a little bit horizontally and push the probe inside the breast until it's halfway through it. Then, slowly pull it out. Again, it should read 160 to 162, as the temp will carry over to that 165 degrees F sweet spot when the meat is resting.
Whole chicken oven recipe
Ingredients
One three-pound whole chicken. Make sure you remove its giblets.
A tablespoon of onion powder.
Half a cup of margarine. Divide it into two servings.
One whole stalk of celery without the leaves.
Directions:
Preheat your oven to 350 degrees F.
Put the chicken in a roasting pan.
Mix garlic powder, salt, and pepper in a bowl.
Season the chicken with the mixture from the inside and outside
Place the first serving of margarine inside the chicken. Rub the other serving on the outside of the chicken.
Cut celery into 4 pieces. Place a few inside the chicken and the rest around it.
Put it in the oven and let it cook for one hour and fifteen minutes.
With the internal temp recommendations above, use akitchen thermometer to check the chicken's temperature out from time to time.
Chicken wings and drumsticks grill recipe
Ingredients
A teaspoon of garlic powder
A teaspoon of ground pepper
A tablespoon of salt
One and a half pounds of chicken wings and one and a half pounds of chicken drumsticks
A tablespoon of apple cider vinegar
Six tablespoons of butter (unsalted)
A tablespoon of honey
A third of a cup of hot sauce
Directions
Mix garlic powder, salt, and pepper in a mixing bowl.
Grab a big bowl and place the wings in it. Add the seasoning mixture. Mix until all the wings are generously seasoned.
Preheat the gas grill to 350 degrees F.
Place the wings on the grill, one next to the other. Let them grill for twenty minutes or so. Flip them every five minutes.
Put a saucepan on low heat. Add butter, honey, hot sauce, and apple cider vinegar. Whisk until they are combined.
Place the wings and the drumsticks in a clean large bowl. Add the butter mixture. Mix the wings and the drumsticks with the sauce.
Place the wings and the drumsticks again on the grill and turn the heat on to medium-high.
Leave them for two minutes on each side and place your grill thermometer in of them. Remove them once you hit an internal temperature of 170 F.
Let them rest for a few minutes so the temperature can go up to 175.
Serve and enjoy the crispiness.
Chicken Breasts Oven Recipe
Ingredients
Four 5 oz chicken breasts
Two teaspoons of olive oil
One a half tablespoons of brown sugar
One teaspoon of either thyme or oregano
A quarter teaspoon of garlic powder
Half a teaspoon of pepper and salt
Chopped parsley for garnishing
Directions:
Preheat your oven to 425 F
Mix the seasonings in a small bowl.
Add the chicken breasts to a large bowl. Add in the seasoning mixture. Mix the two well.
Line a tray with parchment paper and add the chicken breasts to the tray.
Place the tray in the oven for eighteen minutes.
Check the internal temperature with ameat thermometer and remove them from the oven once they reach an internal temperature of 165 F.
Let them rest for five minutes.
Sprinkle parsley on top and serve.
There you have it. That's the safest chicken internal temp you should always stick to for a healthy and tasty piece of chicken meat.
Discover more recipes and learn kitchen tricks by joining our cooking family on Facebook. 
Shop now for products used in this post: