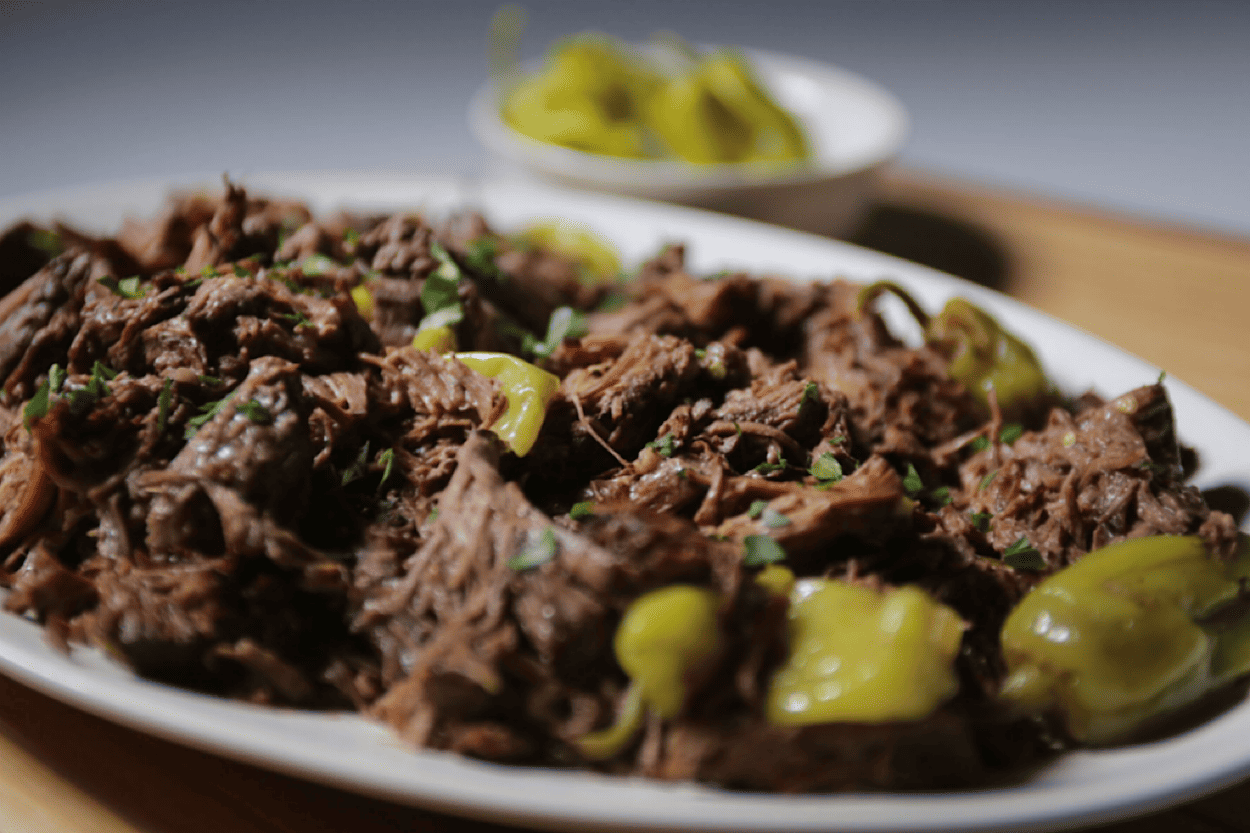 Slow Cookers, Crockpots, and Instant Pots and Safe Cooking Temperatures
Slow cookers, crockpots, and instant pot type cookers have become incredibly popular as a means to cook food in this busy world we live in. They keep foods moist throughout the cooking process and deliver great tasting dishes that fit conveniently into our busy lifestyles. The main concern with any cooking process is done we get the food to a safe serving temperature, and even with these cooking devices it is necessary to check final temperatures to make sure that our food is safe to eat for ourselves and our families. Your ChefsTemp Final Touch X10 comes into play here.
Today we are doing a Mississippi Pork Pot Roast in the slow cooker, and we will be taking final temperatures once we have completed the cooking cycle. With a pork roast, this one is bone in, it is critical to get it to a final cooking temperature of 155°F ( 68.3°C) before we serve our roast.
This is probably one of the most delicious roast recipes I have ever made, it is simple yet incredibly flavorful. It only has 5 ingredients, but the flavor is amazing and the sauce for the roast is built right in.
Mississippi Pork Pot Roast Recipe:
3-pound pork roast, boneless or bone in
1 packet ranch seasoning dry mix
1 packet au jus sauce dry mix
10-12 pepperoncini peppers or any kind of whole preserved peppers of your choice.
4 ounces of whole butter
As you can see the recipe is simple. Now, let's look at the cooking method and what it does. I am using an Instant Pot on the slow cooker setting. For this roast, you want to use a slow cooker, crockpot, or a programmable cooking pot in a slow cook setting. I set the Instant Pot to slow cooker, set it on hi, and set it for six hours. This should be enough time for the roast to cook completely, and the additional ingredients to combine and create the sauce that flavors this roast. While it is cooking you can walk away and do other things, which is the beauty of using this type of cooking. Also, you will be able to, if needed, thicken the sauce, if necessary, once the meat is removed from the sauce, by either reducing it, or making and adding roux or a slurry to the cooking liquid.
During the cooking process, what is happening besides the roast cooking is the ranch mix and au jus combined with the butter and the cooking juices are going to combine all those flavors and keep the roast moist, as well as making a nice sauce with the flavors of all the ingredients as well as the peppers.
Using a slow cooker is a way to keep a roast moist. Slow cookers do not release steam or vapor as they cook which keeps all the moisture in the pot. If you have ever experienced a dry roast you know how unappetizing it is; this cooking method keeps the roast moist and tender as well as developing intense flavor because the roast is cooking in a highly seasoned cooking liquid, which in essence is the process of doing a braised dish.
Once the meat is done cooking and at temperature, you will then take out and shred the meat, thicken the sauce if necessary, and be ready to serve it with your favorite sides. Today, I am going to serve it with au gratin potatoes and Mexican style street corn. These go very well with pork roast. You can also do this recipe with a beef chuck roast with the exact same ingredients and get an amazing roast as well. Recipes for the au gratin potatoes and corn to follow.
Au Gratin Potatoes
Au Gratin Potatoes are a delicious combination of cheese, heavy cream, nutmeg, salt and pepper, and can be baked to get a nice crispy cheese crust or done stove top for a saucier version. Today I am doing the baked version.
Ingredients:
1/3 cup softened unsalted butter
1 ½ pounds russet potatoes peeled and cut into ¼ inch thick slices
½ cup grated gruyere cheese
½ cup grated parmesan cheese
1 cup heavy cream
1 tsp salt
½ tsp black pepper
1/8 tsp paprika
dash nutmeg
Directions:
preheat oven to 350°F (177°C)
butter a 1 ½ quart baking dish with 1 tbsp of butter
layer in a layer of sliced potatoes
sprinkle with cheeses
layer another layer of potatoes, then cheese, until the pan is full
in a bowl, whisk the heavy cream and seasonings, except for the paprika, together and pour into baking dish
top with dots of butter, any remaining cheese, and dust with paprika
put in the oven and bake for 1 hour to 1 hour and 15 minutes or until the potatoes are tender and golden brown on top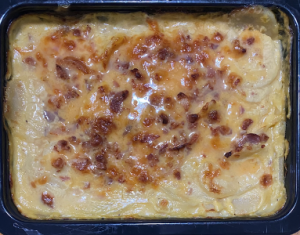 Mexican Style Street Corn – Esquites (corn cups):
Elotes refers to corn on the cob with mayonnaise brushed over it and then rolled in cotija cheese and dusted with cayenne pepper and served on a stick. Esquites are the same basic dish except the corn is taken off the cobb, mixed with mayonnaise and cotija or parmesan cheese, and dusted with cayenne pepper.
Ingredients:
1 1 ½ cups of corn
2 tbsp whole salted butter
1/3 cup of mayonnaise
1/3 cup of sour cream
1/3 cup of cotija or parmesan cheese
Red pepper (cayenne) for garnish
Chopped cilantro *optional*
Directions:
In a pan, heat the corn with a little water, a couple of tablespoons and the two tablespoons of whole butter
Remove from the pan and pour into a bowl
Whisk together the mayonnaise and sour cream and fold in the cheese
Add the corn to the mayonnaise mixture and fold until completely coated
Plate it on a plate or in a bowl and garnish with the red pepper.
Foods cooked in slow cookers, crockpots, and programmable pots all need to have final cooking temperatures verified, never under cook your foods, and always make sure it reaches a safe serving temperature by checking it with your ChefsTemp Final Touch X10.
Discover more recipes and learn kitchen tricks by joining our cooking family on Facebook. 
Shop now for products used in this post: