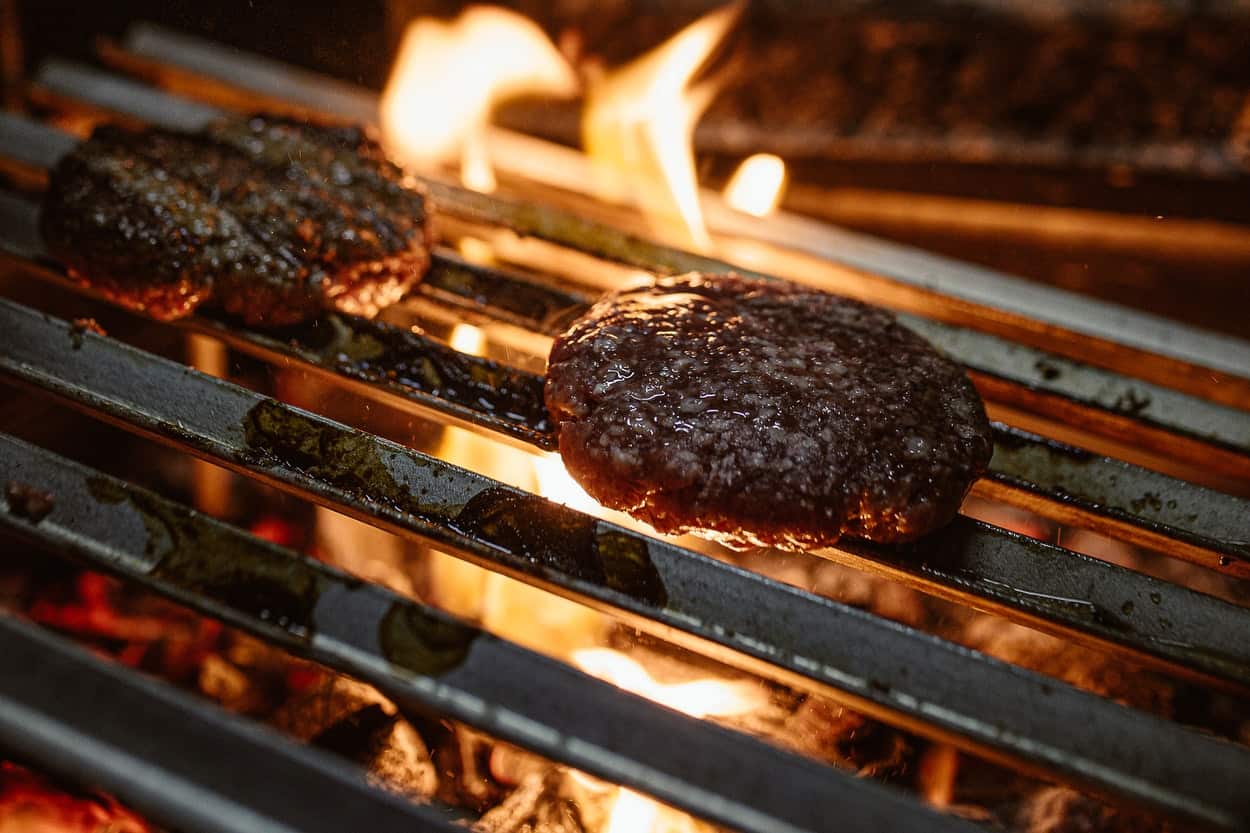 Best Smoker Thermometer for Mastering Temperature Control
It is crucial to buy the best smoker thermometer and know how to use it. No matter how strong your instincts are, do not use them to gauge cooked meat safety. Use a thermometer to measure the internal temperature of meat as it cooks to ensure it meets the USDA's food safety recommendation. Make sure your thermometer is adaptable enough to track the temperatures of meat and other foods you like smoking.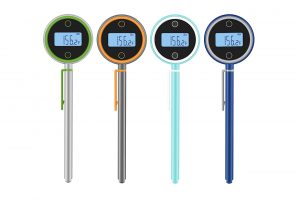 Having a kitchen thermometer that can do multiple tasks can help save your time and money. As you begin your journey of becoming an expert family chef, buy your grilling gear wisely. Here we will reveal the most reliable BBQ thermometer for mastering temperature control.
Top features to focus on when finding the best smoker thermometer
Accuracy – The best digital food thermometer should generate accurate temperature recordings. Based on what other online customers say about a thermometer, you can estimate its level of accuracy. Ensure that a thermometer offers the highest level of accuracy when new. Over time it may lose its accuracy due to typical wear and tear and exposure to elements. To be on the safe side, always choose the most accurate device you can find online. Make sure that you can test and recalibrate it to restore accuracy.
Quick response time – No one needs a time waster for a thermometer. If you have to cook and do other things later, you need an instant read meat thermometer. The best Chefstemp thermometers can return a temp recording in two to three seconds. They have long and thin probes with advanced electric circuits inside of them.
Can offer the same results every time – The best cooking thermometer should have the ability to produce the same readings when you repeat a recipe. As long as you maintain the same cooking conditions, it should generate the same results. If you notice some degree of inconsistency, your thermometer might be losing its accuracy. The only way to know a thermometer with good reproducibility before buying is to read online reviews. 
Display capability – Can a thermometer measure a tenth of a degree or a hundredth of a degree? You must choose one between the two. If you need one with a higher display capability, pick the one that can measure a hundredth of a degree. It will offer the highest level of resolution. As for the screen, it should display recordings that you can effortlessly read.To cook at night, choose a grill thermometer with a back-lit display.
Wireless range – The correct remote thermometerto choose should have a wide wireless range. Some options can relay a signal up to a distance of 500 feet.
A magnet – Thebest smoker thermometer should have a magnet for easier and safer storage. Additionally, the magnet can hold the thermometer onto a metal grill the entire cooking time.
Can resist water – If you want a thermometer that can be with you for the longest time, ensure it is waterproof. If you ever drop it in water, it will continue working. Also, if the gadget catches meat juices and drippings, it will keep on working.
Temperature range – When you read a product description online, you should know its temperature range. It will display a range like this: -22 to 572°F. This is equivalent to -30 to 300°C. Look for something like this when shopping online.
Other features you might have to consider are the types of battery, mode of handling, and actual temperature at various degrees.
Which is the best bbq thermometer for temperature mastering?
There are different types of thermometers you can use for smoking food. However, if you want to look beyond the basics, we can advise you to buy an electronic meat thermometer. Depending on how often you need a thermometer and how much food you often smoke, you can find a suitable thermometer. Here are our top selections based on what they can do best.
1. Best handheld probe thermometer – ChefsTemp FinalTouch X10
If you want to keep your grill lid open when cooking, you can only use a handheld thermometer. A good option is the ChefsTemp FinalTouch X10. It is the best instant read meat thermometer for frequent use. Its solid and thoughtful craftsmanship helps this device produce precise temperature readings in a matter of seconds. Besides, it is a waterproof gadget that can withstand any level of wetness. You can clean it under running water without the fear of damaging it. Its probe can make 270 degrees turn and fold out from the equipment at an angle of ninety degrees. Its display shows numerical recordings and it can work even at night due to the backlight. Another good thing about this thermometer is that it saves battery power when unfolded and idle.
2. Best multi-channel and wireless range thermometer – ChefsTemp Quad Pro 
Sometimes you have to cook for many people by preparing many cuts of meat at once. You may also choose to barbecue a whole chicken or turkey. In a situation like this, you need to know different internal temperatures for different body parts. Remember that some parts are thicker, others are thinner, and others are not thin or thick. You need the best smoker thermometer to cook your meat safely. The best of all is a thermometer with many probes or channels. The ChefsTemp Quad Pro is a perfect multi-channel grill thermometer for your needs. It has four channels with the ability to display separate temp readings. You can also receive temp recordings alerts within a range of 500 feet/150meters.
3. Best for portability – ChefsTemp Pocket Pro
When backyard smoking becomes boring, some people choose to go on a picnic and barbecue their meat there. If you prefer to do the same thing, get the ChefsTemp Pocket Pro thermometer. It will help you barbecue like a professional chef even when far from home. The tiny pocket-size thermometer can fit in your trouser pocket. Besides its compactness, the Pocket Pro device responds within 1 to 3 seconds. Due to its thermocouple technology, the device can produce very accurate temp readings. Not only does it display big digit recordings. It also works at night using its backlight display. Its flexible rotating ability includes four dimensions; it is ideal for right-handed and left-handed users. The splash-proof meat thermometer can be useful during your camping escapades.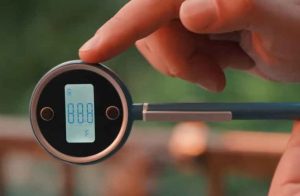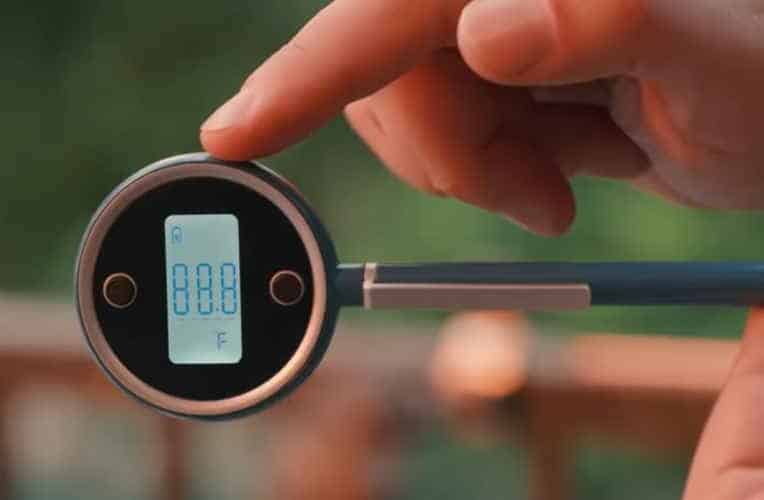 You can master temperatures when barbecuing if you have the correct tools. Other than having the best gas, electric, or charcoal smoker, you need the correct smoker thermometer. It will let you measure the correct internal temperatures of meat or food. With an advanced wireless thermometer, you can also measure the ambient temperatures throughout cooking without staying near the grill. We have discussed our top thermometers to help you master temperature controls when smoking food. It is now up to you to select the best food thermometer for your needs and use it correctly.
Discover more recipes and learn kitchen tricks by joining our cooking family on Facebook. 
Shop now for products used in this post: