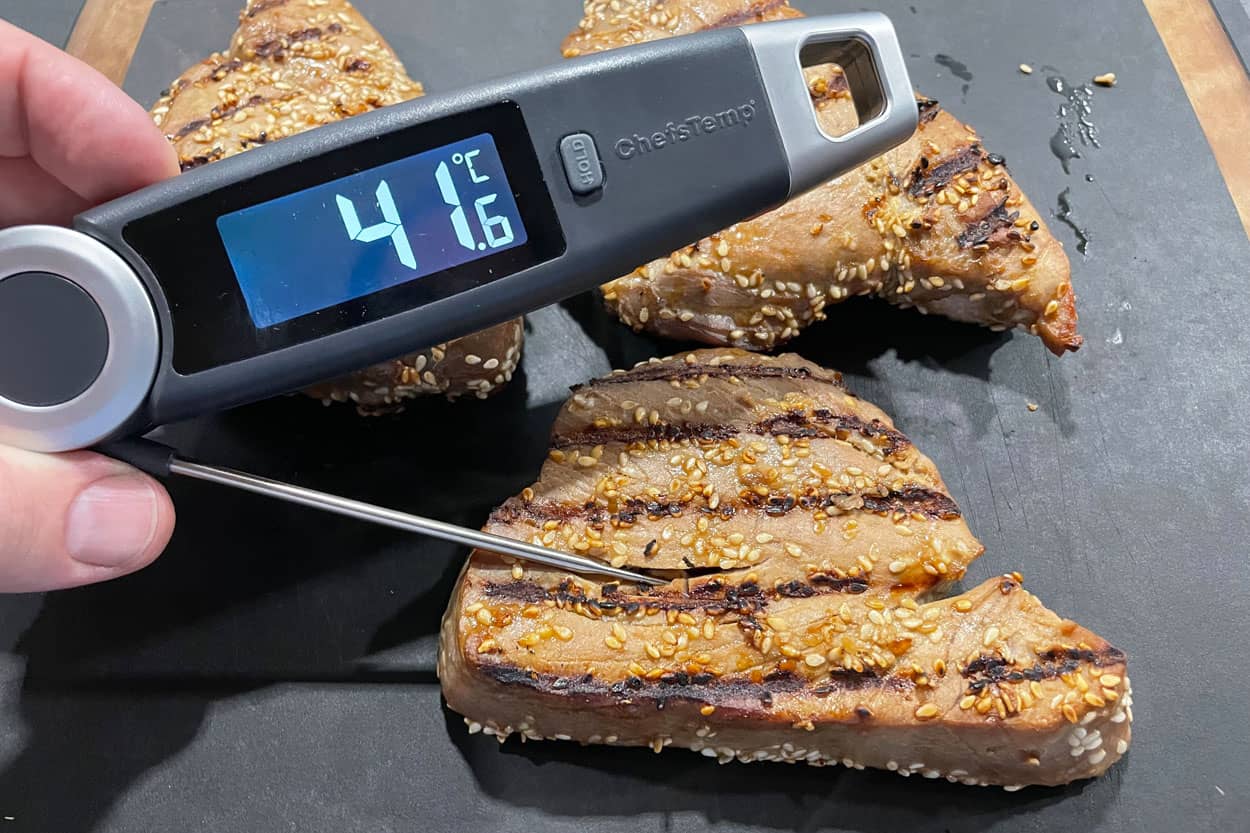 The Best Crispy Salmon and Tuna Steak
I really like tuna loin. It's easy to cook, luxurious and special. Tuna is not only Sushi! You can handle and season it like a tenderloin. The tuna loin offers a clean flavor that isn't at all "fishy", Tuna is quite like meat. If you do not want to serve meat to your guests, but nevertheless something special and high-quality, Tuna is the perfect alternative. Tuna seems to be the perfect match for your vegetarian friends!
It sounds wired, but try to season it with oil, mustard, rosemary, and thyme – you will love it. However, for Tuna, and especially for Tuna loin, the most important is to cook the fish only "rare"! Look up the internal temperature carefully, if the steak comes out medium, or only medium-rare, the result is only half as good.
Today, I will present a very easy, fast, and delicious version for everyday cooking – only 5 minutes of cooking time! To be honest, this recipe is very simple. But you must buy good quality Tuna and be careful with the cooking temperature!
Ingredients:
Fresh Tuna loin (minimum 3-5 centimeters)
1 Tsp. Soy sauce
1 Tsp. Sesame seeds
1 Tsp. Salt
1 Tsp. Pepper
Optional: fresh coriander
Step 1
Season the tuna loin with the ingredients except for the pepper and let the marinade soak in for at least two hours.
The sesame seeds need to be really wet so that nothing burns on while grilling. And the pepper always comes at the end!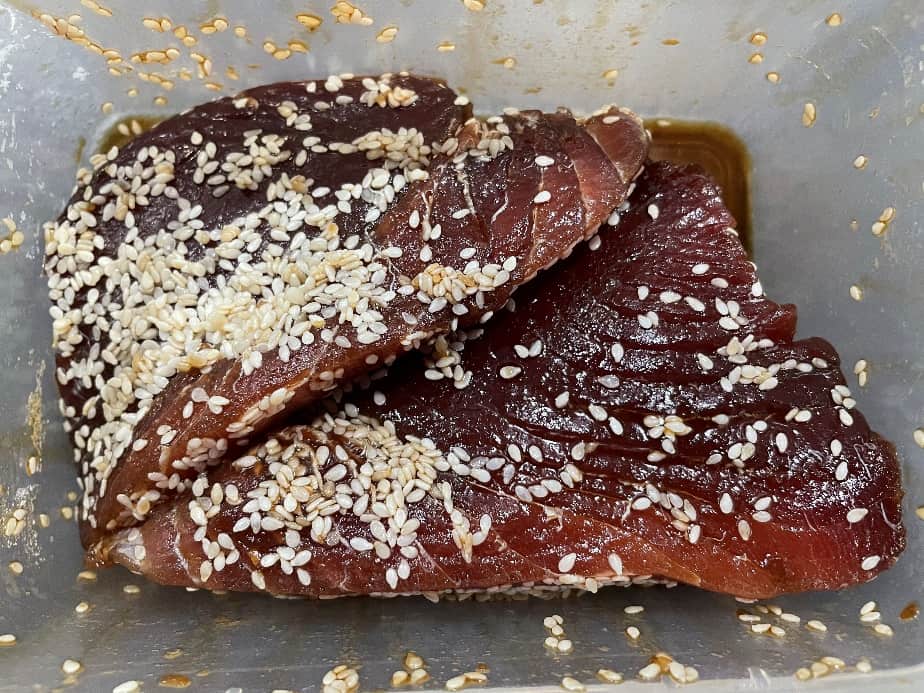 Step 2
Prepare your grill for direct heat grilling (or preheat the skillet until smoking hot)
Step 3
Place the tuna carefully on the grill. The tuna steak should be cooked for about 2 minutes on both sides (only turn the tuna once) to get a nice sear on the outside while keeping it rare on the inside.
You can try to get the criss-cross grill marks – turn 45 degrees after 1 minute per side, but be extremely careful (with fish, I don't do it!).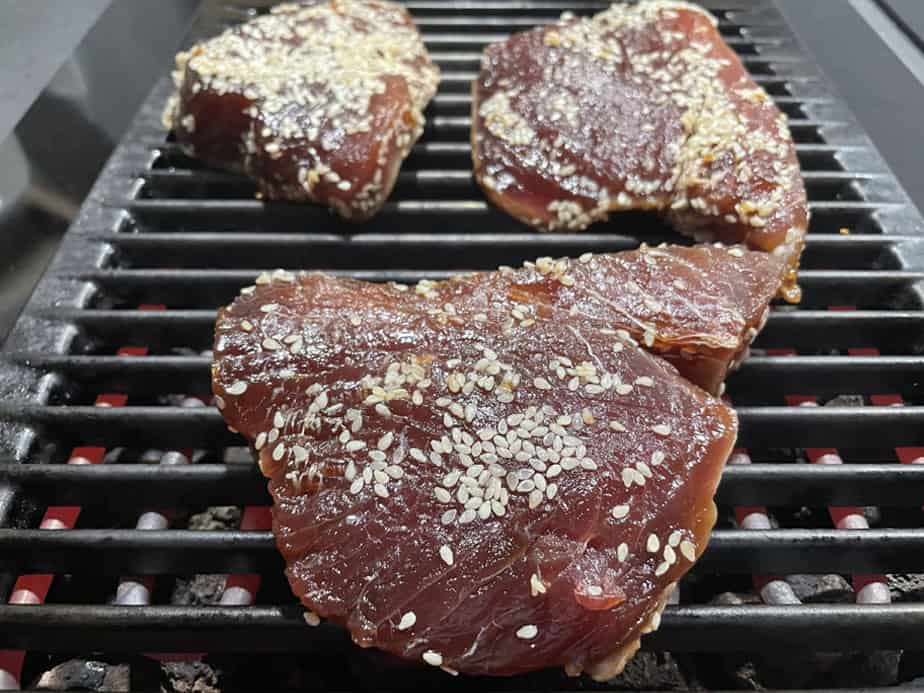 Step 4
Target internal temperature: The target internal temperature is 40-42°C (104-108°F). I am using the ChefsTemp FinalTouch X10! This will ensure the inside is really rare, but pleasantly warm.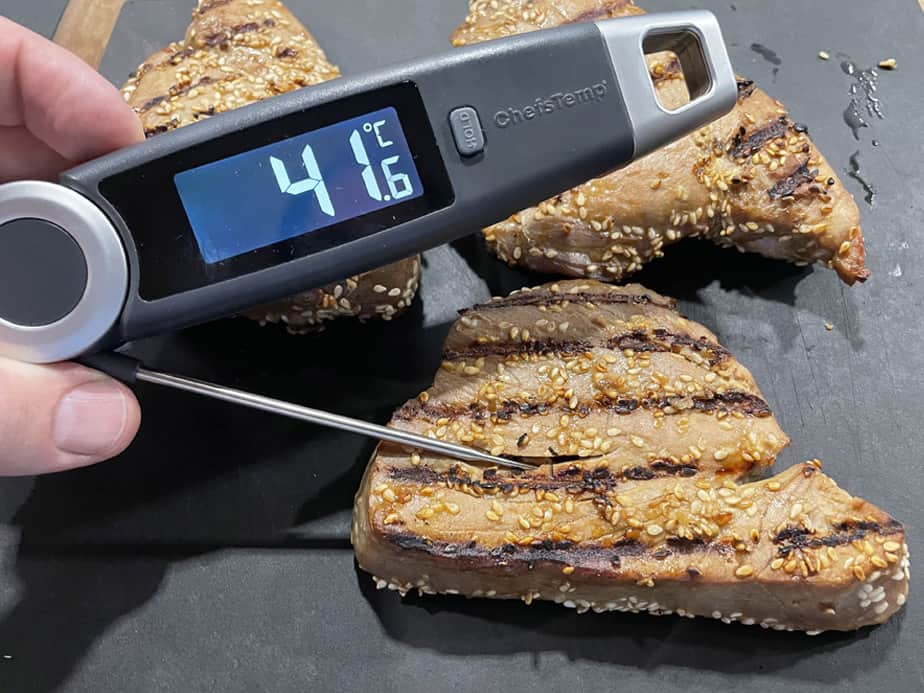 Step 5
Rest the steaks for about 5 minutes and pepper it.
Step 6
Slice up the tuna steaks and enjoy! The striking red color inside looks so tasty, you and your friends will love it. Optional you can sprinkle the slices with some extra soy sauce and a bit of sliced coriander or sesame seeds.
Serve with salad, crunchy bread or fresh vegetables! The taste of fresh tuna steak is so extraordinary, that you don't need any extra flavors.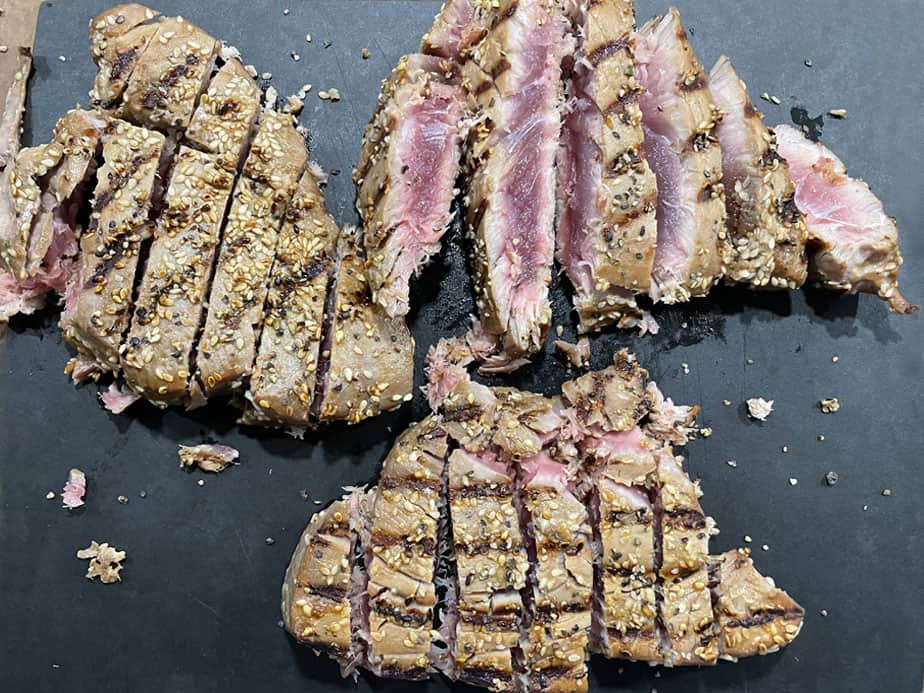 Crispy Salmon with Thyme-lemon Pasta
Meat, meat, meat – that is what we want to eat! Not today, Salmon is a good alternative, if you had too many steaks or if you want to serve something "more elegant or healthier" to your wife. For me, there are only two options to prepare a perfect Salmon: in the oven with a fine marinade or just as it is directly on the grill – with a crunchy crust and glassy inside. I prefer wild-caught salmon because it has more flavor, they tend is leaner and more fish-like in taste.
Cooking time: approximately 20 minutes
Ingredients:
Salmon: filet of salmon, king, chinook, coho, or sockeye
1-1/2 Tsp. oil
1 Tsp. Salt
1 Tsp. Pepper
Pasta:
2-3 tablespoons fresh thyme
1 Garlic
1 Lemon
1 Cup white wine
2 Tsp. Parmesan cheese
250ml Whipped cream
1 Tsp. Salt
1 Tsp. Pepper
500g Fresh pasta
Step 1
Prepare your grill for direct heat grilling (or preheat the skillet until smoking hot).
Step 2
Slice the salmon in filets (approximately 3 fingers wide), oil (but only a little and salt the fish.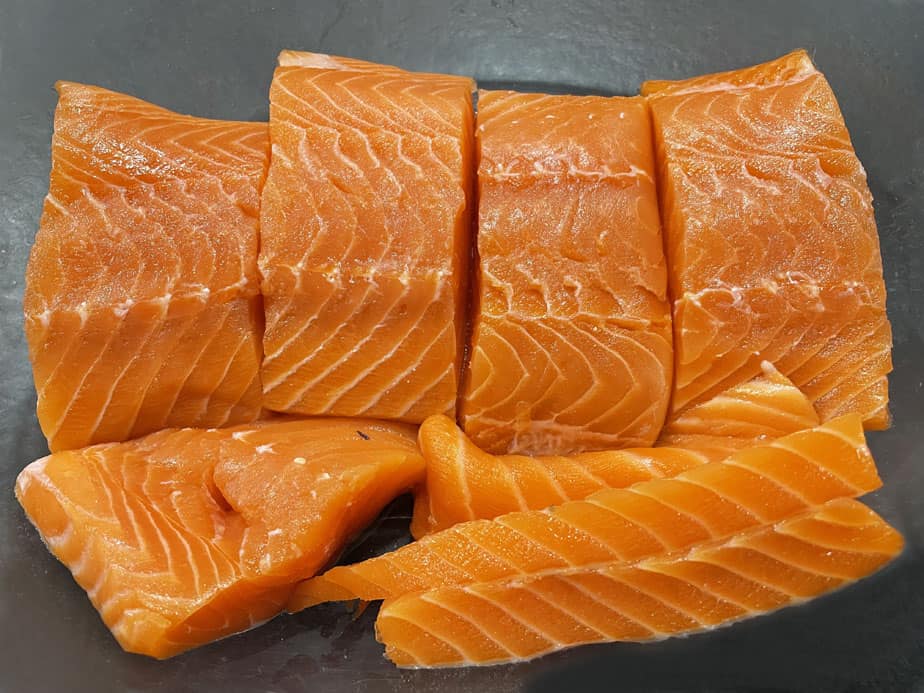 Step 3
Cook the sauce: Put the garlic, the zest of lemon together with the thyme with salt and pepper in a pan or a pan. Fill it up with the wine (choose a good one please, I don't understand people how to buy extra cheap wine for cooking) and boil it up. Wait until the alcohol is boiled away.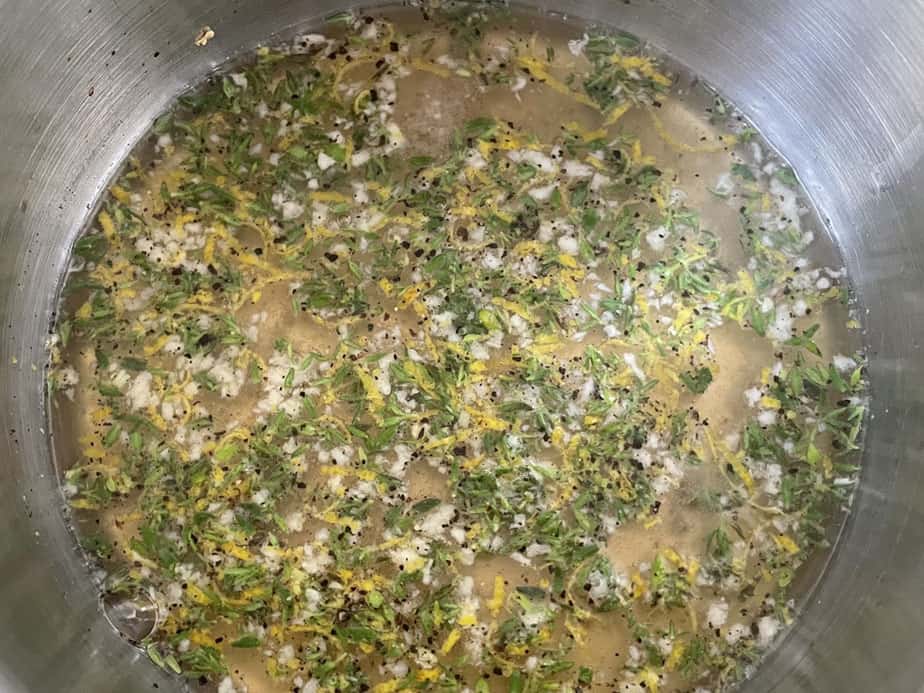 Step 4
When you only smell the deep and intense taste of the ingredients, you know the moment, when the alcohol is gone. Mix it up with whipped cream fast, add the Parmesan and boil the sauce for additional 3-5 minutes. You should get a fine cream with a very fresh and spicy herb note.
Cook the fresh pasta as indicated. I am using "Spaetzle", a very typical sort of Austrian pasta, Spaetzle is egg-based and tastes like fresh Italian noodles – you can take whatever you prefer.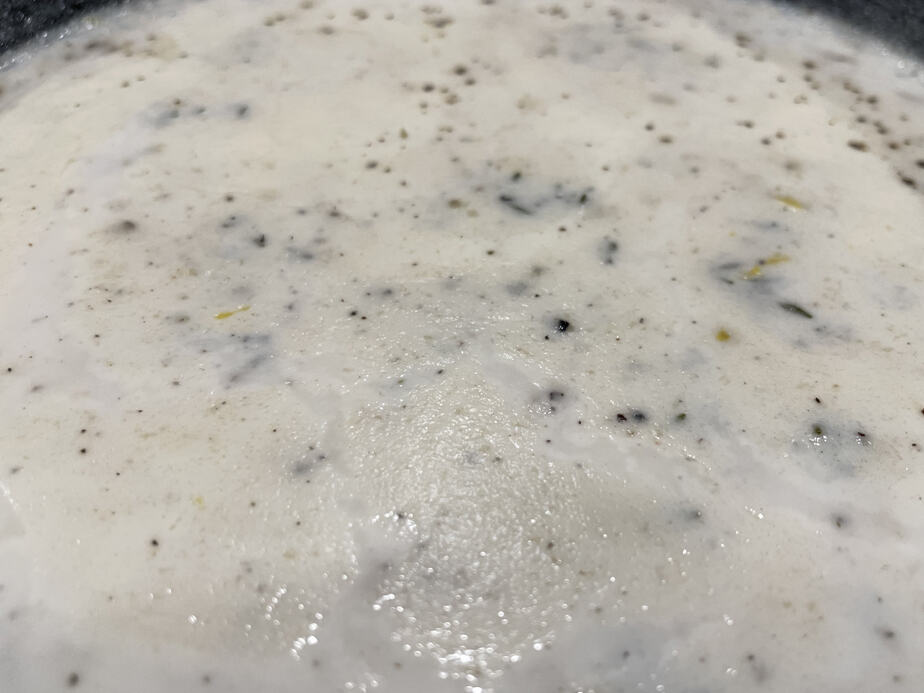 Step 5
Grilling the Salmon: While the pasta is cooking, place the Salmon fillets on the grill (or in the pan) and grill them for a maximum of two minutes per side (basic rule for fresh fish: turn it only once!!). If the skin is on the filets, put this side first on the grill. For the extra crunch, grill the filets 3 minutes on one side, and only 1 minute on the other. For this dish, it is important that the fish is glassy inside. Fresh, but "dead" Salmon is not better than an overcooked chicken wing. I am using the ChefsTemp FinalTouch IR to check the core temperature. 55-56°C (131-133°F) internal temperature will show a perfect result.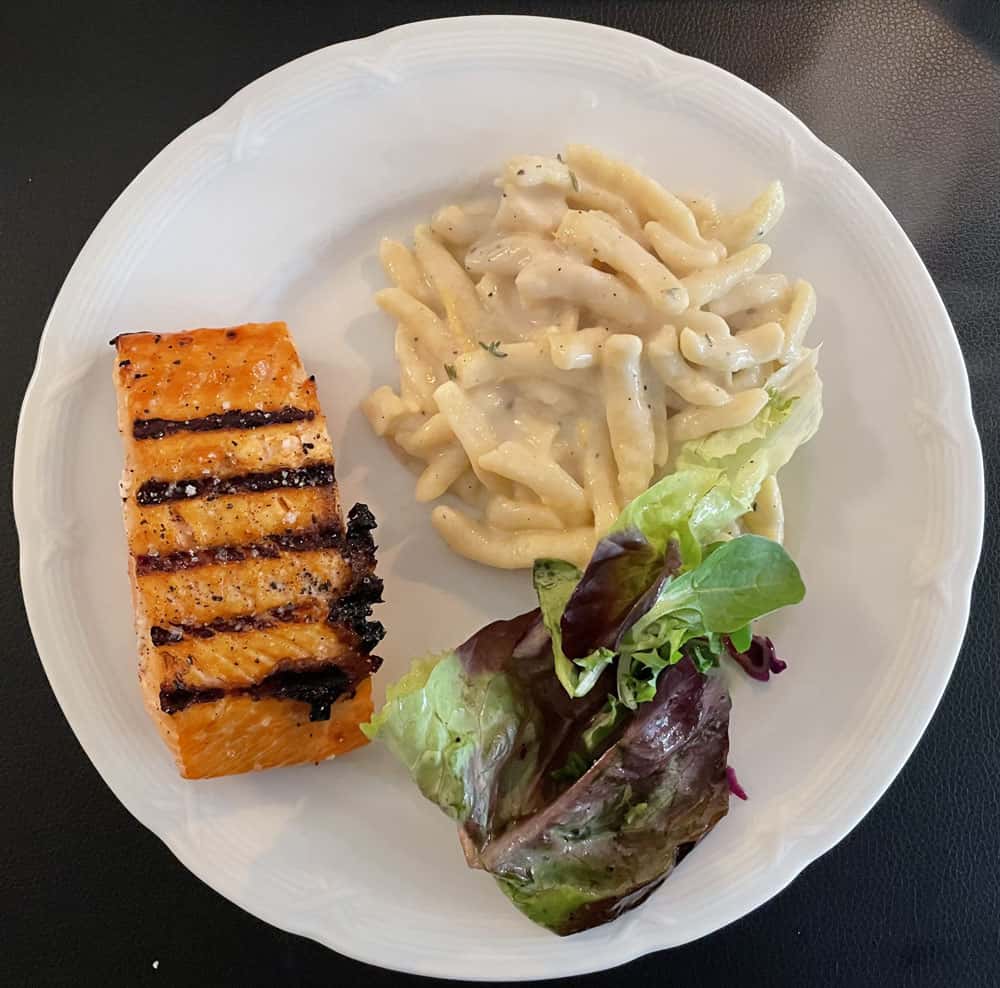 1
1
Mix the fresh pasta with the sauce and serve it immediately together with the Salmon filets. Don't forget about the fresh pepper! Fresh salad must not be missed.
The fresh Salmon fits perfectly together with the thyme and the acidity of the wine and the lemon zest. Enjoy!
Discover more recipes and learn kitchen tricks by joining our cooking family on Facebook. 
Shop now for products used in this post: