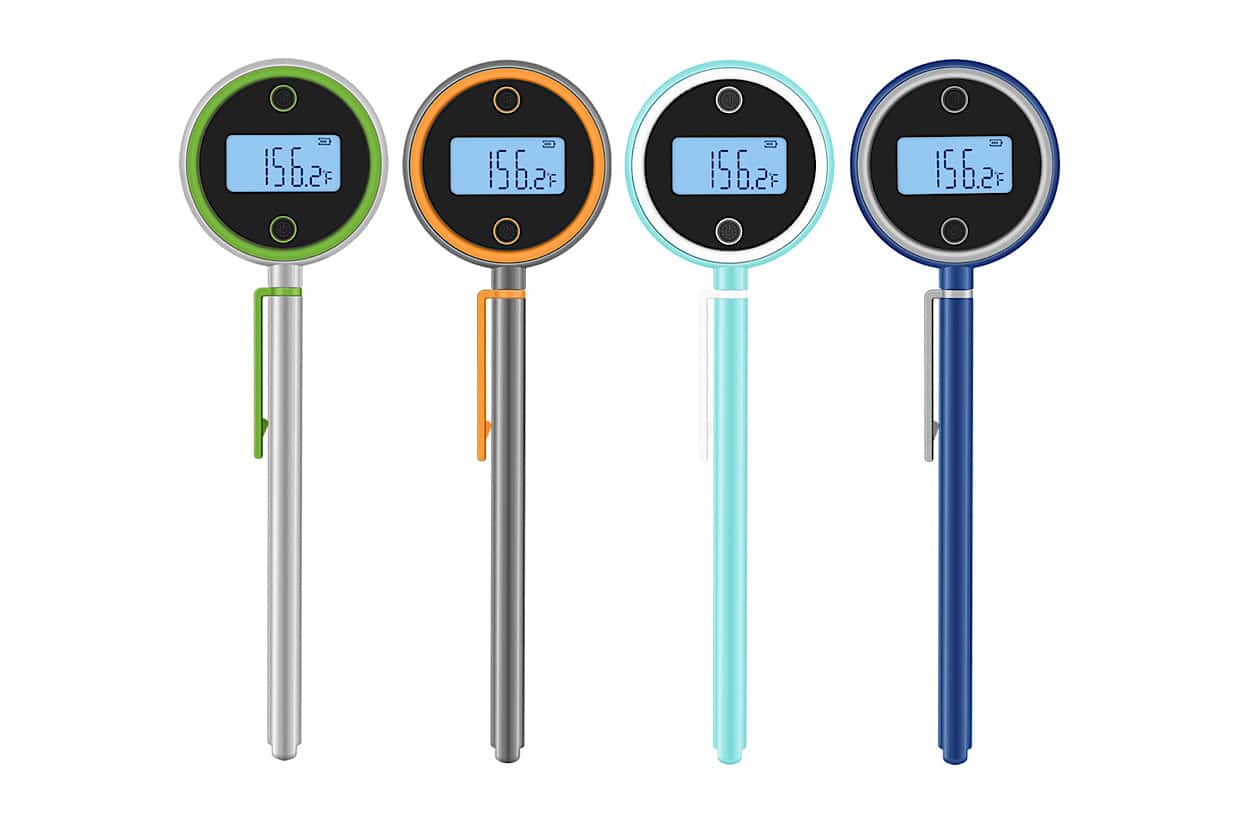 The Best Meat Thermometers of 2022, By The Ratings
Did you know that around 48 million people get sick from foodborne diseases every year in the United States? According to the Centers for Disease Control and Prevention (CDC), 128,000 of these individuals end up in a hospital, and 3,000 die.
Even though the numbers above are scary, the good news is that you can easily protect your family and guests from most foodborne diseases by following the US Department of Agriculture's Food and Safety Inspection Service's safe minimum internal temperature recommendations.
Knowing the minimum internal temperatures to which you should cook your food is one thing; measuring it is another. This is where the best meat thermometer comes in. However, with dozens of products in the market, finding a suitable meat thermometer can be challenging.
This article begins with a little survey-type experiment followed by a verdict on what is the best meat thermometer in the market in 2022. The article presents the best meat thermometer by category. In the last part we offer insights on important features you should consider when buying your next meat thermometer.
A search through the internet will show that there are hundreds of different recommendations when it comes to the best meat thermometer. But why should we trust many of these mostly self-acclaimed meat thermometer experts? What methods did they use to arrive at these recommendations?
Many of these experts don't have answers to the questions above. Therefore, when we created this guide, we started by asking ourselves how our recommendations would be different.
To create this comprehensive list of the best beat thermometers of 2022, we gathered some of the best meat thermometers according to the most credible sources available. Once we had determined the best, we conducted independent research on them.
After painstakingly combing the web for the best meat thermometers in the market, we came up with a shortlist of the most worthy contenders and procured them. Of course, our very own meat thermometers were among the selected elite.
All our selected meat thermometers were stripped of all identifying labels and assigned serial codes to ensure anonymity and objectivity. We then selected a dozen food establishments and gave each of them a set of the best meat thermometers to test for two weeks.
To make things a little easier for our testers, we asked them to rate the meat thermometers and group them into four categories: the best leave-in meat thermometer, the best-designed meat thermometer, the best budget meat thermometer, and their upgrade pick. We also asked them to rate one they thought was the overall best choice among meat thermometers.
Armed with only the coded thermometers and an open mind, our chosen researchers went away to test the thermometers assigned to them.
After two weeks of use, we returned to our chosen testers to see how their meat thermometers fared and which ones they thought were the best in each category.
After organizing feedback from the sample of testers, we analyzed all the reviews we were given to develop our rankings. After a careful feedback assessment process, most of our testers ranked the FinalTouch X10 meat thermometer as their favorite.
Overall Best: FinalTouch X10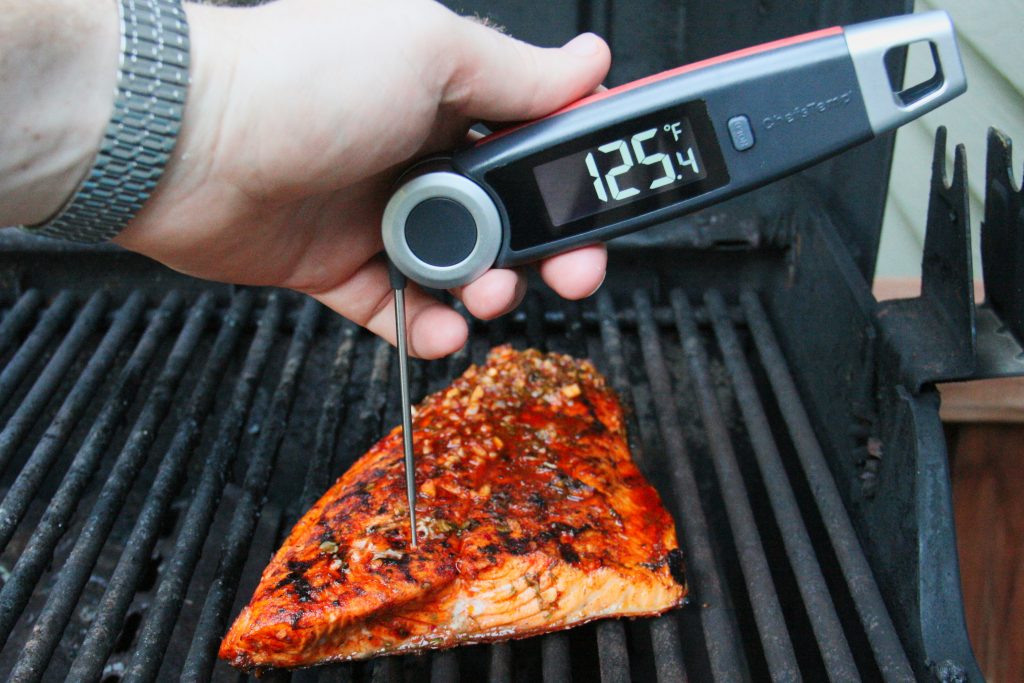 Our testers loved the FinalTouch X10 the most. Considering the Finaltouch X10 won the 2022 Red Dot Award for Design, we cannot say we are surprised! It is a versatile machine with the ability to serve in various scenarios, including grilling, cooking, and barbecuing.
The FinalTouch X10 also allows you to get both the surface and inside temperatures and generates results within one second of coming in contact with your food. Its waterproof design means you never have to worry about your meat thermometer losing functionality when it comes into contact with water.
The FinalTouch X10 is great for both indoor and outdoor use. It is our most intelligent meat thermometer yet, powered by the latest technologies found in any meat thermometer on the market.
If you think we have the FinalTouch X10 in the number one spot simply because it's our product, you haven't seen independent reviews. BBQ Pit Boys, a barbecue and grilling YouTube channel, reviewed the meat thermometer. Its verdict: "The ChefsTemp Finaltouch X10 … is the best thermometers they have used in recent years. Features solid construction, accurate measurements, quick response time, and water resistance."
Executive Chef Darren McGrady reviewed the Finaltouch X10 on his YouTube channel. See the video below:
World's Fastest & Super Accurate: With temperature readings within 1 second the Finaltouch X10 is the world's fastest thermometer. Thanks to superior sensor technology, it has ±0.7F  accuracy, making it head and shoulders above the rest in the things in speed and accuracy.
Red Dot Award for Design: The Finaltouch X10 is the only kitchen appliance to ever win this award. One of the three most prestigious in the world, the Red Dot Award is a seal of approval that no other thermometer has, making the Finaltouch X10 the leader in the field.
Versatility: With a large 270-degree rotation probe, the FinalTouch X10 is flexible and adapts to the needs of both right- and left-handed cooks. Its wide-angle rotation also makes it ideal for reaching the most unusual angles.
Display: The FinalTouch X10's display is built to accommodate viewing from any angle. Figures are displayed boldly on its screen, and its bright backlit display makes it ideal for use in the dimmest of conditions. Thanks to the large display, you never have to worry about daytime use. It also has an auto-rotate feature, making it easy to read what is on the screen regardless of which orientation you turn your thermometer.
Motion intelligence: There's no need to fiddle around looking for a button to wake the FinalTouch X10's screen. The device comes with a built-in motion sensor that automatically lights up the screen immediately you pick it up. As soon as you place the device down on a flat surface, the sensors kick the battery-saving mode into action by putting the device to sleep.
Safety: Food safety is serious business. One of the National Science Foundation (NSF) roles is to oversee the quality of food consumed by Americans. The FinalTouch X10 is NSF certified, so you can rest assured that it meets stringent health protection standards.
IP67 Certification: The FinalTouch X10 is IP67 certified. This means it is not only waterproof but also sand- and dust-proof. Immerse it in one meter of water for about 30 minutes and see for yourself.
Best Leave-In Meat Thermometer
This category is for the meat thermometer that you leave in the meat while cooking on a grill or roasting in the oven.
Among many reviews, the Taylor Precision Instant-Read Probe Digital Meat Thermometer keeps popping up in the best leave-in meat thermometer category. So, we included it in our test, and it was the winner in this category.
This thermometer has a wide temperature range, being able to measure between 32°F to 392°F accurately. It also gives you the option to display the temperature in Celsius (0°C to 200°C)
Distance is hardly a barrier with the Taylor Precision Instant-Read Probe Digital Meat Thermometer's four-foot cord that can withstand up to 485°F (about 250°C) heat. All you have to do is to put the cord through a small hole in your oven door, put the six-inch probe into the meat, preset it, and go about your business.
The Taylor Precision Instant-Read Probe Digital Meat Thermometer has a built-in alarm to alert you when the food's internal temperature reaches your preset temperature. Thanks to a magnet at the back, the thermometer is excellent for use on countertops and can even stick to your oven door.
The timer and alarm in this thermometer ensure you do not overcook or undercook your meat. With the Taylor Precision Instant-Read Probe Digital Meat Thermometer's alarm, you can decide whether to have the alarm set off at a particular time or a particular temperature.
Best Designed Meat Thermometer
Our idea of a best-designed thermometer lies heavily in its ergonomics. When the subject is meat thermometers, we often look out for factors like the ease of handling, legibility of display, and general convenience of use. The OXO Good Grips Thermocouple Thermometer stands out in this department with its easy-to-use and stylish designs.
Before we go into the finer details about what makes this thermometer such an ergonomically efficient device, let us discuss why it is still an overall decent meat thermometer.
The OXO Good Grips Thermocouple Thermometer generates results within a ±0.9°F accuracy range and does this under three seconds. It has a temperature range of 58°F to 572°F (14.4°C to 300°C) and a rotating probe that covers up to 225 °C degrees, making it great for viewing from any angle.
The OXO Good Grips Thermocouple Thermometer runs on some of the most up-to-date technology. The device is equipped with motion sensors that cause the probe to automatically open up when picked up and the backlight to light up on its own.
It is also waterproof and has thermocouple tips, which are great for sensitivity and ensure that you do not have to insert your thermometer too deep before getting an accurate reading.
This device is the champion in its category due to its popularity among our testers and the high level of attention paid to its general ergonomics. Few thermometers measured up to its excellent display and flexible rotation. It is also waterproof and IP66 certified.
Best Budget Meat Thermometer
The SMARTRO ST49 Instant Read Meat Thermometer is an affordable, waterproof device with everything you need in a meat thermometer well below the usual price point. It can withstand up to 572°F (300°C) and has a hanging loop and built-in magnet, you can stick the thermometer to any metal surface, or hang it on a hook rack.
Although designed primarily for use with meat, the SMARTRO ST49 Instant Read Meat Thermometer has found relevance in cooking other foods, including beverages, as well as in baking and deep-frying.
The SMARTRO ST49 Instant Read Meat Thermometer is IP67 certified, making it resistant to water, sand, and dust. As a bonus, it comes with a meat temperature guide. All this for less than $30 sounds like a bargain.
The ThermoWorks Thermapen ONE name appears to have been coined from the meat thermometer's capacity to provide results within one second of contact with meat. Three seconds might not be too long to wait, but it is still three times the time promised by this meat thermometer.
However, our hands-on experience with the timing of this meat thermometer revealed that it takes around two seconds to generate results. Known for its accuracy, the ThermoWorks Thermapen ONE bolsters its credibility by delivering results that fall within a ±0.5°F (±0.3°C) range of accuracy.
This meat thermometer also comes equipped with an automatically backlit screen that spontaneously adjusts its brightness according to the ambient light in the surrounding. This is to ensure that you do not have to strain your eyes trying to check the temperature of your steaks and barbecues.
The ThermoWorks Thermapen ONE's display also has an auto-rotate feature that adjusts the device's orientation according to how it is held (i.e., vertically or horizontally). Even though this thermometer costs over $100, CNN's Lindsay Boyers says, "If you're serious about your cooking, then it's worth the price."
How to Choose the Best Meat Thermometer for Your Needs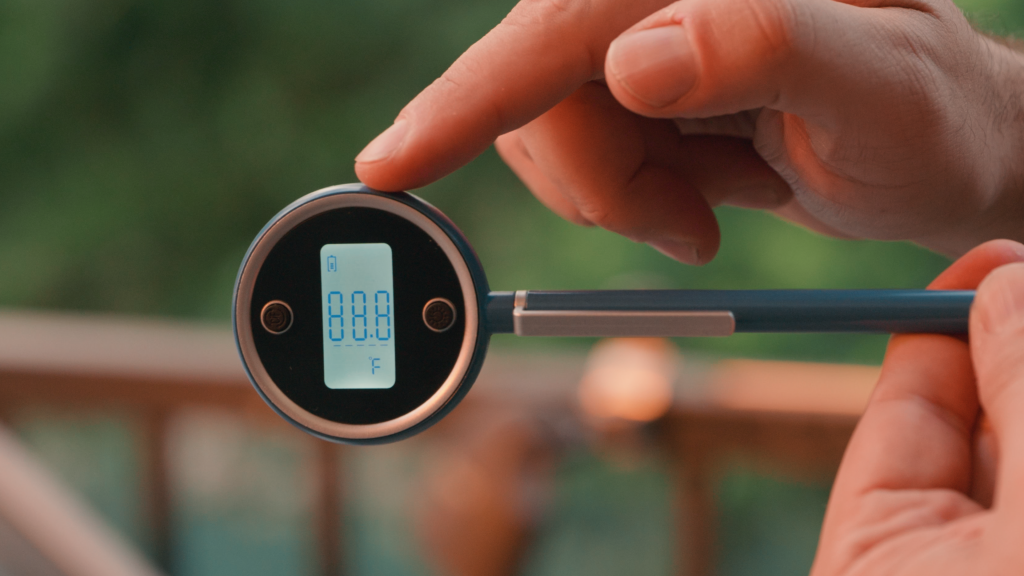 Expert recommendations such as the one we have put together here are great, but they can only go so far. This is because our circumstances differ. Therefore, it's vital to know the factors to consider when selecting the best meat thermometer for your situation.
To select the suitable meat thermometer for your needs, you will need to answer a few questions: What are the essential features to look out for when selecting a great meat thermometer? What type of meat thermometer will work with different types of food? Do I need to buy the most expensive thermometer to get the best results?
Several other questions about your specific situation are pertinent. For example, how much meat do you intend to cook?
Do you often have long sessions in the oven? Then a leave-in meat thermometer might be the best option for you.
Are you a griller who does not like to lose heat by having to open the top of the grill now and then? Then you should be in the market for an instant-read meat thermometer.
Knowing the different types of meat thermometers will help you find the best for your needs.
Thermocouple Thermometers
Thermocouple thermometers give the quickest results among all other meat thermometers. They generate results within a second.
The College of the Environment and Life Sciences at the University of Rhode Island says, "Thermocouples measure temperature at the junction of two fine wires located in the tips of the probes." Adding, "Since thermocouple thermometers respond rapidly, the temperature can be easily read in several locations to ensure that the food is thoroughly cooked."
According to the College of the Environment and Life Sciences, "This type of thermometer is used primarily in retail or food service kitchens, but consumer models are now being marketed."
One downside of thermocouple thermometers is that they are relatively pricey. If you are on a budget, you may want to go with something else.
Digital Instant-Read Thermometers
Digital instant-read thermometers are similar to thermocouples and give you a relatively quick temperature reading. All it takes is a piercing by the sharp end of a digital instant-read thermometer, and you will have the exact reading of your chicken or turkey's internal cooking temperature in less than three seconds.
Digital instant-read thermometers are not designed to be left in the meat while cooking as they do not have the requisite heat tolerance. This means that you have to take your piece of meat out of the oven to run a quick puncture test.
Writing for TheSpruiceEats.com, Danilo Alfaro suggests, "An instant-read thermometer is ideal for checking the temperatures of liquids such as stocks and soups, making sure they are cooling quickly enough to minimize the growth of bacteria; or for checking the temperatures of hot foods that are being held for service on a buffet."
Digital Probe Thermometers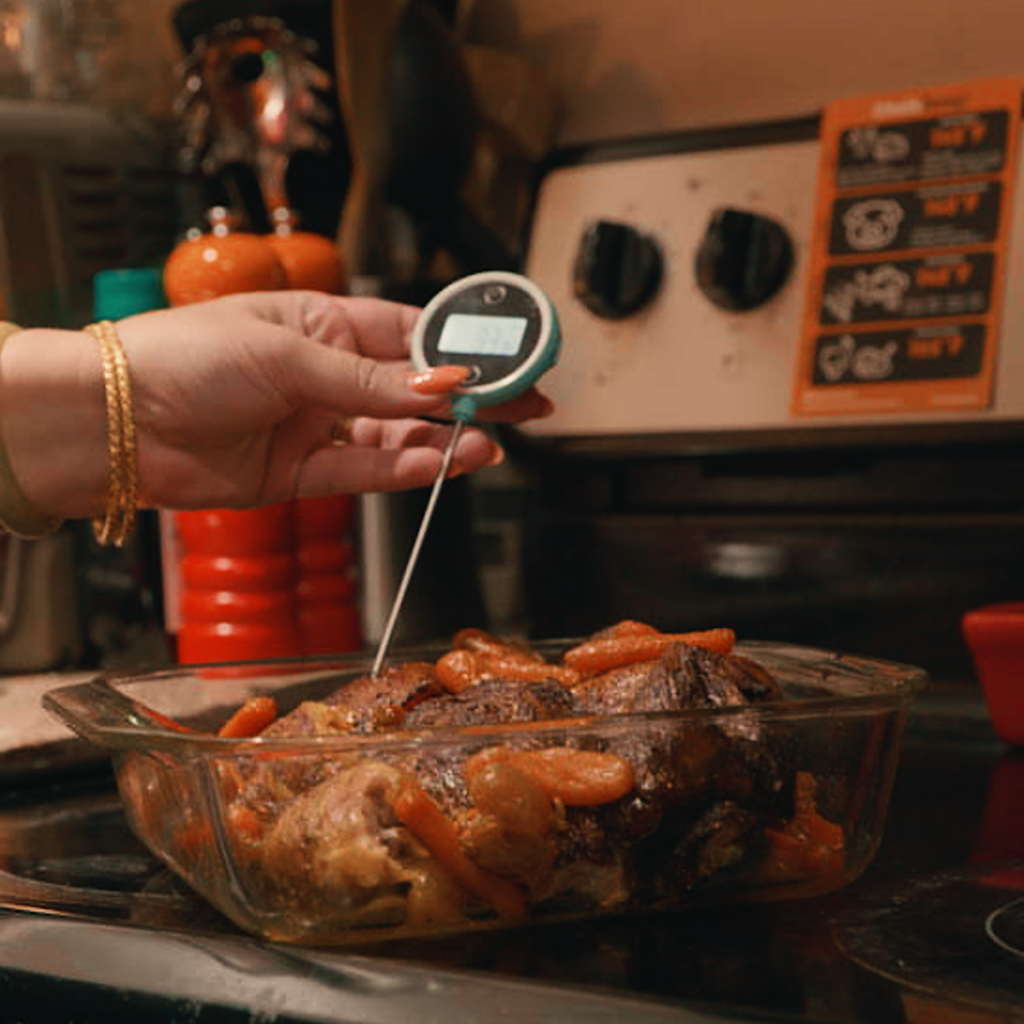 According to Ralston Instruments, "A digital probe thermometer, or digital temperature probe, is a device that uses sensitive resistors in a stainless-steel probe to measure temperature."
Ralston Instruments adds, "They're [temperatures] displayed clearly on an LCD screen, making them [digital probe thermometers] ideal for industrial settings where speed and clarity are imperative."
Dial thermometers are the least desirable option for anyone who prioritizes speed and accurate temperature readings. Dial thermometers are slow, taking about one to two minutes to generate a result. They are best for someone who wants results within a temperature range.
Many dial thermometers can be left in the grill or oven to heat up alongside a piece of meat while you monitor the slow progression of the needle that indicates the temperature of your cooking per time.
Because of their slow reading time, dial thermometers leave you vulnerable to overcooking your meat while waiting for the results. Despite its many drawbacks, dial thermometers are still a great option if you intend to cook a large portion of meat.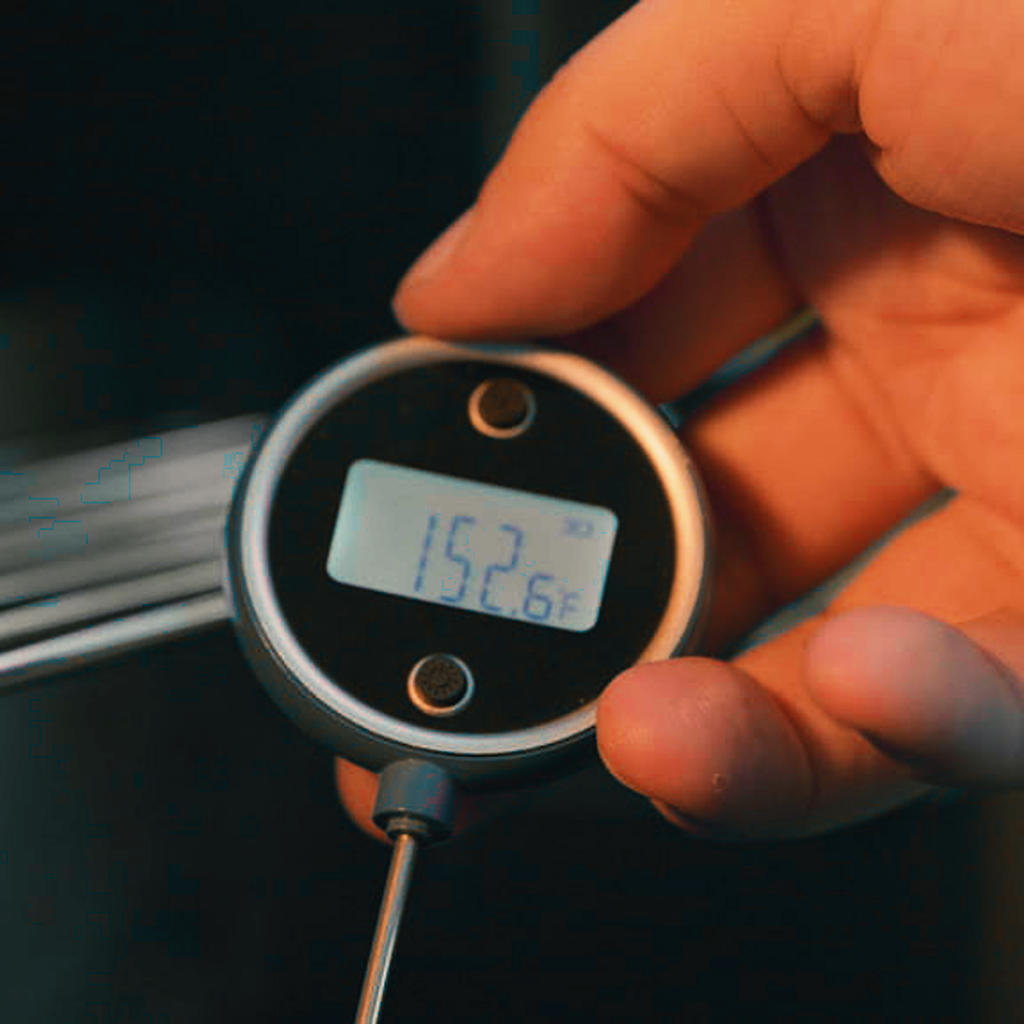 Whoever said, "There is an app for that," knew what they were talking about. If you are technology savvy, you may want a meat thermometer that connects to your smart device using technologies like Bluetooth. This technology ensures that you can confidently do other things knowing that your mobile device will give you a signal when your food reaches a specific temperature.
The Meater Plus, Smart Meat Thermometer with Bluetooth, is an example of a meat thermometer that can help you monitor your food's internal temperature using a smart device.
After testing each product, it is clear that the Finaltouch X10 is the best meat thermometer of 2022. Not only is it the world's fastest thermometer, it is also internationally recognized as having the most beautiful design. With super accurate readings, left & right-handed functionality, and thumbs up from some of the biggest cooks and pitmasters in the industry, we feel confident in recommending the Finaltouch X10 to you. Whether you are new to cooking, a passionate pitmaster or someone focused on food safety, consider grabbing yourself a Finaltouch X10 today.
Discover more recipes and learn kitchen tricks by joining our cooking family on Facebook. 
Shop now for products used in this post: