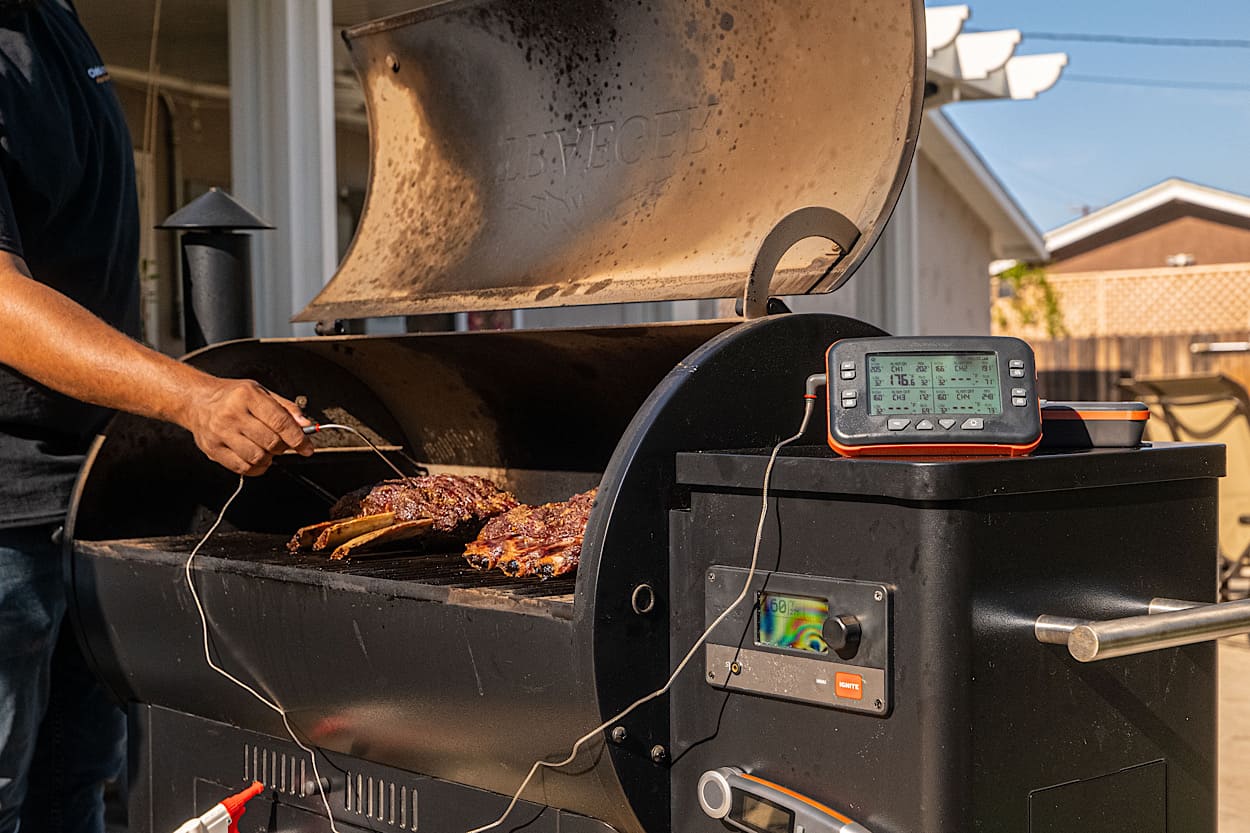 What are the best alternatives for Bluetooth meat thermometer?
Bluetooth technology is a technology that allows for the wireless transmission of data between two devices. This transfer is achieved through a short-range wave transmission that is constantly switching frequencies. This ensures that the Bluetooth connection is secure between two paired devices. It has allowed for the advancement of so many items and appliances we use today, from laptops to cell phones, speakers, and even thermometers.
This technology also has its limitations such as a short range and the loss of signal strength when the waves encounter any solid obstacle like the walls in your home. This limitation cuts your ability to move freely away from your grill or smoker while you are actively cooking. These signals also tend to drop even within the "safe distance" away from the Bluetooth device.
The way to solve that is by using RF or Radio Frequency signals. This technology has both a wider signal range and can penetrate walls and other obstructions. This RF signal is also effective for up to five hundred feet away from the thermometer.
The ChefsTemp Quad XPro Long Range Remote BBQ Alarm is the ultimate in remote thermometer technology. Using the RF signal the Quad XPro can reach your remote from up to five hundred feet away from your smoker or grill. The extra-large dashboard style display has alarms that can be easily set for minimum and maximum temperatures across 4 different probes. With the ambient temperature probe to ensure that your food is cooking at the perfect temperature with incredible accuracy.
Using the RF technology, you do not have to worry about the loss of Bluetooth connection of other Bluetooth meat thermometers on the market. You can relax and go about your day while the Quad XPro allows you to stay connected and track the live cooking temperatures of your food. The case is also built for the outdoors with a durable splash proof casing and rugged stainless-steel probes with high temperature silicon fastenings with color coded rings for easy identification. The Quad XPro also boasts an impressive temperature range from -58-572°F (-50-300°C) while the cables are rated for up to 700°F (371°C).
ChefsTemp Quad XPro
Pro Series High Temp Cooking Probe & Pro Series High Temp Air Probe
| Probe | 527 F (300 C) |
| --- | --- |
| Cable | 700 F (370 C) |
| Transition | 644 F (340 C) |
The Quad XPro is the must have thermometer for all outdoor cooking, from grilling to smoking the Quad XPro will deliver fast and accurate results at greater ranges than any Bluetooth thermometer available. Step away from the smoker and relax knowing that you have consistent and reliable temperature monitoring right in the palm of your hand.
Discover more recipes and learn kitchen tricks by joining our cooking family on Facebook. 
Shop now for products used in this post: