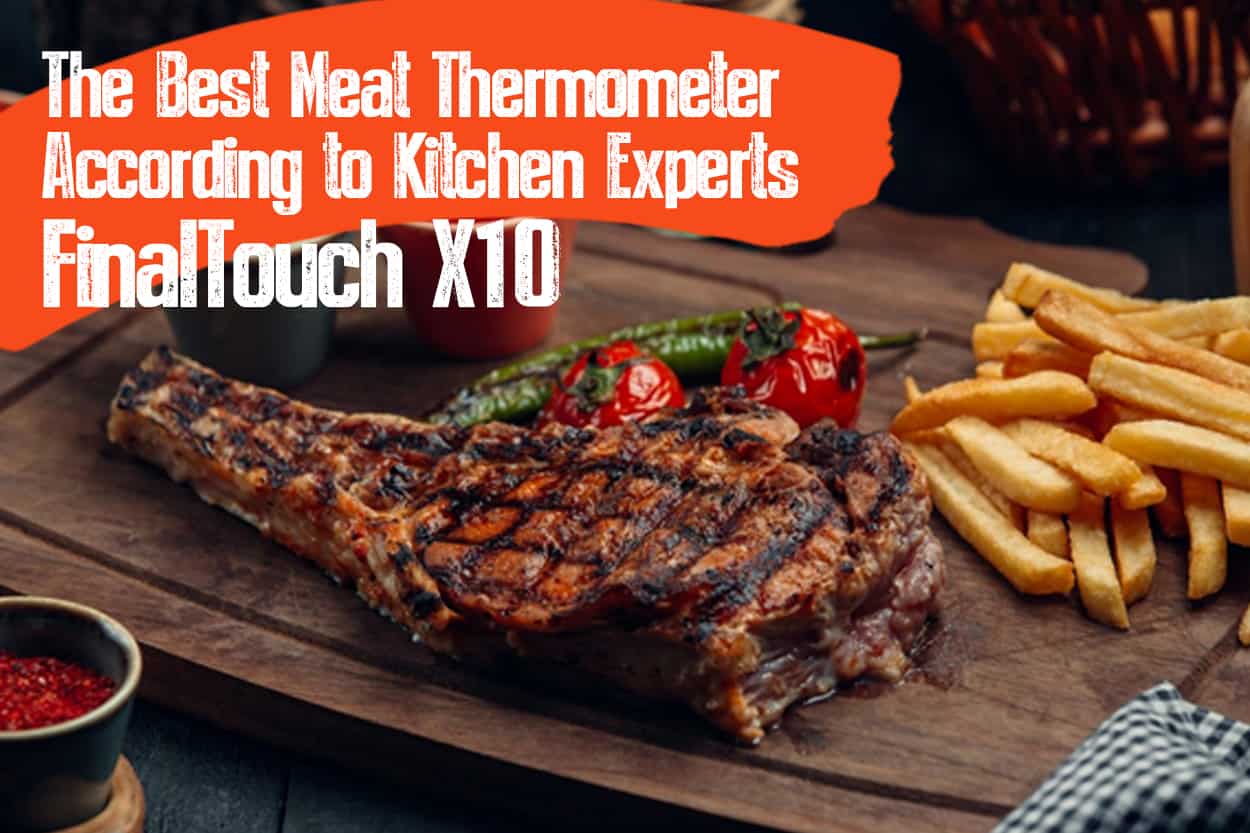 The Best Meat Thermometer According to Kitchen Experts – Finaltouch X10
Today, home cook, amateur, gourmet, and professional chefs have an arsenal of ultramodern kitchen appliances, cookware, and tools. Among them, our instant-read meat probe – Finaltouch X10 – is their best buddy!
Cook times are usually ascertained with our senses: a visual inspection, the taste, and the aroma. But that's not all, and you know it! You need to make sure the food is cooked al dente, which, when done right, feels juicier, chewier, firmer, and tastier!
Be it the holiday bird, a juicy steak, or BBQ grilling, it is tremendously essential to harness the power of a well-calibrated meat thermometer in the kitchen.
Wondering why?
Well, to celebrate the endless culinary creativeness within you, you need to make sure that the meat is basted, blanched, braised, and simmered with love; not under/overcooked, burned, dry, tough, or unacceptable to the tongue depressor. As they say:
"…true love is rare, like a well-cooked steak…"
American gastronomy is all about the science of good, tasty, and healthy eating. The food itself is a hodge-podge of diverse cultural inspirations, many of which are informed by home cooks, food writers, and chefs hailing from different parts of the star-spangled banner.
José Andrés, Wolfgang Puck, Bobby Flay, among many others oversee some of the best Michelin star steak houses in the US. And these celebrated culinary artists have one thing in common, they like their meat cuts cooked to perfection, and presented with love!
Poach, Caramelize, Drip, Tenderize with Finaltouch X10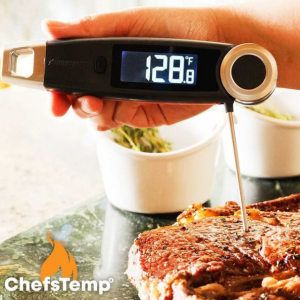 Be it a well-done, medium, or a rare cooked steak fillet, the juiciness, the tenderness, and the doneness is based on the quality, cut, and thickness of the meat.
And this is where the Finaltouch X10 comes to your rescue! Powered with state-of-the-art technology, the meat thermometer delivers a safe indoor/outdoor cooking experience.
From general cooking to hosting big parties, the product is made to provide an accurate and super-fast digital reading. Your cooking times become much easier, letting you enjoy the party without constantly excusing yourself to check on the meat.
Precise reading, solid construction, and quick response time were some of the factors that encouraged the creation of ChefsTemp must-have general cooking specimen – the Finaltouch X10. The smartly-designed meat thermometer comes with a foldable design, locking in uninterrupted portability, convenient storage, and a problem-free cooking experience.
On top of all that, the product was designed to adhere to food safety standards, making your pricy steak cuts safe to devour.
| Feature | Description |
| --- | --- |
| 270° Rotation Probe | Impeccably handy for left-handed cooks to reach awkward angles. |
| Big Sharp Display | Large digital screen for easy temperature viewing. Perfect for cooking in the day and night. |
| Auto-rotating Display | Built-in motion sensors to detect awkward device positioning and set display. |
| Motion-activated Wake-up Mode | Pick up your Finaltouch X10 and it will turn on instantly, set it down to activate sleep mode. |
| Intelligent Backlight | The backlit motion-sensing display sleeps and wakes automatically and is bright enough for the dimmest conditions. |
| IP67 Waterproof | It has an IP67 waterproof rating, meaning it can withstand up to 1 meter of water for 30 minutes. |
| Magnetic Backing | The Finaltouch X10 cooking thermometer can also be stuck to any metal surface. |
| Super-Fast & Accurate | Powered with A-1 thermocouple tech to deliver precise readings as close to ±0.7°F (0.4°C) accuracy with readout times in 1 second. |
Cooking Problems Solved with Finaltouch X10
Ever since cavemen first found fire and began roasting game meat, mankind has relished a whole new set of flavors. Cooking to perfection implies heating ingredients to transform them via physical and chemical reactions that increase nutritional value, eliminate the likelihood of foodborne illness, and improve flavor.
From a culinary viewpoint, enjoyable and interesting changes are brought to your meat cuts when food compounds undergo chemical reactions. From protein denaturation and Maillard reaction to caramelization, your protein changes shapes, which, in turn, alters your fillets' texture and taste, making your meat safe to eat.
Research shows that texture and color changes are not reliable indicators of eliminating bacteria. For instance, grounded beef may change its color ahead of reaching the essential temperature to destroy harmful bacteria. A consumer cooking medium-rare hamburger patties, expecting color changes as a sign of food safety, is allowing pathogenic microorganisms to survive. A medium-rare hamburger patty cooked between 125°-135°F (52-57°C) is safe for consumption – and Finaltouch X10 can help you cook your patties to perfection!
Depending on the color of your meat as an indicator of doneness, you might continue burning your meat to a point it becomes dry and overcooked. However, a consumer using a well-calibrated meat probe can assure the meat is safe for consumption, but still, juicy, tender, and mouthwatering.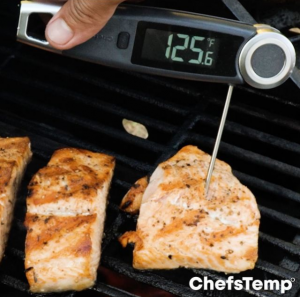 High-End Cooking Technology
Top-of-the-line, high-tech kitchen appliances like the Finaltouch X10 bring laughter and joy to your parties, and taste to your food. The product synergizes the love for food making and technology to deliver gorgeous-looking, succulent, flavorful, and savory food which makes you salivate.
With Finaltouch X10, your New York strip, filet mignon, ribeye, Porterhouse, T-bone, poultry, among other meat cuts can be cooked to perfection. Harness the power to determine the doneness of your Thanksgiving meal, to pull off your grilled salmon before it's too late, pinpoint the perfect deep-frying temps for a golden crisp result, prevent the burning sensation of caramel, even make sure your baked goods are cooked to perfection.
The food-grade stainless steel probe, the ultra-large digital display, the non-slip grip, the magnet and hook hole, and quick response time make the Finaltouch X10 the perfect partner for the everyday cooking enthusiast.
Transforming the Cooking Experience for Kitchen Enthusiasts
Can't figure out where to get the best meat thermometer to check for temperature on thick cuts of meat? ChefsTemp Finaltouch X10 is here to answer all your cooking dilemmas. Cooking becomes no more of a hassle with Finaltouch X10. Get yours now!
Discover more recipes and learn kitchen tricks by joining our cooking family on Facebook. 
Shop now for products used in this post: